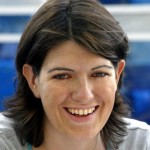 *
ELEANOR PRESTON spent 10 years travelling the world as a tennis journalist for national newspapers, notably the Guardian. She continues to work as a broadcaster and is also a media consultant and advisor to tennis players and organisations within tennis, as well as athletes and organisations across a range of sports. She is also a Fulham fan
…
.
.
.
By Eleanor Preston
30 April 2010
There is a chant that rings around Craven Cottage on a regular basis and it was certainly yelled with gusto last night, when Fulham managed, somehow, to secure a place in the Europa Cup final against Atletico Madrid.
It's not one of the Black and White Army's more imaginative ditties – and we expect a lot from the song-writing team that brought us "Al Fayed, oh, oh, he wants to be a Brit and QPR are s**t" – but it is one of the more memorable.
"Roy, Roy, Roy, Roy, Roy, Roy, Roy, Roy…" they sang to a crescendo as the man they were saluting walked briskly off the pitch, having just masterminded arguably the greatest achievement in the club's history.
The chant is like Roy Hodgson himself: unfussy, without frills and yet indisputably brilliant.
In a contrast which must please the Chelsea-hating Whites' supporters, Hodgson is like the antithesis of Jose Mourinho. There is no swagger, no baiting of either the media or the rival fans before or after matches and no pronouncements in press conferences, designed to deflect attention away from a team and towards an egocentric manager.
While Mourinho risked causing a riot by running the length of the pitch at the Nou Camp in ostentatious celebration of his Inter Milan side's victory over Barcelona in the Champions' League semi-final on Wednesday, Hodgson greeted his team's 2-1 comeback win over Hamburg with a business-like march towards the dressing room, a puff of his cheeks and the briefest of smiles to the stewards.
I should probably hold my hand up at this point and admit, with an abiding sense of shame, that as a Fulham fan I was not hugely impressed when Hodgson arrived in December 2007. At the time, Fulham were heading towards relegation with as much momentum as one of the pelted long balls from midfield that outgoing manager Lawrie Sanchez had been so fond of.
Of course I knew that Hodgson had honed his skills in Europe (notably with Inter,  managed the Swiss national side and had found moderate success in the Premiership with a then declining Blackburn Rovers. I knew all that and yet I still doubted.
In my defence (there really isn't one but I'm going to persevere), Hodgson does not immediately come across as a man likely to inspire a team at its lowest ebb since it clambered into the Premiership from the lower reaches of the football league. There Fulham stood, with a pitiful points tally and a large black cloud of depression hanging over them, and looked to a man with sad, bloodhound eyes, a downbeat disposition and a speech impediment to be their saviour. You can't blame me for worrying.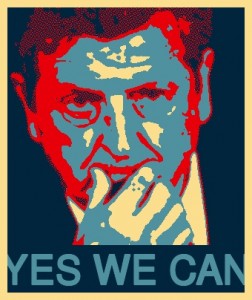 If there was a single incident which helped 'Woy' win the Fulham faithful over it was probably that they beat Manchester City to stave off relegation in April 2008. Fulham were 0-2 down at Eastlands and all but relegated, a prospect which looked all the more inevitable in light of their fairly dismal away record. Somehow, though, the Whites won that match and followed it with wins over Birmingham City and, on the last day of the season, away to Portsmouth.
The following year, Hodgson's first full one in charge, Fulham finished seventh. Seventh! And yes, I'm aware that I wrote that word twice but one year on and I still find it so unbelievable that I have to repeat it in order to remind myself that it really happened.
I may have to do the same now that Fulham are in the Europa Cup final and goodness knows what sort of verbal diarrhoea will result if we actually win the thing.
I was there at the Cottage last night to see the semi-final victory against Hamburg come to pass and endured, at 0-1 down, the German fans singing 'football's coming home', only to leap from my seat when first Simon Davies and then Zoltan Gera scored in front of the Hammersmith End's delirious black and white mass.
That won't stop me, in the coming days, from turning on to Sky Sports News channel in the hope of catching a glimpse of the match or a few reminders of the electrifying effect substitute Clint Dempsey had, if only to reassure myself that I didn't imagine the whole thing in a moment of whimsy.
If my timing with the remote control is good enough I might even get to see Hodgson interviewed and will feel penitent for what must be the 1,000th time that I ever questioned his genius.  I'll look into those bloodhound eyes of his and this time I will believe.
I might even start singing.
Altogether now: "Roy, Roy, Roy, Roy…"
.
Sportingintelligence home page