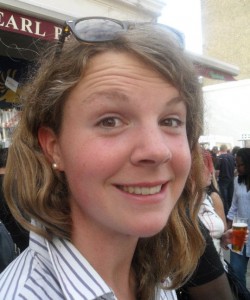 ALEXANDRA WILLIS is the Deputy Editor of ACE Tennis Magazine, and alongside mag work and an affair with social media, has the dubious honour of following British players to Grand Slam qualifying from time to time as part of her professional duties. If you happen to bump into her court-side, she'll probably tell you that she went to Oxford (and not just shopping).
.
.
.
.
By Alexandra Willis
26 October 2010
For many tennis players-to-be, the path to success is about drowning yourself in the arts of the game as soon as you can crawl, toddle and grip a racket. School is replaced with formidable home tutors and distance learning, location is defined by the nearest and best facilities and hitting partners, and every ounce on the court is about improvement, watched by driven coach or ambitious parent. Not so for Francesca Schiavone. The veteran Italian treated tennis as an after-school pleasantry, not something she took seriously, merely an activity she squeezed into the rest of her normal Italian life. Certainly not the way to become a Grand Slam champion. Or was it?
At the age of 29 years, 11 months and 14 days the diminutive Italian beat Samantha Stosur in 98 minutes of brilliance, brains and honest-to-goodness bottle to become the second-oldest first-time Grand Slam champion in the Open era. Grinning from ear to ear as she bobbed along merrily to the Italian national anthem, the clay-caked Schiavone brought the house down in Paris, melting the notoriously sniffy Roland Garros crowd with her exuberant and impromptu chatter.
'Everybody has a different time, different education, you grow up in different ways,' the 30-year-old explained as we sat in the players' restaurant at Wimbledon, two weeks after her French Open triumph. 'If you are born and your mama says to you, "Martina is your name, you will be No.1 in the world", that's different from living a normal life until 17 years old. Society, the world, it pushes you to have everything now, when you are young. But I think it's not like this, I think everybody always has the chance to change their life. It does not depend on your age, it depends who you are.' And so Schiavone played tennis with her father on the local overgrown courts in her home town of Passerano, as far away as you could get from the blustering and bellowing of Bollettieri and co. 'Until 16, 17, I was a free girl,' she says. 'But my mother always believed I could be something different, an artist, a champion, because I was different than the others. So at 17 I decided to change and go forward to play tennis. It was just me.'
But just because she did things differently doesn't mean that everything slotted into place immediately. With few Italian players to keep her company, and little experience of what being a professional tennis player involved, wins were rarer than rain in Italy. 'I lost so many matches. I was playing different, serve and volley, chip and charge, without order and balance, so it was not easy to win,' she says. Adapting to life on the Tour took time, not least to develop herself physically, something Schiavone points to as being a must. 'You know that every day of your life you spend and you live to improve. Your mind has to be very focused, the body has to follow. You have to know you are ready to do this every day otherwise there is no chance.'
With juniors written off as a learning experience, the plucky Italian turned her attentions to the main Tour, and in 2000 was rewarded with her first main draw win, racing through qualifying at the US Open to reach the third round, and making her top 100 debut. 'I found it difficult at the start, because it was totally different, everybody wants to beat you off the circuit,' Schiavone says. 'But once I settled in, I'd take the time to go around, see the cities, stay in touch with nature. Other players would say, "Where are you going?" and I'd say, "I'm just taking a walk!"'
Having made seven Tour quarter-finals in 2001, including her first Grand Slam quarter-final at Roland Garros, 'Sciavo', as she is known, broke the top 50, and then the top 20 two years later. But for the next four years she almost seemed to stand still, destined to be one of those players tapping on the shoulder of the elite, but never quite making it through. In an era of power hitters, Schiavone struggled to make her more crafty way of playing turn into wins. 'If I try to play flat with power like Serena, I can't do it,' she explains. 'I think everybody has to work on the quality and characteristic that they have. The Russians, they play one way, all the same, it's like a blueprint. If you go to Spain, everybody plays with spin. In America, they say, "You are the best, you have to hit the ball, that's all." So it depends where you are from and your characteristics. I think it's much more difficult for me as I play many kinds of shots, so I have to work harder to find a good balance and express my best tennis.'
Much as the presence of friends and rivals has jump-started the likes of Anne Keothavong and Elena Baltacha, having some fellow carriers of the Italian flag has undoubtedly helped Schiavone. 'It's motivation. When you win something, your friends ask how you do it and what you can learn. I give to you, you give to me, we help each other out.'  In fact, it was while among her fellow Italians that the losses transfigured into wins, as Schiavone teamed up with Mara Santangelo, Flavia Pennetta and Roberta Vinci to win Italy's first Fed Cup in 2006. This success spurred her on, with the Italian's first title finally coming in 2007 when she won the Bad Gastein tournament, and her second at Moscow in 2009. 'It was always very close. I lost a lot of finals against big players – Kim Clijsters, Lindsay Davenport, Justine Henin – but to make one more step is not easy; I couldn't find the courage.'
And so it was that after being a set down in her first round match at Roland Garros, Schiavone found herself in the French Open final. It was supposed to be Stosur's day, the powerful Australian with the natural service motion. But the Italian's indomitable personality didn't let her in. Slicing and dicing, chopping and changing as she slid around on the Parisian red dirt, Schiavone proved that you don't have to be the biggest and strongest to make your dreams come true. The reaction of the tennis world? That it couldn't have happened to a better person. 'I respect people and I receive respect,' she says, as the umpteenth player or coach explodes into a torrent of congratulations as they walk past our table. 'That's the best way to live in this circuit.'
.So, as the first Italian woman to win a Grand Slam, among the WTA's top eight women in the world at the season-ending event in Doha this week, and playing for Italy in yet another Fed Cup final next weekend, what is there left for Schiavone to achieve? 'My way is to go up every day of my life. I have the chance now to understand how it works, this funny sport,' she grins. 'I never thought about becoming No.1, No.6 or top 10, or top 20 in the world. I prefer being free to feel big emotions when I play, to dream of winning Wimbledon, the Australian. At the end, I worked for this, to show people who I am. They say, "Thanks to you," and I say, "No, thanks to you, you gave me the chance to show you who I am, not just what I do."'
.
This interview originally appeared in the October/November issue of ACE Tennis Magazine
.

Sportingintelligence home page for all our latest exclusives
.
Want to comment on this story?
The subscription and comments policies of sportingintelligence have recently changed. Any user can comment on any story, however, by emailing using this link and including the story topic in the subject box. Your comments will then be manually posted by an administrator.