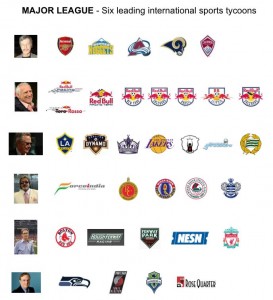 *
By Nick Harris
15 October 2010
With Liverpool's ownership dispute settled, another American owner of a Premier League club is about to start reshaping a club, and that's not a bad thing according to at least one expert interviewed elsewhere on sportingintelligence.
The move by John W Henry of the Boston Red Sox into English football follows a trend by owners of major US sports interests that was set in train by the Glazer family when they bought Manchester United in 2005, and has been followed by Randy Lerner, Stan Kroenke, Tom Hicks and George Gillett.
But these owners are far from alone in having a diverse range of sporting interests. International sporting tycoons are becoming more prevalent, not least in the emerging economies of India and China. Here we profile six of the leading tycoons.
.
.
Stan Kroenke (American)
Age: 63

Background: Made his money in property and shopping malls. Married to independently wealth Wa-Mart heiress. Estimated personal fortune: £1.85bn.
Sports interests: Major shareholder in Arsenal (Premier League), owns Denver Nuggets (NBA), Colorado Avalanche (NHL), St Louis Rams (NFL) and Colorado Rapids (MLS). Also owns venues, regional sports TV channel and a ticketing company.
Lowdown: Dislikes his nickname 'Silent Stanley', saying: "I like the members of the press. I really do. I almost went to journalism school. I just don't have the time." Has thus far proved himself the model owner. Has never sold a single share in any club after buying into it. Is sensible with money (not reckless, but not miserly), and his teams are there or thereabouts in competitive terms. The Rams last won the Super Bowl in 1999. Arsenal last won the Premier League title in 2004 but have also contested a European Cup final. The Avalanche won the Stanley Cup in 2001, the year after Kroenke bought them. The Nuggets are consistent post-season participants, getting as far as the Conference finals in 2009.
In buying into Arsenal, Kroenke joined the NFL-EPL dual ownership club that also features the Glazer family at Manchester United (who also own the Bucs), and Randy Lerner at Aston Villa (who also owns the Cleveland Cavaliers). Kroenke reportedly shown an interest in Indian cricket (as an investor) although hasn't acted on that interest yet. Away from sport, he co-owns a Californian vineyard.
Popularity: Hugely respected rather than popular. Has done nothing to alienate fans, and much to please them.
The man in a quote: "Economics is about creating win-win situations. But in sports, someone loses." (From this interview)
– – – – – – – – – – – – – – – – – – – – – – – – – – – – – – – – – – – – – – –
.
Dietrich Mateschitz (Austrian)
Age: 66

Background: A marketing man who hit upon one product – Red Bull – that made his name and fortune. Estimated personal fortune: £2.6bn.
Sports interests: Red Bull Racing (F1), Scuderia Torro Rosso (F1), Red Bull Racing Team (NASCAR), NY Red Bulls (MLS), FC Red Bull Salzburg (Austrian Bundesliga), Red Bull Brasil (Serie A2), RB Leipzig (Germany), EC Red Bull Salzburg (Austrian Hockey League)
Lowdown: Mateschitz did a marketing degree then worked for Unilever, pushing detergents, then cosmetics firm Blendax, marketing tooth paste. On a business trip to Thailand in 1982 for Blendax, he discovered an energy drink, Krating Daeng, a version of which became Red Bull, the world's market leader energy drink selling 4bn cans per year. In the early Noughties, Red Bull began a deliberate move into sports ownership as a marketing tool, first in ice hockey, then F1, then in football (Red Bulls, Salzburg), then NASCAR, then more football. The F1 involvement has been a huge success, at least with the main team, with Webber, Vettel and Red Bull thriving this season. The football team – with Thierry Henry – has excelled in 2010. The Austrian club has won three titles in five years of Red Bull ownership, and RB Leipzig have just been promoted. The ice hockey team are defending champions.
Popularity: Winning teams make him a popular man, although some Salzburg football fans hated the name change and formed their own club instead.
The man in a quote: "For me, privacy is quality. I don't want to be recognised by everybody." (From this interview)
– – – – – – – – – – – – – – – – – – – – – – – – – – – – – – – – – – – – – – –
.
Philip Anschutz (American)
Age: 70

Background: Made a first fortune in oil before diversifying into property, railways, stocks then sport. Estimated personal fortune: £4bn.
Sports interests: LA Galaxy (MLS) and 50% of Houston Dynamo (MLS), LA Kings (NHL), Eisbaren Berlin and Hamburg Freezers (both German ice hockey), Hammarby (Swedish football, 49%), an interest in the LA Lakers (NBA), and various lesser sports teams, as well as venues including the Staples Centre, and the O2 in London.
Lowdown: His father owned ranches and diversified into oil-drilling, businesses Anschutz took over in the 1960s. By the 1980s he'd hit black gold in Utah and sold half an oil field to Mobil for $500m. His sports investments began in earnest in the 1990s when he was one of the driving forces behind the creation of the MLS in America, and Anschutz's company AEG has at different times owned stakes in six MLS franchises (down to two now). He is ultimately David Beckham's boss. The teams that AEG have owned haven't won a lot (bar the Lakers, in which he has a part share), but then again they've often been small (relatively) or in the case of the MLS, fledgling franchises in developing sports. It could be argued Anschutz's business is as much about the venues and event management as the sport itself.
Popularity: David Beckham likes him, and MLS owes him.
The man in a quote: "Inaccurate and unfair." (A rare Anschutz Company response, on behalf of someone who doesn't do interviews, reacting to a magazine piece describing him as America's "greediest executive".) (As described here)
– – – – – – – – – – – – – – – – – – – – – – – – – – – – – – – – – – – – – – –
.
Vijay Mallya (Indian)
Age: 54

Background: Son of the industrialist Vittal Mallya, who made a fortune in brewing. Vijay is also an MP. Moved into sport in the mid-Noughties. Estimate fortune: £650m.
Sports interests: Force India (F1), Royal Challengers Bangalore (IPL), East Bengal and Mohun Bagan (both football teams in India's top-flight i-League), was involved in a group that bought QPR and reportedly wanted the club himself, and has reportedly shown interest in buying Bari in Serie A.
Lowdown: Born into money and business, took over as chairman of the United Breweries Group in 1984 and expanded it into a giant conglomerate, United Breweries Group. Its most famous brand in India is Kingfisher beer, and the firm also started a Kingfisher Airlines in 2005. Got involved in F1 in 2007 when he bought the Spyker team and changed its name to Force India, gradually improving on the track from no points at all in 2008 to dozens so far this season. Kingfisher is the major sponsor and the move into F1 was always about having a global platform for Indian business. The football clubs are both steeped in history and competitive. The prize asset, in terms of kudos within India and value, is the Royal Challengers Bangalore IPL team, who made Kevin Pietersen the highest-paid player in the world's most lucrative cricket tournament.
Popularity: Liked within his sports, not always so much within politics.
The man in a quote: "The poorest of the poor look up to wealthy and successful Indians with some degree of respect and pride." (From this interview)
– – – – – – – – – – – – – – – – – – – – – – – – – – – – – – – – – – – – – – –
.
John W Henry (American)
Age: 61

Background: He grew up in an Illinois farming family, dropped out of college, turned to trading and made a fortune (estimate £529m now) in trading and hedge funds.
Sports interests: Via the New England Sports Ventures group, which has several shareholders including the parent company of the New York Times, he owns the Boston Red Sox (MLB), a 50% stake in Roush Fenway Racing (NASCAR), and has had a £300m bid for Liverpool accepted by Liverpool's board. NESV also owns a cable TV channel.
Lowdown: He's been described as "quirky" and "a geek" and has had a keen interest in statistics and mathematical models, and how they impact on all areas of business and sport, since he starting trading agricultural commodities in the early 1980s. As Joe Sullivan, editor of the Boston Globe, told The Independent last week, Henry's time at the Red Sox has been a success in every way, barring high ticket prices, although even they have not prevented sellouts. Investment in players and facilities, albeit doing up a stadium rather than build a new one, led to the end of an 86-year championship drought in 2004, and a second World Series was added in 2007
Popularity: "Tremendously good team owners," according to Don Garber of the MLS.
The man in a quote: "Put aside what should be, what could be, what ought to be, what would have, could have, should have occurred and just pay attention to what is actually happening, the act of paying attention transforms what is." (From this interview)
– – – – – – – – – – – – – – – – – – – – – – – – – – – – – – – – – – – – – – –
.
Paul Allen (American)
Age: 57

Background: Co-founder of Microsoft with Bill Gates, and subsequently one of the world's wealthiest people, with a fortune of around £9.5bn.
Sports interests: Seattle Seahawks (NFL), Portland Trail Blazers (NBA), minority stake in Seattle Sounders (MLS).
Lowdown: He grew up in Seattle, dropped out of university to found Microsoft and persuaded Bill Gates to drop out of Harvard to join him. The pair made computing mainstream and made themselves among the richest people in the world. Allen bought the Trail Blazers in 1988, he bought the Seahawks in 1997 (they reached the SuperBowl final in 2006), and has been a co-owner of the Sounders (home to Freddie Ljungberg) since they were formed as an MLS expansion team in 2007, playing their first season in 2009, when every home game sold out to set an MLS attendance record. They reached the play-offs in their inaugural season, as well as winning the US Open Cup back-to-back in 2009 and 2010. Allen was linked with a bid for Southampton in April 2007 but nothing ever came of the interest. In common with Robert Kraft (New England Patriots and Revolution) and Stan Kroenke (Rams and Rapids), Allen is an investor in America's biggest sport NFL and its up-and-coming sport of soccer.
Popularity: High, both as a leading philanthropist in many areas of society, and as a sports owner.
The man in a quote: "I've tried to anticipate what's coming over the horizon, to hasten its arrival, and to apply it to people's lives in a meaningful way." (From his own website)
.
Sportingintelligence home page for all our latest exclusives, wonderful columnists, brilliant features
(and links to people who do stuff better and / or quicker than we do)
.
* * * * * * * * * * * * * * * * * * * * * * * * * * * * * * * * * * * * * * * * * * * * * * * * * * * * * * * * * * * *
Do you watch Premier League football anywhere outside England? Join our unique research project
* * * * * * * * * * * * * * * * * * * * * * * * * * * * * * * * * * * * * * * * * * * * * * * * * * * * * * * * * * *