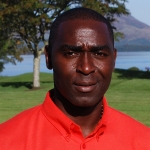 **
By Andy Cole
30 June 2010
So now we know the World Cup quarter-final line-up, and two teams have really stood apart for me so far: Argentina and Brazil, in that order.
Coming into the tournament there were so many questions and doubts about Diego Maradona's team and about him, temperamentally. They didn't qualify without struggling and we're all familiar with Maradona's off-field problems down the years.
I still had them down as my dark horses because their side is so full of goals.
And now they've been in Africa a few weeks and started to prove it, I'm more confident than ever they'll go further.
Lionel Messi hasn't scored yet but his contribution to his team has been a joy to watch. Unlike other big names – from France, Italy and yes, England – the guy has actually showed up. Even when the Greeks tried to kick him to bits, they couldn't stop him assisting in a win.
Yet Argentina are about so much more than the Barcelona maestro. Juan Veron is 35 but still playing like he's 28, controlling midfield with panache. Carlos Tevez is working as hard as anyone and icing the cake with goals like his wonder-strike for the third goal against Mexico. Gonzalo Higuain is popping them in with all the relish that he did all season for Real Madrid.
And then there's Javier Mascherano, who looks a completely different player to the one who featured for Liverpool last season. Playing with his country, he keeps the ball for a start. And at Liverpool, he often appears to be doing not a lot more than committing fouls, or floating around the periphery. Maybe he functions better for country than club because he has better players around him for Argentina, and players pulling together. Whatever, he's a man transformed.
Brazil are starting to purr while playing almost entirely within themselves. I watched the match against Chile, who were playing some lovely football, and there is something curiously European about parts of Brazil's game. The defending is solid, the midfield robust and efficient. But then on top you have the flair with Kaka, Robinho and Luis Fabiano.
It's the flair we all love, of course but then Dunga as a manager has got this pragmatic streak about him that makes him insist on getting the job done as a priority over getting it done in a good-looking manner but perhaps riskily.
Their goals against Chile were a mixture of European pragmatism and Samba flair. The opener came from the first school: a corner, a centre-half's header from Juan, bang, 1-0. I just don't think that is the kind of goal that you would ever have expected to see from a Brazil team 20 years ago, let alone in the Pele era of world domination.
But then the second goal was all passing, movement, a Kaka touch, invention, with Luis Fabiano providing the finish. And the third was a mazy run from midfield ending with Robinho slotting home. Brazil now face the Dutch in the quarters and while I admire Holland and their attacking approach, I'm not convinced about them defensively. I'm delighted for Ghana, representing Africa in the quarter-finals. Their goalkeeper has been absolutely outstanding, and he'll need to be again when they face Uruguay, who have been impressive, not least Diego Forlan.
The team I've been most impressed with after Argentina and Brazil, however, has been Germany, not just a team with pace and an attacking mentality, but as a national set-up that has ventured to experiment. Sure, the Germans had all kinds of injury problems that meant certain call-ups for youngsters ahead of seasoned veterans.
But the attitude of this inexperienced squad, with an average age of under 25, has been exemplary. Realistically, Joachim Löw went to South Africa looking ahead to the European Championships of 2012 and the World Cup of 2014, and instead finds himself one win from the semi-finals.
I cannot imagine for a second that England would ever have come to this World Cup with a bunch of the players who, just a year ago, were in the Under-21 European Championship final. That would have meant and England squad at 2010 with Micah Richards, Kieran Gibbs, Adam Johnson, Theo Walcott, Jack Rodwell and maybe others.
They all played in the 4-0 final loss to Germany a year ago, as did James Milner.
The Germans did bring a bunch of the players from that tournament, with Mesut Ozil most notably. They don't look out of place, though Argentina will be a tough game.
As for Spain and Portugal, both had stuttered to reach their meeting last night, Spain needing to show their true selves more, Portugal still transitional despite the massive win over North Korea. Last night's winners are now, by definition, Iberia's finest. Next stop the world? I'm not sure.
.
The fee for Andy Cole's column is donated to Alder Hey hospital and sickle cell anaemia research. He works on charitable projects with the sport and media team at law firm Thomas Eggar. Andy Cole's columns, or abbreviated versions, also appear in The Independent
.