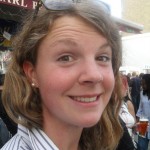 ALEXANDRA WILLIS is the Deputy Editor of ACE Tennis Magazine, and alongside mag work and an affair with social media, has the dubious honour of following British players to Grand Slam qualifying from time to time as part of her professional duties. If you happen to bump into her court-side, she'll probably tell you that she went to Oxford (and not just shopping).
.
..
.
.
By Alexandra Willis
3 August 2010
So what do we do now then?
We know the vagaries of the tennis season all too well. It's too long, it starts to early, and rather than rising to a crescendo at the end, with much champagne cork-popping and rooftop parades, in the manner of cricket or football, it fizzles out like a damp firework. But bizarrely, given that it's quite so busy, there's this extraordinary lull bang flat in the middle. And that lull – also known as 'post-Wimbledon slump', when you feel like you've been run over by a dump truck – is what the tennis world has been experiencing for the last few weeks.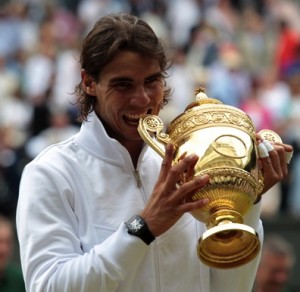 It's OK if you're Roger Federer, or Rafael Nadal (pictured eating the trophy after SW19 success this year), or Andy Murray. You can go on a private yacht, or to the World Cup final, or to the Caribbean. But if you're a tennis writer, what on earth is there to do except examine the way twitter is finally standing still for the first time since John Isner and Nicolas Mahut started playing tennis at this year's Wimbledon?
If like me, you like wallowing in greatness, you could examine your snaps of another fine year at SW19, pontificate about the highlights, and think how much the Queen looked just like your granny.
Or, you could stop wallowing, re-programme your body clock Stateside, and get ready for the US Open. Because, in fact, even if the big guns are still on holiday, and no one's answering their emails, tournament time is already well underway.
Apart from the miscellaneous grass court event at Newport in early July, where Britain's Richard Bloomfield enjoyed a shock streak to the semi-finals (surviving a betting probe along the way), the long hot summer is all about American Deco Turf. That's hard courts to you and me.
Much bemoaned by Rafael Nadal and the Spaniards, hard courts are becoming more and more prevalent, and even more so when marketing gurus like those at the USTA turn them all into a series. The US Open series, a bumper package of 10 ATP events and WTA events, awards bonus points to each player at each stage of each event, meaning that if they do well at all of them, and well at the US Open, they are in line for a bumper pay-check at the end of it all.
So what, you might think. More money for more rich players. But more importantly, these events, especially those in Los Angeles, Atlanta, Stanford, and Washington, are a chance for the unknowns to really get some matches under their belts and make an assault on the sleeping giants at the top. If you hadn't heard of Isner before he won the ridiculous 70-68 encounter, let me tell you that it was at this time of year last year that he really made some inroads. Two years ago, Juan Martin Del Potro won four titles back-to-back during the American summer. A year later he was US Open champ.
The women's side of the game is of course a little less predictable. The Williams sisters adopt their usual policy of never playing anywhere, just as well considering Serena is currently crippled. She cut her foot in a restaurant, if you missed it. Justine Henin is also injured, Sam Stosur is looking rusty, and Maria Sharapova just lost another final.
One thing that is virtually certain is that we won't see a new No.1 on the men's or women's side of the game before the summer is out. But then, judging from the past, and the holidays, and the hard courts, the one thing you can count on is that the players being counted out are the ones to watch out for. Now, back to those Wimbledon photographs, or if you've got a few moments, why not ponder some of the more remarkable trivia that's been rattling around my brain.
.
Willis' wonderful world of facts and figures
Rafael Nadal's career won-lost record when winning the first set at a Grand Slam: 100-1.
Only player ever to beat both Roger Federer and Rafael Nadal at the same Grand Slam tournament: Juan Martin del Potro (at the 2009 US Open).
How many more Grand Slam titles Serena Williams will win, according to leading TV tennis analysts John McEnroe and Mary Carillo: 6.
Number of consecutive players ranked outside the top 10 that Roger Federer had beaten at Grand Slam events before losing to the then No.13, Tomas Berdych, at Wimbledon: 119.
Average ranking of the four Wimbledon ladies' singles semi-finalists: 41.5  No.1 Serena Williams, No.21 Vera Zvonareva, No.62 Petra Kvitova and No.82 Tsvetana Pironkova.
Number of total serve-and-volley points when Rafael Nadal outclassed Tomas Berdych in the 2010 Wimbledon final: 0. There were 254 when Federer played Sampras at SW19 in the 2001 R16.
The last time Roger Federer lost a 6-1 set on grass prior to his 6-4, 3-6, 6-1, 6-4 Wimbledon quarter-final loss to Tomas Berdych this year: June 2000 in Nottingham, England, to Australian Richard Fromberg.
Only man ranked in the top 20 who is averaging more double faults than aces per match this year: Novak Djokovic.
The last time the GB Davis Cup team won a tie 5-0 before whitewashing the Turks in Eastbourne in June: 2001. The team beat Portugal in Europe/Africa Zone Group 1.
.
Find our more about the latest issue of ACE Magazine, on sale now at WH Smith and all good newsagents.
.
Sportingintelligence home page for all our latest exclusives
.
Want to comment on this story?
The subscription and comments policies of sportingintelligence have recently changed. Any user can comment on any story, however, by emailing using this link and including the story topic in the subject box. Your comments will then be manually posted by an administrator.
.
To WIN a copy of sportingintelligence's global sports salaries report, worth £195, CLICK HERE; the report tells you the REAL average pay of the world's biggest sports team, AND we'll also give you a free subscription for a year to our unique sports salaries database