*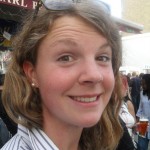 ALEXANDRA WILLIS is the Deputy Editor of ACE Tennis Magazine, and alongside mag work and an affair with social media, has the dubious honour of following British players to Grand Slam qualifying from time to time as part of her professional duties. If you happen to bump into her court-side, she'll probably tell you that she went to Oxford (and not just shopping).
.
.
.
.
.
By Alexandra Willis
in Nottingham
2 June 2010
For most tennis fans in Britain, the sport exists at Wimbledon. Sue Barker proudly proclaiming the day's events on the SW19 greensward is where most blighters, young and old, get their first glimpse of the beautiful game, be it Borg v McEnroe, Sampras v Agassi, or these days, Federer v Nadal. Enthralled day after day, night after night, by the power of the Williams' sisters, the diminutive stature of Justine Henin, and the agonizing experience of watching your favourite Brit, be it Tim Henman or Andy Murray (so much so that this particular writer used to refuse to change her position on the sofa if Tiger Tim was winning, lest she cause him to start losing. It caused a lot of pins and needles).
There are of course three other Grand Slams in the tennis calendar, which, although we Brits deny it, carry just as much prestige and sparkle as Wimbledon. Melbourne Park, Roland Garros, Wimbledon and Flushing Meadows. From the lazy ease of Melbourne, to the intimate intensity of Paris, to the garden party grandeur of London, and finally, the frenetic buzz of New York, they are different but equal, each with their own unique atmosphere and flavour. But here the tennis fan falls into yet another trap.
The Grand Slams are not the only tournaments in tennis. They are accompanied, supported and made as special as they are because they sit at the top of a myriad of tournaments at a catalogue of levels. Why this fascination with tournament levels? Because they demonstrate the extraordinary journey the humble tennis player must go through on a week-by-week basis.
Imagine the situation. You are in an apartment just south of the Eiffel Tower, competing in the main draw of the French Open, privy to just 128 players in the world. You are sharing a locker room, a practice court, a restaurant, with the likes of the Williams sisters, Henin, Maria Sharapova, all of them with their game face on for one of the most important events of the year, and being watched by thousands and thousands of spectators. And the following week?
You are in Nottingham, using a University locker room, using a newsagent raffle ticket to get your lunch, watched by one man and his dog, and back to earth with a bump.
But this is not imagination, this is the reality of professional tennis for the bulk of players on the tour, among them Elena Baltacha, Anne Keothavong, Katie O'Brien Colin Fleming and Ken Skupski, all of whom are either ranked inside the world's top 100, or just outside it, and all of whom have made the journey from Paris to Nottingham this week to play in the AEGON Trophy, and ready themselves for the grass court season and Wimbledon.
Glamorous they may not be, but it is the hard work at lower events like the Nottingham Challenger (formerly held in Surbiton) that allows most tennis players to build up their points so that they can compete at the big events, not to mention the court time. Roger Federer may not need a run of matches to come out firing, but the average player, who doesn't fly first class and doesn't stay in a five-star hotel, does.
Baltacha is the perfect example. Earlier this year, she triumphed at a $100,000 ITF event in Midland, Tennessee. Where-land? Exactly. A few weeks later, she qualified for the prestigious double in Indian Wells and Miami, the second-biggest events on the calendar after the Slams, and notched up her first top 10 win in the same breath.
This is not to say that a player should be content with Challenger land. The player who gets stuck at this level does so at their peril. It is the preserve of the die-hards, gritty players who have been slogging away at tennis for years, and years and never quite made it. But the echelon below the main Tour provides a valuable pit stop on the way to the real thing. Fleming and Skupski progressed swiftly and sharply from their first Challenger win, in Orleans, to their second ATP title in St Petersburg in November last year, and players like Laura Robson and Heather Watson are at the moment cutting their teeth out on the ITF circuit, readying themselves for a charge on the main Tour.
It stands to reason therefore that Challengers like Nottingham are also a minefield of prospective talent, and as a result full of coaches and agents spying and scouting for the Federers of the future. Bernard Tomic, Ricardas Berankis, Grigor Dimitrov, all tipped to do well, are all strutting their stuff on Nottingham's grass this week, not to mention last year's junior Wimbledon champ Noppawan Lertcheewakarn, who hit with Baltacha yesterday. So, while most of the world have their eyes and ears firmly glued on the results and reports flying out of Paris, keep one eye on Nottingham. It may surprise you.
.
Buy ACE Magazine, on sale Friday 4 June, and you could win a day of hospitality at Wimbledon on 26 June 2010! Visit www.lta.org.uk/granddayout for more information.
.
Sportingintelligence home page for all our latest exclusives
Find out what the world's top sportsmen REALLY earn, in our database, and in our Global Sports Salaries report