By Nick Harris
1 June 2010
For an organisation that purports to represent the interests of everyone in the global game, Fifa has a habit of appearing rather elitist at times. Its regulations that the World Cup trophy can be touched only by "heads of state and former winners" hardly speaks of a people's game, and today that same trophy got itself a new box, or rather a "travel case", hand-made by Louis Vuitton, and modeled for Fifa / LV by Naomi Campbell no less (pictured).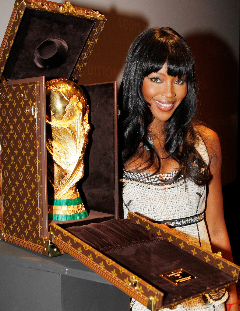 As a press release tells us: "Commissioned by Fifa, the special order case, handmade by a single master craftsman in Louis Vuitton's historic Asnières workshop near Paris, has been meticulously designed to accommodate the celebrated Trophy, which measures 36 cm in height, weighs 6.175 kg and is made of solid 18-carat gold with a base of semi-precious malachite.
"Covered in Louis Vuitton's iconic Monogram canvas, the travel case is fitted with the company's signature brass lock and corners, and has a dark brown lining that complements the Trophy's rich gold. The case opens at the front and at the top to allow the Trophy to be removed easily when, at the final on 11 July in Johannesburg, watched by many millions of people across the globe, it will be presented.
"… the one condition of any Louis Vuitton special order is that it must respect the spirit of travel, being conceived both to protect and to transport a customer's belongings – a condition naturally fulfilled by the FIFA World Cup Trophy case."
No doubt another condition of a special order is that the buyer typically hands over a nice big wedge of cash.
South African will have spent somewhere far north of $1bn on staging the World Cup.
Further reading on some of the country's most pressing social problems can be found at the Unicef website and on the key indicators website of the South African government.
.
.
.
More stories mentioning the World Cup
Find out what the world's top sportsmen REALLY earn, in our database, and in our Global Sports Salaries report