By Nick Harris
25 April 2010
Hacker Young, the accountancy firm handling the administration of Portsmouth, has taken out a full-page advert in the new edition of FC Business magazine – the trade publication for the football industry in Britain – to advertise its services to football clubs wanting advice on the new 50p "high earners" tax rate, and on "turnaround and recovery".
The firm cites Pompey as a case study of its work, even though the south-coast strugglers remain in administration amid serious doubts over the future. There remain unanswered questions about which of the club's creditors have and haven't been paid, and why the administrators don't know this already, and where so much of the club's money went over the past few years.
Sportingintelligence today reproduces the advert (from page 9 of the current FCB), as well as the page from Hacker Young's report last week on Portsmouth's finances that lists the company's charges.
The lead administrator at Portsmouth is Andrew Andronikou, a Hacker Young partner, whose services alone will be costing Portsmouth between £350 and £450 per hour. Other Hacker Young personnel will also be costing money, as will a variety of HY expenses.
The advert opens: "Having handled the administrations of two financially distressed football clubs, Portsmouth and Swindon Town, and having advised over a dozen others, we are more than aware that the financial difficulties facing many football clubs today are largely attributable to poor financial control and an insufficient recognition of the impact tax can have on the club's balance sheet."
The advert says Hacker Young's services include "negotiations with HMRC". It was actually through the intervention of HMRC, to which Portsmouth still owe more than £17m, that Portsmouth were finally forced into administration earlier this year.
.
Sportingintelligence home page
.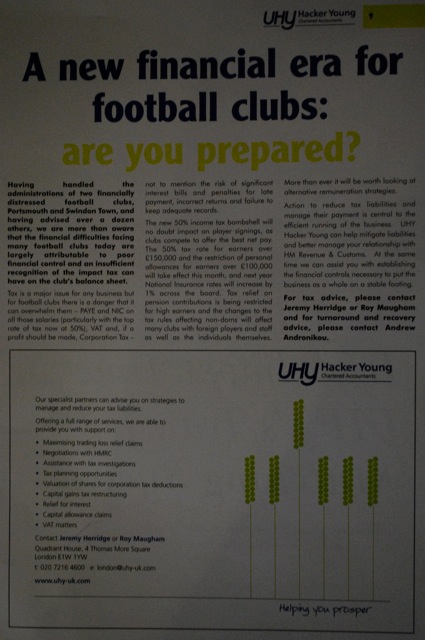 .