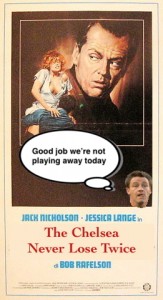 By Brian Sears
12 March 2010
Some things in life are barely credible, and some are so incredible you'd need your head examined if you fell for them. And in the tier above that, you have Chelsea's record of consistency in the Premier League. Except their consistency is a provable fact of extraordinary quality.
We're talking about the fact that they simply refuse to lose two Premier League games on the bounce. They simply won't do it (and we're not trying to jinx them today, honestly).
Here's the stat of the weekend, if not the month. Chelsea have gone 142 Premier League games since they last lost back-to-back matches in the League.
That happened way back at the end of the 2005-06 season, but only after the Premier League title had already been secured. On that occasion Chelsea's two defeats were at Blackburn and then Newcastle, but of course they were largely irrelevant because the League was no longer "live" when they happened.
To find the last time Chelsea lost consecutive League matches that actually meant anything, we need to go further back. That didn't happen earlier in that 2005-06 season, or in 2004-05, or in 2003-04. The last time it happened was in the 2002-03 season, in late February and early March 2003 to be precise. They lost back-to-back to Blackburn . . . and this is spooky . . . and to Newcastle. Chelsea only lose back-to-back to Blackburn and Newcastle it seems. As a phenomenon, that must be  even odder than Jesus in your pans, no?
The upshot? It's seven years since Chelsea endured consecutive league defeats in "live" games. And none of their 16 defeats since the 2006-07 season have come in anything but singles.
Next best in this regard are Manchester United, with 18 defeats in total in the past four seasons, and only one episode of "double loss", in March 2009, when they lost to Liverpool then Fulham.
Liverpool have had four "DLs" in that period, including one this season, while Arsenal have had five, including three this season. Arsenal are the only "big four" team to have lost not just two but three League games on the bounce in the period in question. They've done that once.
For most teams, losing two games in not an odd thing, losing three is quite common, four and five happens, while six and more is rare but not unknown. Portsmouth have even endured an "eight stretch", while Wigan have done that twice.
Having said all this, maybe consistency of this kind is over-rated. United have won three titles in a row, after all, while Chelsea haven't, and Arsenal's wobbles, for all the frustrations they cause their fans, have not yet ruled them out of  the title  hunt.
So no pressure on Chelsea at home to West Ham today, having lost last time out against Manchester City. Honest.
.
Sportingintelligence's home page
.