.
By Brian Sears
14 January 2010
.
Manchester City have been purring under Roberto Mancini, and Carlos Tevez was the pussy-cat-in-chief when he scored a hat-trick in the 4-1 thrashing of Blackburn on Monday. Everton will not be relishing the prospect of facing fellow blues in form when they meet this weekend.
Tevez's treble was the 206th Premier League hat-trick since 1992, and the eighth of this season so far. That's a decent tally against six in the whole of last season. The most hat-tricks in a season was in 1993-94, when there were 19, and the fewest were scored in 2006-07, when there were three. Here's what the all-time graph of hat-tricks by season looks like: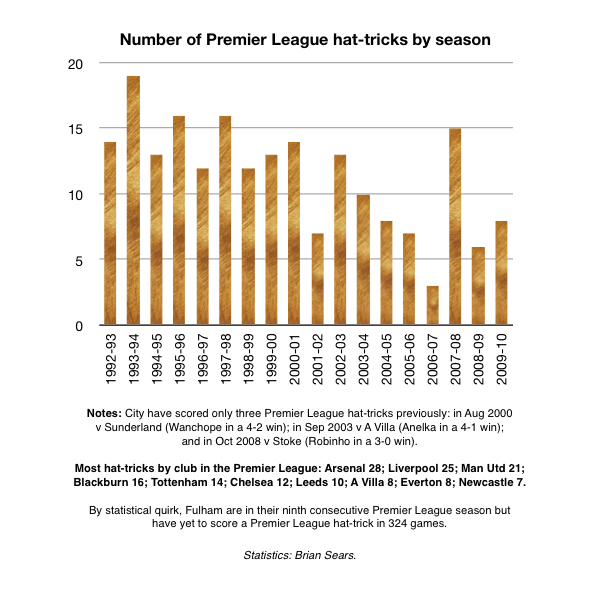 For all the ease of City's win on Monday, they haven't coasted home as often, perhaps, as they should have done this season. In 13 of their 20 Premier League matches to date, the result (and not just the score) could have changed with the last kick. On those 13 occasions they drew eight times, won four times by one goal and lost once by one goal. The seven other matches were settled with six "easy street" wins by two or more goals, and by one "mean street" defeat by two or more goals.
When it comes to "easy street" (ES), Arsene Wenger's Arsenal are this campaign's San Franciscans so far, with 11 ES wins (55 per cent of games), two wins by one goal, three draws, two defeats by a goal, plus two defeats by two goals or more. Only seven of their 20 games have gone to the wire, where the last kick could have changed the result. At the other extreme, 20 of Birmingham's 21 games have gone to the wire.
The ES records of all 20 clubs are in the table below, drawn up at the conclusion of last weekend's matches, and therefore omitting Monday's 4-1 for City. We have not updated the table because it wouldn't have been kind to Sam Allardyce's health. City now have six ES wins, while Blackburn now have eight "mean street" defeats, the same as their fellow big losers, Hull and Wolves, although Burnley take the "fodder" biscuit so far with nine "mean street" losses.
Before we get to the that table, here are three ES charts that represent the top, middle and bottom of the scale in ES wins so far. Arsenal have had the most, West Ham a middling amount and Hull none at all.