By Brian Sears
16 January 2015
Arsenal visit Manchester on Sunday to play Manchester City and then return to Manchester for their last away game of the season in May to play United. Old Trafford has long been hard work for Arsenal, not only in the Premier League era but throughout all the post-war years.
In 67 league visits to Old Trafford since the war, Arsenal have won on just 10 occasions, with only three wins there in 22 Premier League games.
Arsenal have much more enjoyed their post-war visits to Manchester to take on City. The Gunners are in post-war points profit in their visits to City, gaining 87 points and allowing City only 60 points. Overall in the Premier League era too, Arsenal have remained in profit by 32 points to 17 on City's turf.
But the enormous financial investment made by Sheikh Mansour since 2008 in City, Arsenal have found visits there so much tougher. City had to wait until the 10th Premier League visit from Arsenal before getting their first win on their own ground.  (Arsenal had won eight and drawn one before that). But in the last eight home games with Arsenal, City have won five, drawn one and lost just two.
Up to then Arsenal had only lost 10 times in 46 post-war visits.
Article continues below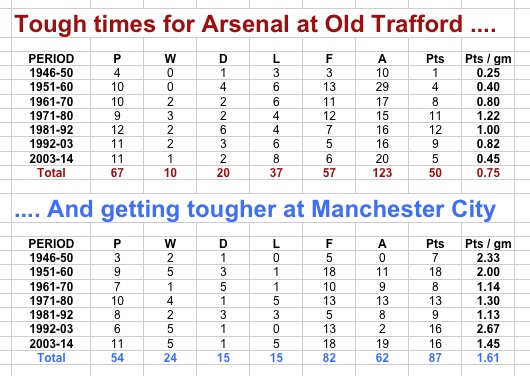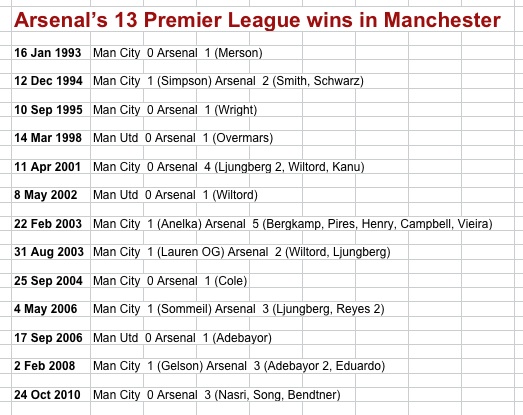 .
… and another thing
Are you up for the Cup?
It's no doubt a question that the Football Association will be interested in knowing from fans about their flagship tournament.
How can we find out? By comparing gates in the third round, when all the big clubs come in, with average league gates for the home sides to see how those attendances compare.
The answer: fans overall are 18.4 per cent down for the Cup, in the 32 ties as first played (without replays). And as many as four out of every five regular Cardiff fans for league games turned their backs on the Colchester tie while one in every two stayed away at Burnley, Millwall and Charlton.  This decline has been typical of FA Cup third-round attendances in recent seasons at some clubs.
But then there are the astronomic increases at non-league venues and the doubling of average gates at Yeovil and Tranmere. Encouraging too for the FA is the way gates are maintained at clubs like Arsenal, Chelsea and Man City.
The crowds at the seven replays in total fell a bit further than the earlier games, by 23 per cent overall. The FA should use Ipswich as their role model of keeping crowds up for the cup. Nearly one in two more fans attended the replay with Southampton than have attended league games so far this season.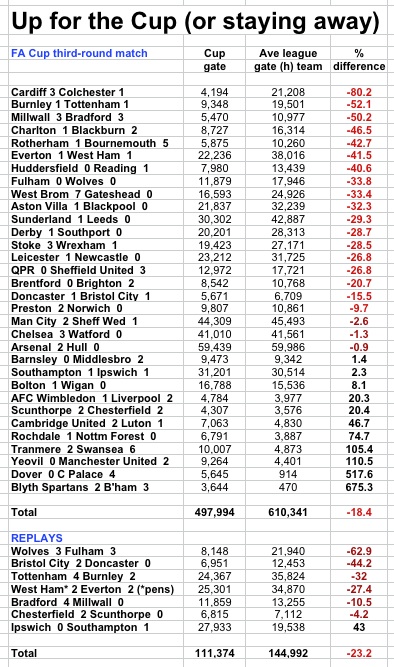 .
More on Man Utd / Arsenal (or search for anything else in box at top right)