By Nick Harris
9 June 2014
With the World Cup in Brazil just a few days from kicking-off, five-times winners Brazil are the bookmakers' favourites on home turf, with twice-winners Argentina second favourites, followed by holders Spain and three-times winners Germany. Then the chasing pack comprises Belgium, France, Italy, Uruguay, Portugal, England, the Netherlands, Colombia and Chile. And the rest, in betting terms, can pretty much forget it.
Anyone who follows football will have views on their own favourites, for their own reasons. A purely personal and non-objective view is that Argentina will win in a final against Germany, after that pair have defeated Spain and Brazil respectively in the semi-finals.
But what about objectivity, where attempts are made to predict the outcome of the World Cup based on nothing but pure numbers? A whole range of models are out there from Goldman Sachs, to Nate Silver at 538, to this simulator, to the Bloomberg analytical tool to a complex set of criteria used by Rachel Riley from Countdown.
Will any of them be completely right? Of course not. But it's a game of opinions and models are a debate-provoking distraction. So in an attempt to look at different objective reasons why certain nations might do well this summer, Sportingintelligence has considered how the World Cup would pan out if all the games went according to A: Fifa rankings; B: player wages; C: the value of squads; D: The Wisdom of Crowds (ie: an opinion poll); E: Pedigree at prior tournaments staged in the Americas; and F: a total of these totals.
Methodology
For all the models, the criteria have been applied on a match-by-match basis, starting in the group stages and ending with the knockout stages detailed below. So, for example, when using Fifa's rankings, Brazil (ranked 3) win the opening game against Croatia (No18), Mexico (No20) will beat lower-ranked Cameroon on Friday, and so on.
But using the players' wages as guide, as derived from the data that underpins the GSSS 2014 and similar work from partner researchers, while Brazil will still win against Croatia because their players earn more, Cameroon will beat Mexico using the same metric, and not vice versa as when using rankings.
Every match in the group stage is predicted on the relevant criteria to produce latter stages that look like this first graphic, using the first two methods. In both these cases, Spain beat Germany in the final, with those teams having beaten Argentina and Brazil respectively.
Article continues below.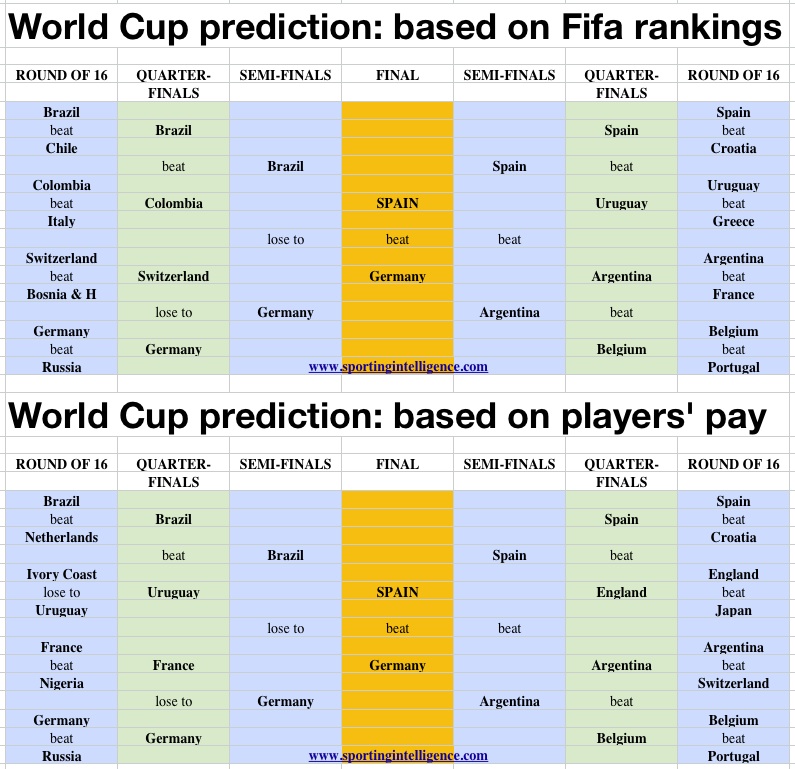 .
Next we considered the values of the squads. How do you get an accurate idea of what each squad of players is worth? We took data from two sources to get a neutral aggregate view on this. The first was the Football Observatory's new annual review, which attempts to make objective player valuations on a wide variety of criteria. Using their data we came up with an average player value per World Cup team, with Argentina being the most valuable team, then France, Brazil, Spain and so on down to Iran in 32nd place.
The second was a piece of research by The Score, who in turn used data derived from www.valor.com.br and www.transfermarkt.com. They had Brazil as the most valuable team, then Spain, Argentina, Germany and so on down to Honduras in 32nd place. We took both sets of data from the Observatory and the Score and created a combined index that ranked the value of the squads from Brazil, Argentina and Spain as the three most valuable down to Costa Rica, Iran and Honduras as the least valuable.
Again, each game was played out with the best team (most valuable in this case) winning. The results are in the graphic below, followed by the results based on the 'Wisdom of Crowds', ie an opinion poll. This was a simple, one-question poll here, conducted last night and this morning, and we took into consideration the first 500 responses. Again, each game was 'played' based on the Wisdom of Crowds, and the results of that are below too.
Article continues below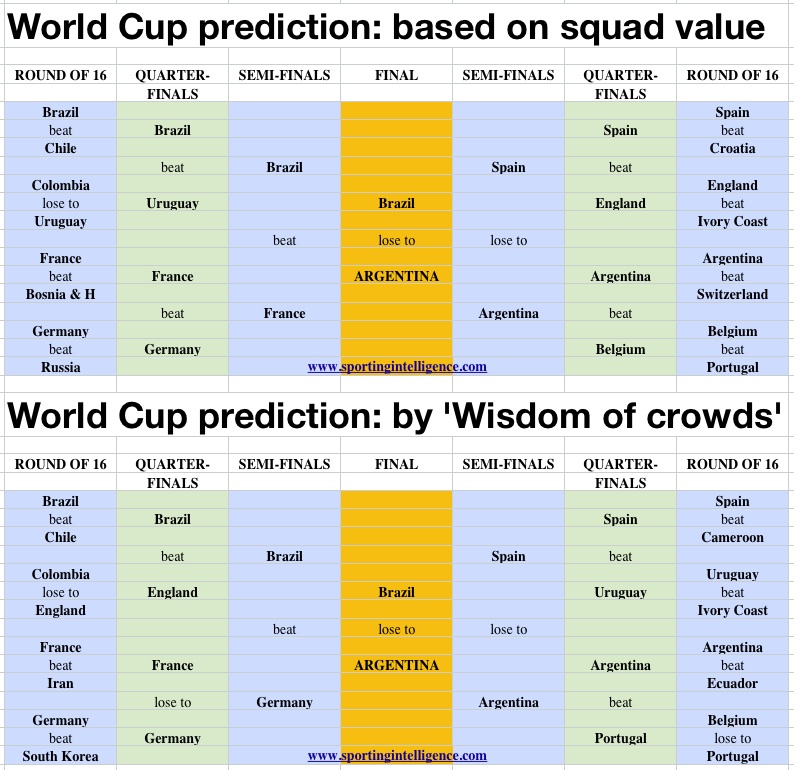 .
The fifth model took into account performances at the seven previous World Cup tournaments staged in the Americas. The World Cups of 1930, staged and won by Uruguay, of 1950, staged by Brazil and won by Uruguay, of 1962, staged by Chile and won by Brazil, of 1970, staged by Mexico and won by Brazil, of 1978, staged and won by Argentina, of 1986, staged by Mexico and won by Argentina, and of 1994, staged by the USA and won by Brazil, have all been won by South American teams.
Whether that is down to chance, culture, home advantage, grass, climate or any mixture of multiple elements is beside the point. What's certain is the statistical phenomenon of South American teams always winning World Cups in the Americas, seven from seven so far.
So we looked at the results of those seven tournaments and ranked this summer's nations based on how they (or their respective forebears) had performed in previous tournaments in the Americas, and using those rankings, 'played' each game of this summer to take on board this historical 'home' and 'regional' bias.
This is how a summer World Cup based on previous World Cups in the Americas would play out.
Article continues below.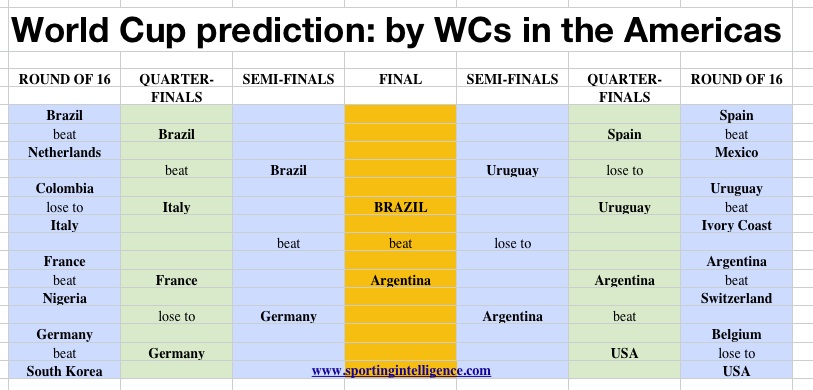 .
So who will win the World Cup?
Nobody knows, which is the beauty of it. But if you made a composite metric of all the above, then it's Brazil to beat Argentina in the final, with Spain and Germany reaching the semi-finals, and Uruguay, France, England and Belgium making the quarters.
Vamos!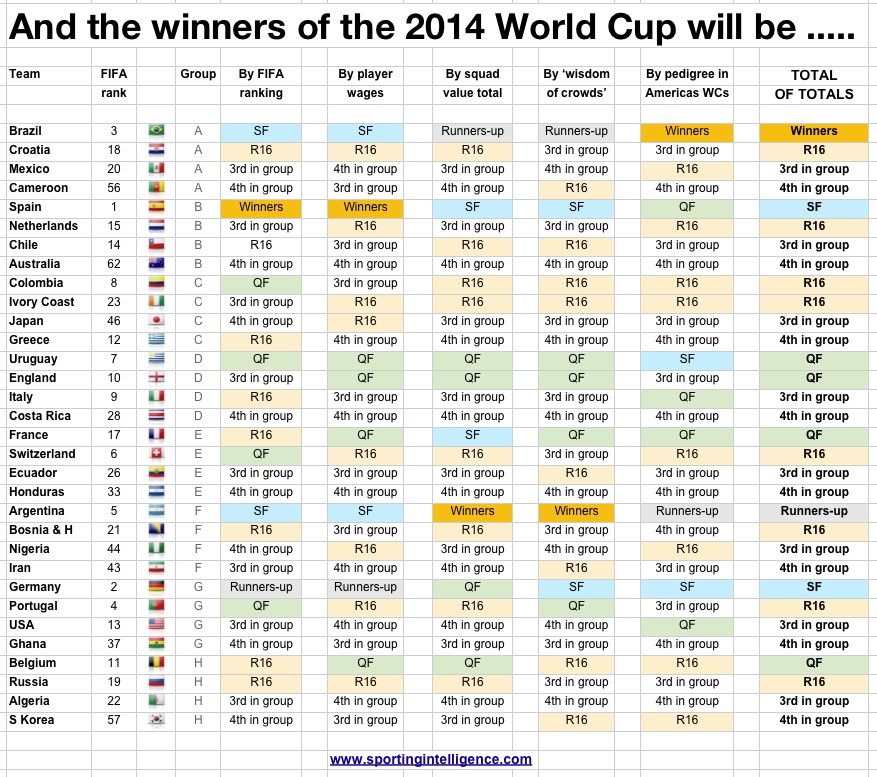 Follow SPORTINGINTELLIGENCE on Twitter
Obtain the full Global Sports Salaries report (left) FREE by clicking this sentence to send an email. (Write GSSS 2014 in the subject line, and your name / organisation in the email)NB: reports are being emailed on an individual basis so please be patient if you don't get it immediately