This page carries items posted on Twitter @Sportingintel that are not necessarily carried in any greater length on this site. Clicking on the 'Tweet here" links takes you to the relevant tweet (and related comments / debate). If you're interested in stories in greater detail on a particular sport, club, topic or whatever, search in the box above right. Here for research downloads.
.
1 November 2015
A goal of the season contender … from a Japanese High School match      Tweet
.

.
3 February 2015
Premier League clubs spent £130m in the January window, well down on the £225m record but with interesting trends   Tweet
Arguably the most notable single fact in the transfer window is that Chelsea emerged from it again with a net profit, having bought the single most expensive player in Juan Cuadrado for £27m, but selling Andre Schurrle for £24m and Ryan Bertrand for £10m. That's not to say Chelsea haven't spent a lot of money over the past couple of decades. In fact across the whole of Europe in the Premier League / Champions League era (since 1992-93), only Real Madrid with £1.45 billion of gross transfer spending have topped Chelsea's £1.23bn. And in the ownership era of Roman Abramovich, Chelsea have spent just a little over £1bn gross on transfers, or around £700m net. In the same period that Chelsea have spent £1.23bn gross on transfers, Manchester City have spent £970m, Arsenal £614m and Bayern Munich £566m (all gross), just to pick a select few examples for comparison.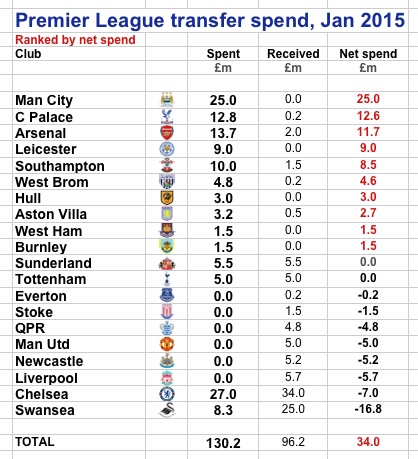 .
2 January 2015
Cristiano Ronaldo of Real Madrid won the Ballon D'Or, again, but the intrigue as ever was in the voting details       Tweet here
As described while the event unfolded live (here), Fifa make available the full votes of every captain, coach and media representative (here). So we can highlight Eurovision-style anomalies such as Vincent Kompany's three votes (here); Roy Hodgson's choices (here); and the fact Manuel Neuer would have been in second place to Ronaldo and ahead of Lionel Messi if only first-choice votes had been included, or in other words if each voter had been asked to pick a single best player of the year (here).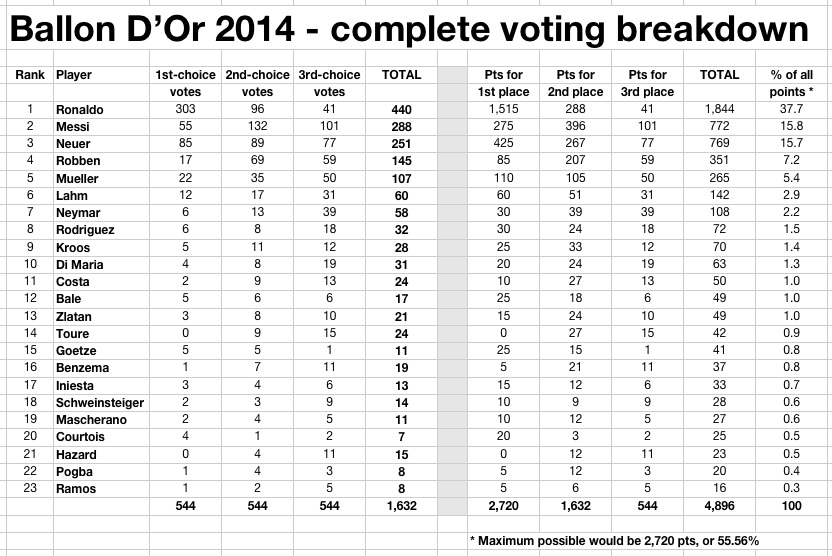 .
30 September 2014
Managers at clubs in the Premier League during Arsene Wenger's 18 years in charge at Arsenal       Tweet here
Wenger's 18th anniversary in charge of Arsenal falls on 1 October 2014. In his time at the club, 43 clubs other than Arsenal have played in the Premier League, and they have had 207 'different' permanent managers or long-term caretakers (like Rafa Benitez at Chelsea) who were effectively permanent appointments for a sustained period, ie: 20 or more games. Here are the details.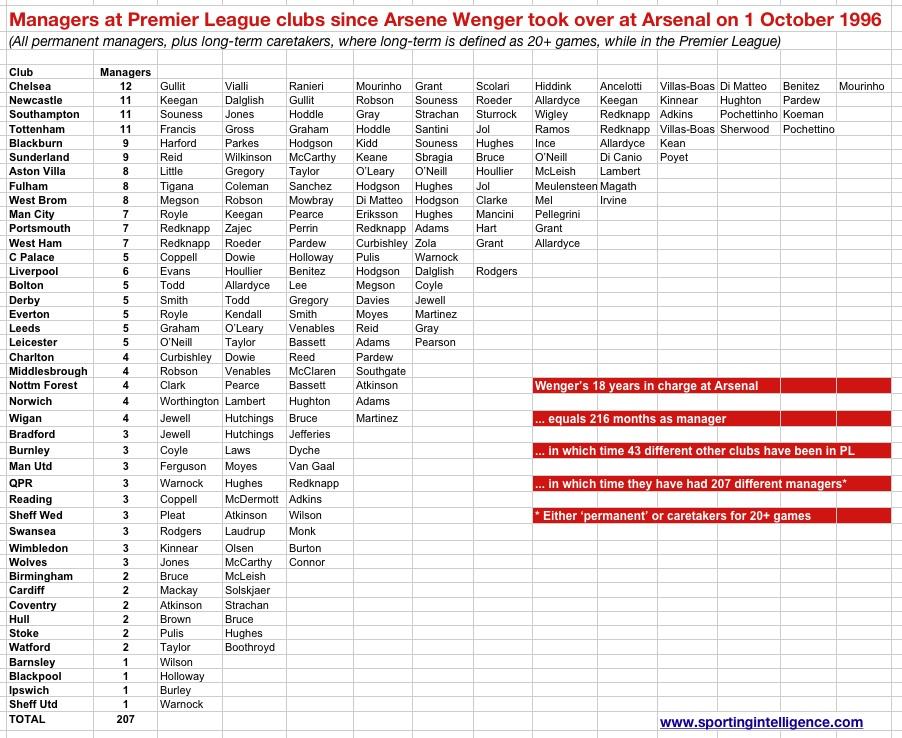 .
1 September 2014
People's game? The finances behind the transformation of two billionaire-owned clubs            This tweet
Ahead of the first match between Manchester City and Chelsea in the 2014-15 Premier League season, below is a summary of the net spending during the ownership regimes of Roman Abramovich at Chelsea and Sheikh Mansour at Man City respectively. All figures sourced from official club accounts to the most recent dates available.
Leaving aside for a second any moral debate about spending vast sums on 'plaything' or 'vanity' projects, it is now arguable that Abramovich's investment (net) in Chelsea has led to an asset worth something approaching the total he has spent on it. Or in other words, given the income streams and bottom line earnings now possible by the big PL clubs, he may be able recoup his cash if he sold. Sheikh Mansour by any reckoning is not at the same stage – yet – and that is partly because City are less established in Europe's elite, they are not based in London, they do not own their stadium, and some key income streams remain closely aligned to entities ultimately controlled by Mansour and his family.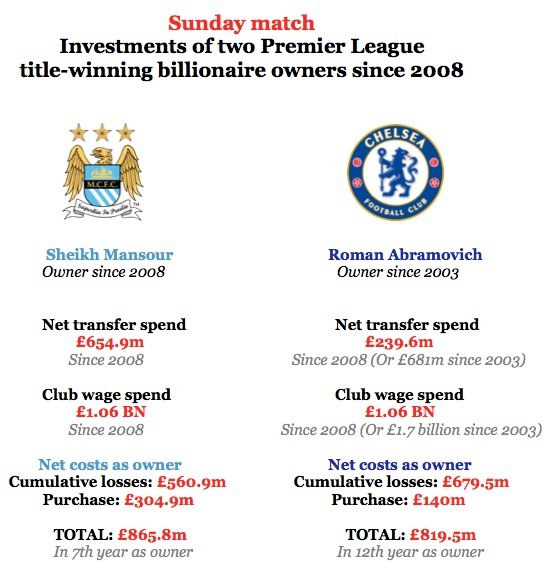 .
25 August 2014
The biggest transfers in world football                Tweet here
With Manchester United reportedly close to signing Angel Di Maria from Real Madrid for £60m (or thereabouts, deal and amount TBC, some reports say the price could be as high as £75m), here is a list of the 21 players confirmed to have been transferred for £35m+ in global football history.
Note 1: this is a £ ranking list and a euro list would be different – the exchange rates over time illustrate the complexity of such issues.
Note 2: other transfers might legitimately have been included in this list, not least Carlos Tevez's £47m signing by Manchester City, but the opaque nature of that deal – strange, if not unique – clouds who earned what from the deal, specifically how much did his 'owner' group take as fee for him as a commodity, and how much in fees for the deal.
Note 3: Neymar's transfer cost (again, cost of him as commodity) was €57.1m in a controversial deal where it was later disclosed that total related payments took the cost of purchase to €86.2m. The problem for Barca was a tax issue related to declarations of spending; it did not change the actual fee being €57.1m. The  types of payments made in the related sums – signing-on fee, payment to a foundation, agent commission – are not included in like-for-like comparisons for other players, nor should they be here.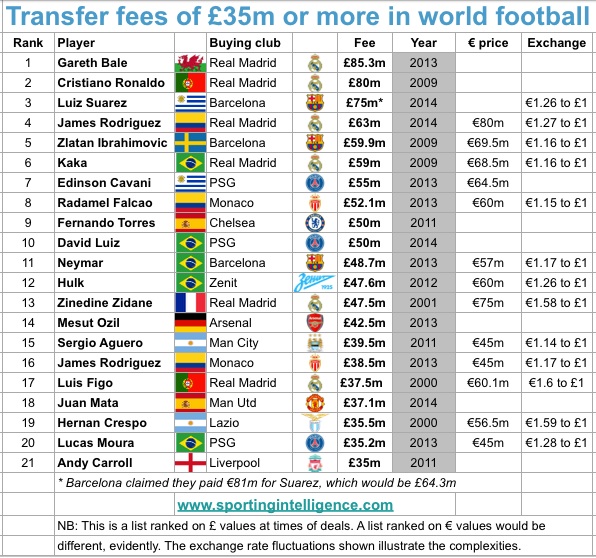 .
24 August 2014
Net transfer spending in the Glazer era by England's 'Big 7′                   This tweet
Amid ongoing criticism that Manchester United have been ineffective in the transfer market in recent times, it has been suggested that the Glazers' leveraged buyout, which has taken some £700m from club coffers in debt-related costs, has hampered them. Examining that theory was the starting point for the graphic below, which looks at the net spend of United and key rivals in the Glazer era. Manchester City have spent by far the most, net, in this era – no surprise whatsoever given Sheikh Mansour's ownership since 2008. But United have not been impoverished; only City and Chelsea have spent more over 10 years, and Chelsea not much more. And just taking the past 2, 3, 4, 5 years into account, United are second only to City.
Of course money is one factor in United's transfer dealings. But one might also argue that they have chosen not to sign various players in the past because they didn't want to pay the higher wages City (and others) were offering. It is also notable that in the market for genuine 'stars' – established big-name players in their prime – then United have lost out time and to Real Madrid and Barcelona.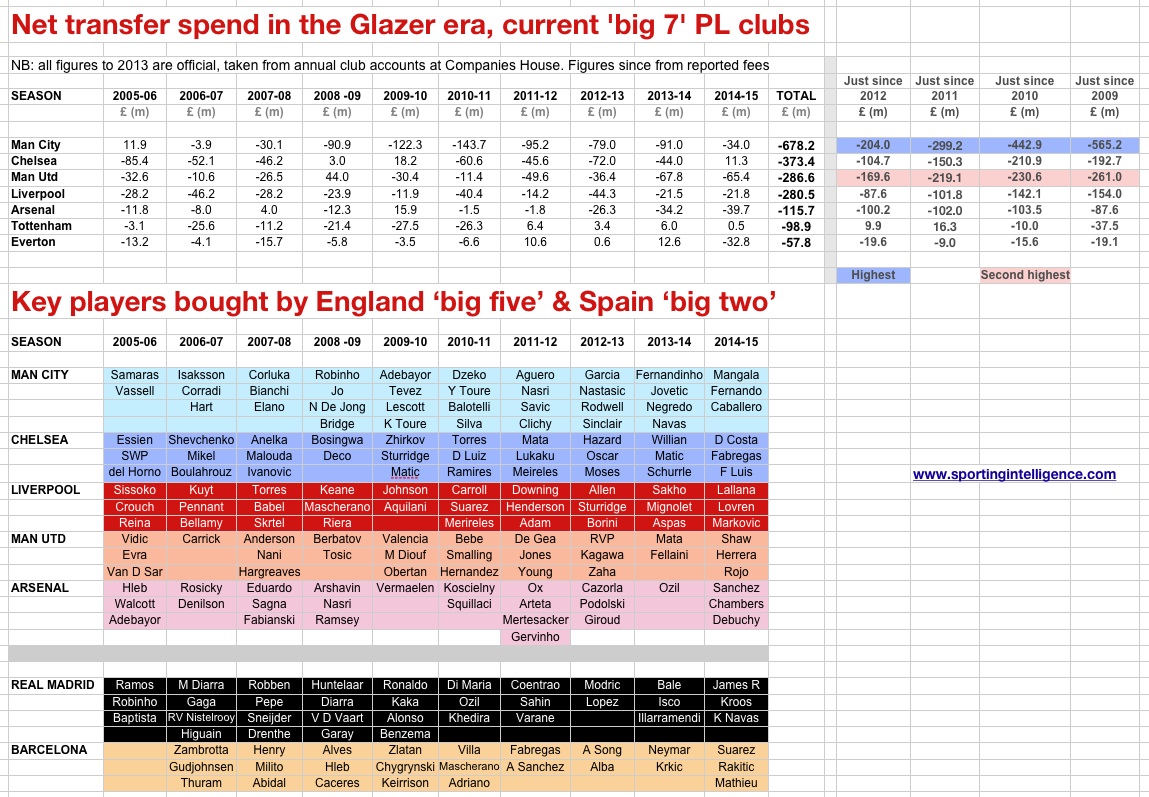 .
.
22 August 2014
Match of the Day celebrates its 50th birthday – only 11 clubs have won England's top division in its lifetime        Tweet here
This, in a nutshell, is English 'modern football', if modern is defined as the past 50 years. Note there is no place for Tottenham in modern football, their last league title being so long ago that it does not count. (Yes, that's tongue in cheek). That Man Utd and Liverpool have dominated the era is no surprise. Perhaps to some younger supporters, it may be surprising to see Leeds, Derby and Forest among the 11 giants of the MOTD era. A related feature on this subject, an interview with MOTD veteran Barry Davies, is linked here.

.
.
3 June 2014
World Cup squads for the 2014 World Cup, interactive

..
3 March 2014
Most 'major' trophies won by English football clubs
Manchester City won the 12th 'major' trophy in their history on Sunday 2 March at Wembley – by beating Sunderland thanks to stunning goals from Yaya Toure and Samir Nasri. For the purposes of this exercise, 'major' trophies are top-division league titles, either of the two domestic cups, plus European trophies including the European Cup / Champions League / Uefa Cup / Cup-Winners Cup and Europa League (or equivalents). The 'entry level' for this table is any club that has won the English title at least once, ever, since the first season in 1888-89. So it does not include teams who have won a few cups but no title. 'One-off' events, where a trophy is won for fixtures like the Charity Shield and Super Cup are also excluded, as are events that were ever one-offs, for consistency's sake. Why? Because the trophies included were all won in sustained, and often season-long competitions.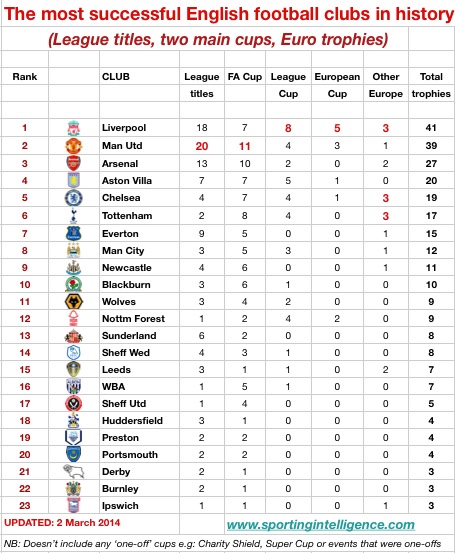 .
13 January 2014
Summary of first-choice votes in the Ballon D'Or 2013
The race for the most first-choice votes was very close, Cristiano Ronaldo pipping Franck Ribery by 167-163. This gave Ronaldo a 30.87 per cent share of all first-choice votes and Ribery 30.13. This was in marked contract to the landslide win by Lionel Messi in 2012, when he polled almost 60 per cent of first choice votes. An article detailing last year's vote in depth is linked here. For those interested in playing with data, a spreadsheet of all votes in 2013 is here: Ballon D'Or 2013
.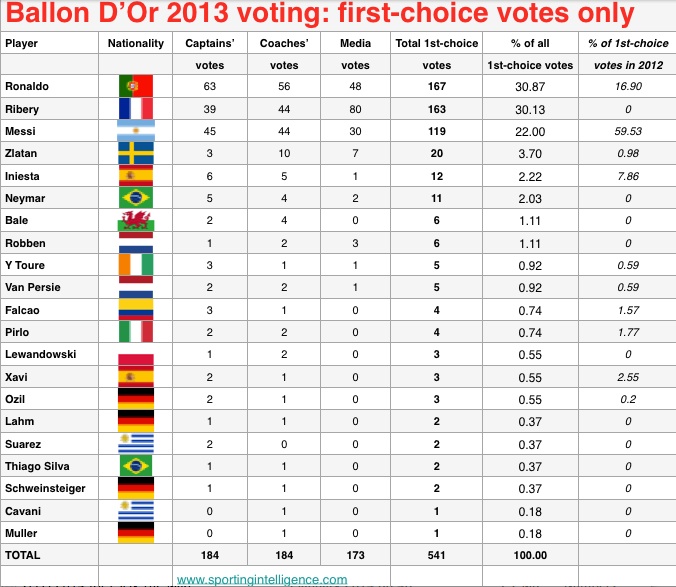 .
11 January 2014
24 of the 44 clubs in the English Premier League and Championship now have overseas owners or co-owners. This interactive map shows where they are based and is best used in full screen mode, then use the zoom function to zoom in and out of particular regions / countries to see those areas in greater detail.    The tweet

.
.
6 January 2014
All-time English league table (PPG, 3 points all eras, regardless of division)
This table was prompted by examining Nottingham Forest's all-time record in league football, on the 39th anniversary of the appointment of Brian Clough as manager. In his tenure they punched way above that, winning the title and two European Cups.   Tweet here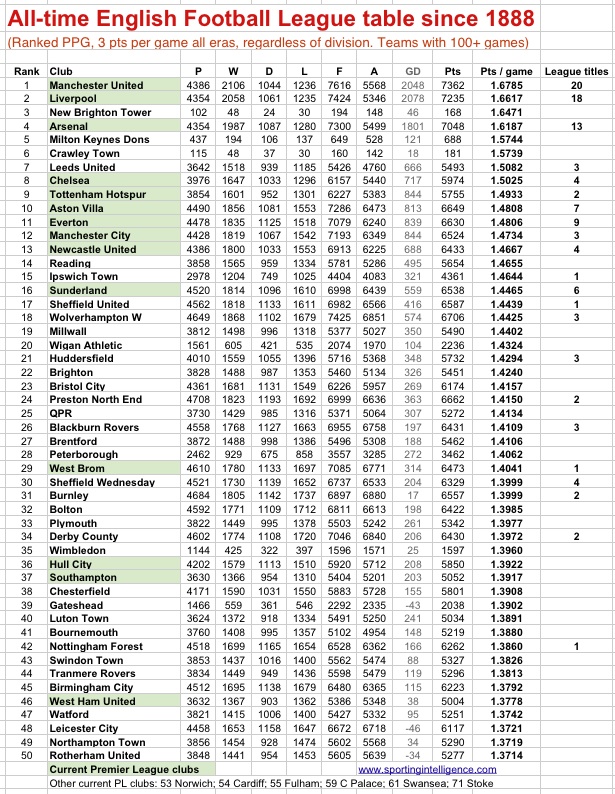 .
All-time Scottish league table (PPG, 3 points all eras, regardless of division)
This table was prompted by English table above, just because.   Tweet here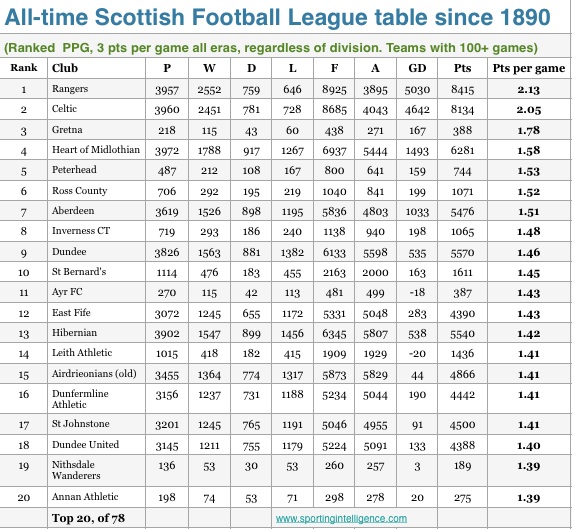 .
The miracle of Brian Clough    Tweet here
This table marks the 39th anniversary of Brian Clough's appointment as Nottingham Forest manager. As the asterisk at the bottom makes clear, the point is that Clough was the manager who took domestic small-dry (Forest) to European Cup glory, not just once but twice. That's it. It was a unique achievement and remains so in two respects: no other team that has won the European Cup has ever won only one domestic league title at home; and every other winner of the European Cup had, at some point if not at the time of their EC win, been 'giants' at home. Forest had never been.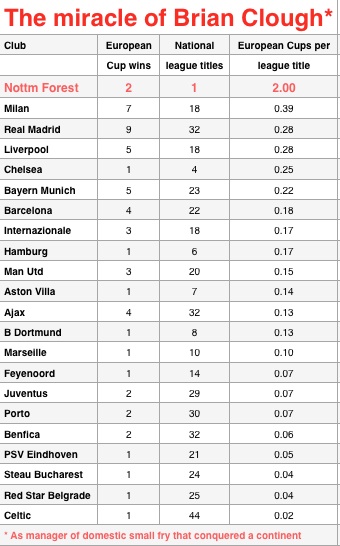 .
2 January 2014
Global drug bans in force among (track and field) athletes on 1 Jan 2014, by country     Tweet here    And related tweet
This graphic, using data sourced from athletics' world governing body the IAAF, shows the number of people banned by nation as of 1.1.14 in athletics, from 55 Russians and 43 Indians down to single individuals from a number of countries.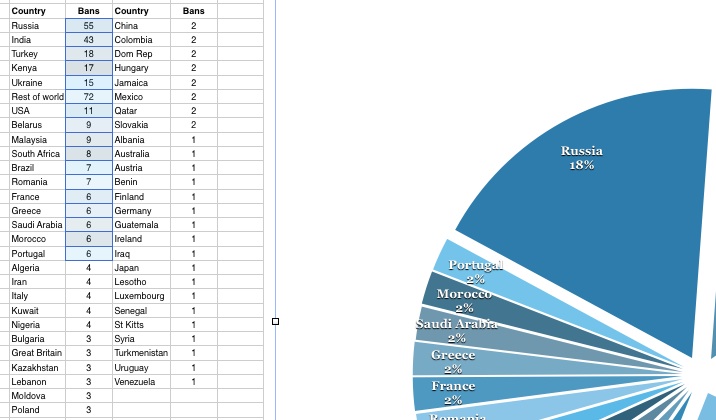 .
31 December 2013
Bolton join an elite band          This tweet
This graphic marked the announcement of Bolton Wanderers' financial results for the 2012-13 season, when they lost more than £50m in a single year, joining an elite band of other clubs who have  roamed into this dangerous territory. Bolton, uniquely among them, were in the Championship in the season in question, and hence not even able to draw on the Premier League riches to help them out.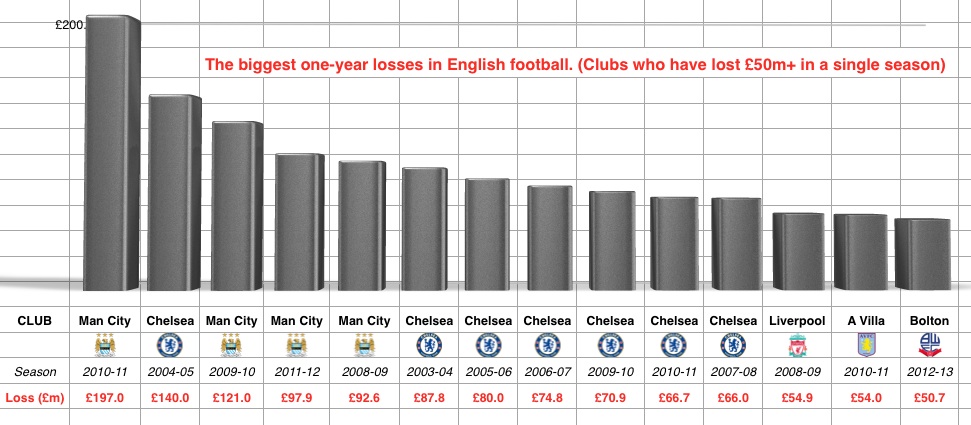 .
.
29 December 2013
Omens from the Boxing Day table in the Premier League             This tweet
Click to enlarge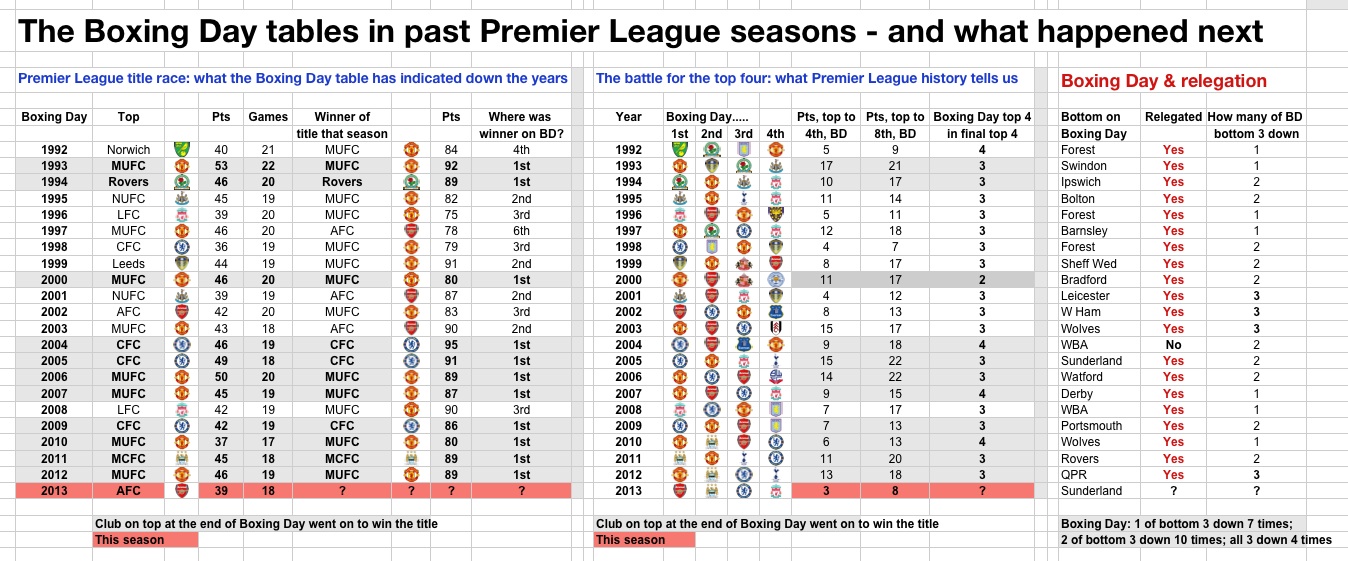 .
16 December 2013
A very British affair: the rise and rise of @Andy_Murray in #SPOTY   The tweet
This graphic details the peculiarly British affair that is the BBC Sports Personality of the Year award, since 2007, and documents how Andy Murray has been a serial achiever in that time. Murray's landslide win in 2013 with the biggest % share of the public vote ever, came after he won Wimbledon in summer 2013, breaking the 77-year hoodoo since the last British man (Fred Perry) won the men's singles title.