Screen Break

By Martin Kelner
14 March 2016
It's a simple game, rugby. As ITV pundit Jonny Wilkinson said before Saturday's Six Nations match between England and Wales: "It's about growth, it's about learning, and in order to do that, you've got to be prepared to ask questions of yourself constantly, and put yourself in that position.  You can't wait for the weekend to ask questions otherwise you grow at the speed others dictate."
Want more?  "You've got to be able to put yourself on the spot, and create therefore a team full of individuals and collectively who have the answers," quipped Jonny. "And those answers are essentially er, what become your strength.  You know, you play a game within a game."
Don't go away, there's more: "That way, your week, your day, your training sessions are harder than games can possibly be.  If you create it that way round, er, you end up enjoying your rugby, as opposed to going out there and hoping for the right questions that, er, you may have the answers for."
Jonny, it probably won't startle you to learn, does motivational speeches. I'm sure he's very good, but if you've signed up for one it might be as well to take a crossword or something along with you.
I don't even recall what presenter Mark Pougatch had asked him, but I know it only left about 10 seconds before the anthems for Gareth Thomas to give a Welsh perspective. It's no wonder there are rumblings in the Valleys.
Anyway, the outcome of the match validated Jonny's preamble, according to, er, Jonny. Wales's late vain comeback, he said, was due to "this whole time period. It's what I was saying before about just being questioned."
Jonny's not alone among former rugby union players in making a career in the fast growing world of motivational speaking, and it's easy to understand why. More than most sports probably, its lessons will help you get on in other areas, especially business.
For instance, it seems to me, as an outsider, that the whole argument about scrummaging tactics in the lead-up to the match was about how much you could get away with while just staying this side of legality, very relevant in the world of commerce, particularly if you want to register your company for tax purposes in Tristan Da Cunha.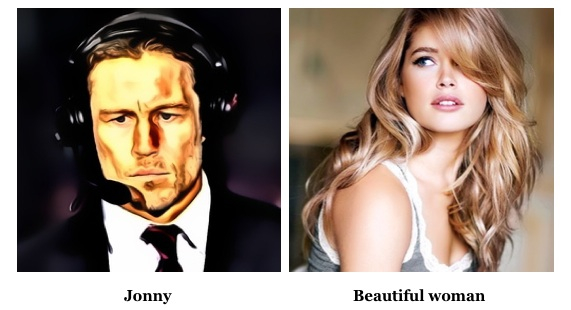 Rugby, as I'm sure Jonny points out in his gigs – just before he gets his cassette machine out for a rousing chorus of Simply The Best – is like life, attritional. Or possibly, it's like making love to a beautiful woman; in close physical encounters there's a surprising amount of latitude, but eye gouging is probably out.
I missed the Welsh comeback because it clashed with the Everton – Chelsea cup tie on BBC1, in a rare instance of two significant live sporting events televised simultaneously on free-to-air TV. Choices, choices. Just like a week or so ago when BBC4 screened a documentary in which Alan Yentob followed Tolstoy through the tortured second half of his life (Tolstoy's, that is, not Yentob, who does rather well, having every available orifice stuffed with money while he travels the world making agreeable documentaries) directly opposite a re-run of Take Me Out on ITV2.   And who'd have thought that chubby girl from Wolverhampton with the tattooed arms would have been picked to go to the Isle of Fernando's?
I was pleased to see Everton win, having visited Goodison for West Ham's 3-2 victory and listened on the drive back to an outpouring of despair on BBC Radio Merseyside's post-match phone-in, or more accurately, whinge-a-thon, the radio equivalent of a lynch mob, in which Roberto Martinez was the unfortunate holed up in the sheriff's gaff, safe for the moment from Scouse fury.
Of the many insults slung the way of the charming Spaniard, my favourite dubbed him "the Spanish Mike Walker" (kids, ask your dad, or whoever your mum's currently living with). The presenter suggested a win in the cup might persuade the hordes to put the flaming torches and pitchforks to rest, and trudge home, keeping the muttering down to a low hum. Good luck with that.
Finally, for those of you for whom a day without Clare Balding on TV is like a day without sunshine, the good news is that four days of Crufts on Channel 4, More 4, and Bloody Hell Not Even More 4 Surely, meant plenty of Clare, and a chance to revive a favourite joke from the Screen Break back catalogue, the one about Clare being so excited to be among pedigree mutts, she was driven all the way up to the NEC in Birmingham with her head hanging out of the window.
After 12 years fronting the coverage, she was no less enthusiastic this year.  "The best thing about Crufts," she bubbled, "is that if you ask the owner nicely you can have a cuddle." With the dogs, she meant.
.
Screen Break ran in The Guardian for 16 years, and then in the Racing Post. The first two episodes in its current incarnation can be found here, and here. Last week's Screen Break, which cost Steve McClaren his job, is here. Also well worth a read is the most amusing 'My celebrity death match'. And you can follow Martin Kelner on Twitter @MartinKelner
.