*
Sunderland's replacement of the sacked Martin O'Neill with Paolo Di Canio dominated a nation's sporting agenda for the whole of last week. But, Ian Herbert argues, the real scandal of the Italian's appointment has nothing to do with far right politics or his past affection for war-time dictators.
.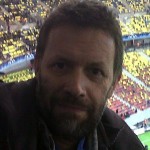 By Ian Herbert
8 April 2013
The point has been made in a few places – best of all here – that our desire to shut down all shades of opinion which don't conform to what is considered the norm is slightly fascist in itself, especially when we've not even examined the kind of fascism Paolo Di Canio was talking about when he described Benito Mussolini as "basically a very principled, ethical individual" and said: "I'm a fascist, not a racist."
You'll find that precise context here and it's not all that it seemed when David Miliband made his stand and walked away from the club.
The real scandal is Ellis Short's decision to hand the Premier League future of his club to a man who is so palpably destined to fail. It's hard to speak so confidently about newly-appointed managers but the most cursory examination of the kind of leader Di Canio is reveals categorically that he will not succeed in the Stadium of Light hot seat.
How can we be so sure? Because of outrages like Di Canio's treatment of the young Swindon goalkeeper Wes Foderingham, who was described by the Italian, his manager, as "one of the worst players I have ever seen in a football match" – after the Italian had hauled him off after a mere 20 minutes of his side's match at Preston, last September.
I recall the Mail on Sunday's Ian Ridley asking at the time what this outburst said about Di Canio's ability to manage at the top level. "Can you, as a chairman of a club, rely on a guy like that? How is he going to behave under the scrutiny of the Premier League?" Ridley rightly asked – and only in the past 24 hours has the smokescreen of the 44-year-old's Mussolini love cleared, to give us a picture of Di Canio the manager and his methods.
That compelling piece provided an exhaustive picture. There was Di Canio's consignment of Swindon's players to what they knew to be the 'bomb squad', when he'd lost patience with them.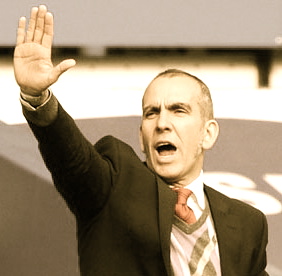 The club's Welsh youth team coach, Paul Bodin, is still on sick leave following the stress he suffered. All this and more is detailed and it is testimony to which David James added a powerful rejoinder, in his own piece about Di Canio yesterday.
James included the stories from within football of players being dragged in before dawn after a poor performance. James also placed the Mussolini talk in its proper context, as a relative insignificant factor in the bigger picture of whether this man can actually make Sunderland work and survive.
The appointment all contributed hugely to the Premier League pantomime, of course. When has a new managerial appointment made such an impact as Di Canio and his spangly jumper at Stamford Bridge yesterday?
But behind all the heat and noise lurks the cold, quiet, inconvenient truth that aggressive people like this are even less likely to succeed than the Mussolinis of this world. They are not destined to succeed at all.
Fascists have actually fared quite well in the sport – characters like Mussolini, for instance, who made Fifa an offer they couldn't refuse to host the 1934 World Cup and then invited a friendly Swedish referee to officiate the semi- final, enabling the Italians to barge the Austrian goalkeeper. Il Duce then selected him for the final, where he did not notice a quite obvious Italian handball.
But managers, aggressive or otherwise, can't appoint the referees, these days. A certain inhabitant of Old Trafford has been characterised as aggressive, of course, though I've always remembered a discussion I had with Gary Neville about Sir Alex Ferguson, around about the time that the ex-captain's fine autobiography  Red was published.
"If you asked me how much of his 25 years there has been spent angry, I would probably say 0.001 per cent," Neville told me. "The rest of the time he is a manager. You see him 99.9 per cent of the time on the training pitch. Every day he is talking to players about football, different things, how it went with internationals, normal conversations.
"He does have a streak, there is no doubt about that, and I think everyone is aware of that and it is something. But this idea that he's always ready to let someone have it is wrong."
Have you seen this film of Ferguson, interviewed by Fabien Barthez last year, incidentally? It tells you everything about Ferguson's managerial perspective and it takes you a very long way from the hairdryer stereotype.
We are actually entering an environment when the study of how to get the best from football players is becoming more and more intelligent. I would say that the conversation I had a few weeks ago with Dr Steve Peters, the psychiatrist who helped coach Britain's cyclists to Olympic gold and is now working with Liverpool FC, was one of the of the most revealing I've been granted throughout this football season.
Peters' key strategy, common to the way he has worked in a number of elite sports environments now, is to eliminate fear, with its many paralysing effects out on the field or in the velodrome. Every available piece of evidence points to Di Canio introducing that commodity of fear, rather than seeking to remove it.
David James praised him for having "proved himself, with what he achieved at Swindon."
Very generous praise, that. Swindon had a comparative fortune to spend and exited League Two via promotion having spent nearly £500,000 on agents' fees – virtually the same as what the rest of that division's 23 other clubs had done combined.
"Management by hand grenade" is how Swindon's Nick Watkins has described Di Canio's tenure. "Paolo would chuck a hand grenade and I would do the repair work at the end, like the Red Cross," he said.
Didn't Short or Sunderland check this out? Did they not seek references? Was there a rigorous appointment process?
'No' must surely be the answer on each count. It all adds up to calamity.
. 
Ian Herbert, who was shortlisted as Sports Journalist of the Year in the prestigious Press Awards, and highly commended in the SJA Sports News Reporter of 2012 category,  is The Independent's Northern Football Correspondent (see archive of his work here). Follow Herbie on Twitter here.
.
Follow SPORTINGINTELLIGENCE on Twitter
Sportingintelligence home page