After the week in which Mario Balotelli moved a step nearer the Manchester City exit, Ian Herbert asks why his club haven't matched their vast investment in him with a heavy layout on those who can put him on the straight and narrow
.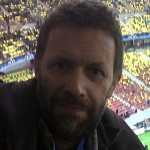 By Ian Herbert
14 January 2013
Ridiculous, you'll probably say – because Balotelli is a law unto himself and football's a man's game where if you can't exercise self-control and self-discipline you don't deserve the salary. But is he actually beyond redemption?
Roberto Mancini feels that it is the chaos of his life outside of Carrington – and of those he associates with – which has contributed to making him so impossible to manage.
The manager will admit that it helped when his own son, Andrea, was on City's books, providing Balotelli with companionship from a compatriot of his own generation. Now Andrea's at Real Valladolid and Balotelli is back among the hangers-on.
City will probably say they couldn't have done much more. They researched Balotelli's interests before he joined and knowing that there had been a connection between the striker and the World Wildlife Fund, which I wrote about here, they earmarked Knowsley Safari Park as somewhere he might like to try.
Then they offered him Knowsley again. And again. And again.
Though you can hardly criticise a player liaison officer for being a trier, I can imagine how my teenager would feel if I offered her that trip just twice. And she's not living in an alien country with a lot of free time on her hands and £170,000 a week burning a hole in her back pocket.
Filling a player's day is one thing; filling a life is something else entirely.
Mancini tried other people to help show Balotelli the way. The striker spent evenings with the Vieiras, at a time when the man of that house, Patrick, was something of a chaperone.
But hospitable though Patrick and Cheryl Vieira might have been, their middle-aged place didn't feel like a natural environment for Balotelli, then a 19-year-old looking to kick back and have fun.
Back he drifted to the hangers-on, some of them introduced to him by one of the drivers whom Balotelli insisted on using. City wanted their own people to drive him around but Balotelli, being Balotelli, was damned if he would agree.
With Mancini's coaching staff long since disillusioned with him and the manager left to a one-man mission to knock some sense into his player, City have turned to their chaplain Peter Horlock for one-on-one meetings. You can't knock that, any more than you can criticise the safari park and go-karting outings, but this seems like another blunt instrument.
Would you try a chaplain to help you control your teenager? It's not spiritual enlightenment that Balotelli needs.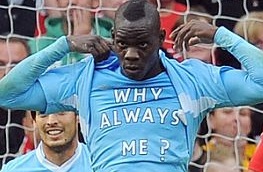 He's had friends over from Italy, though one of those excursions concluded with the firework incident. Then there was the eye-catching arrival of Balotelli's half-brother, Enoch, to play for local Salford City in Evo-Stik League Division One (North). That always felt a long shot, since Balotelli never had contact with his natural parents and siblings until he'd made the big time. Sure enough, it has never happened. The whole Salford deal's off because Enoch didn't even sent the international clearance papers.
This struggle recalls to mind the excellent chapter in Simon Kuper and Stefan Szymanski's Soccernomics about the transfer market, in which the writer and economist reflect on the stupidity of clubs' failure to invest very substantial sums in liaison people with the emotional intelligence to enable players to adapt.
Bolo Zenden, who has played in four countries, tells the pair how "it is the weirdest thing ever that you can actually buy a player for 20 mil and you don't do anything to make him feel at home".
The point is that clubs blow millions on players and then spend next-to-nothing on the process of helping them to acclimatise.
Didier Drogba joked about it at Chelsea with William Gallas, Claude Makele and Geremi. "You too, you're still living in a hotel? After all these worries, I didn't feel like integrating [at Chelsea] or multiplying my efforts," he wrote in his autobiography.
It's not been hotel living for Balotelli, though he's moved around nomadically from Manchester Deansgate, to Mottram St Andrew and now elsewhere in south Manchester.
The point they all make about him is that he can't bear being alone.
Would it be offensive of me to say that hiring a woman to the full-time role of relocation manager, might help? That's what Ajax did – and the rows with the neighbours caused by Steven Pienaar and others, with their loudspeakers on the floor of a shared apartment, were resolved. She got them to put their speakers on the table.
Balotelli's adoptive sister, Cristina, was the one who helped through the early days though she is now fully occupied in her professional life as a journalist. You can see why. The age gap between the two of them made it no easier for her to manage her brother than Vieira found it.
Cristina is also a highly accomplished broadcaster and writer in her own right. But since City laid out £24m on the recalcitrant striker and are dispensing well over half a million pounds a month on his wages, you wonder why they don't make her an offer she can't refuse.
The rewards would be the kind of gifts Balotelli showed at last summer's European Championships. They haven't vanished in the course of six months.
.
Ian Herbert is The Independent's Northern Football Correspondent (see archive of his work here). Follow Herbie on Twitter here.
.
Balotelli, Silva, Aguero, Dzeko – the latest in a long, illustrious line of foreign stars at cosmopolitan Manchester City
Follow SPORTINGINTELLIGENCE on Twitter
Sportingintelligence home page