By Brian Sears
26 December 2012
In this season of peace on earth and good will to all men, it remains an unavoidable fact that Stoke City are dull – and have been for some time. And now a new piece of statistical analysis by Sportingintelligence proves it.
There have been fewer goals in Premier League games involving Stoke, on average, than in games involving any other team in the history of England's revamped top division since 1992-93.
To date there have been 21,090 goals in 8,025 Premier League games at an average of 2.63 goals per game.
But in Stoke games there have been a miserly 386 goals (for and against) in 170 games, for a pitiful average of 2.27 goals per game.
The first graphic shows this in context, with the goals records of every current Premier League team in the top half of the graphic, and the record of all the former Premier League teams in the bottom half.
In Stoke's 170 Premier League games before the visit of Liverpool of Boxing Day evening, there have been an average of 2.27 goals per game, comprised of Stoke scoring just under one goal per game, and conceding 1.28 goals per game.
No other team in the past 20 years has provided such a meagre overall goals return to their fans.
In seasons past, even whipping boys such as Blackpool, Swindon and Burnley were scoring more than a goal per game while also shipping lots of goals – meaning their fans respectively saw 3.5, 3.5 and 3.26 goals per game in the Premier League.
Stoke are the only current Premier League club to have scored fewer goals than one per game on average across all their time in the division, and if it is admirable they have conceded as few as 1.28 goals per game, it's also enormously boring.
At the other end of the scale, Manchester United have scored more than two goals per game on average across their 790 Premier League matches to date, and conceded 0.87 goals per game, meaning fans have seen 2,270 goals in their games at an average of 2.87 per game – more than any other current club.
Norwich, Reading and QPR fans have also seen lots of goals, mainly as their side have shipped them, with Tottenham, Arsenal and Newcastle fans also seeing lots, with more being scored than conceded in each case.
The records for each of the 45 teams to have played in the Premier League are here: (article continues below)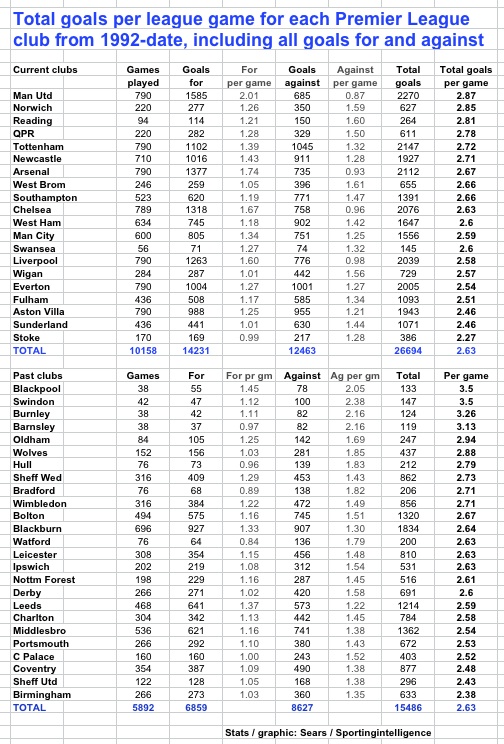 .
Now let's consider which opponent the Premier League fixture compiler might pick for Boxing Day if they were in a particularly Scrooge-like mood and intent on the most mean-spirited festive match-up possible.
As a second graphic (at the bottom) shows, the current Premier League that has shared the fewest goals (per game) in all their Premier League meetings with Stoke is … this evening's opponents, Liverpool.
Nine PL meetings between the pair have provided just 11 goals, or 1.22 goals per game. Four of the nine games have ended 0-0, including both league meetings so far in 2012.
That's not to say Stoke won't serve up a Christmas thriller tonight. But statistical history suggests a goal-fest at the Britannia is not the likeliest outcome.
.
More on Liverpool  / Man Utd / Arsenal (or search for anything else in box at top right)
Follow SPORTINGINTELLIGENCE on Twitter
.