*
In the latest instalment of a new weekly Monday column, Tell Me Why, the Independent's brilliant man in the north-west, Ian Herbert, asks, the morning after the SPOTY before, whether Britain truly is a nation of sporting sophistication, or whether it's a country that simply likes to part of an 'event' – any event. SPOTY winners are not the choices of the British sporting public, he argues, but of the British public.  And there's a significant difference. 
.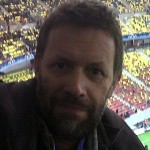 By Ian Herbert
17 December 2012
SPOTY does reflect the nation's sporting depth and sophistication, I hear you say. We loved the Olympics, right? And the lion's share of 1.6m voters can't be wrong about Wiggo. Yet how many people knew that Ben Ainslie has returned to action since the Olympics, as a crew captain in the America's Cup World Series? Or how Rebecca Tunney fared in World Cup competition in Glasgow, earlier this month?
Laura Trott has won more gold medals since London, but where and when? Quite a lot people followed the Tour of Britain and ITV, which has seized the potential of that sport, screened an hour's footage each day, which felt like progress. But despite all the hopes that the Olympics would bring new dimensions to the sporting life of this one-nation football state, it hasn't happened yet.
There was something rather excellent, last night, about the Premier League's Battle of Manchester being squeezed into a gap between Olympian accomplishments – comeuppance for the players' unsavoury aspects, a vast majority of people will say.
But let's face it: that moment of marginalisation was not a reflection of the way the title race absorbed and obsessed the country – week in, week out – in the last year. And how it has gripped us again since, reducing the summer's performers back to the margins.
To be fair to City's Sergio Aguero, a minute or so swapping Spanish on stage with Gary Lineker didn't really reflect the ice in his veins he showed in winning his side the title. Ageuro, like many of today's sporting heroes, does not have 'personality' but his achievement was grace under pressure.
Sports Personality of the Year has never been an honest reflection of the nation's relationship with sport, though. Look back over the winners down the years and they show the event is not a reflection of sport but of sporting events – those occasions when the Great British public can whip out the bunting, plastic attach union flags to their wing mirrors, while retailers set out their promotional campaigns for flatscreen TVs and cheap lager and reap a bonanza.
These SPOTY winners are not those of the British sporting public, but of the British public.  There's a significant difference.
Just look at the list and you'll see this is why Olympians are always a shoo-in. You have to go back to 1996 to find a non-Olympian winner in an Olympics year.
You'll also see that athletics has delivered vastly more winners – 17 – than any other sport and that for a nation so obsessed by football, the beautiful game's own number of winners is a pitiful five. Even one of those, Ryan Giggs, seemed more befitting of a lifetime achievement prize in 2009.

Those footballers who have won actually bear out the idea that SPOTY is a reflection of sporting events, rather than sport. Giggs aside, footballers have only ever won for their role in one of the international tournaments which make football a national event.
There was Bobby Moore in 1966 – a year in which Barry Briggs, the New Zealand speedway rider, accomplished the remarkable feat of edging out Geoff Hurst to take second. (No prizes for guessing how that one would have gone down at the Excel.) Not a single footballer won the prize again until Paul Gascoigne, for his performance at the 1990 World Cup, which arguably changed the face of English football.
Michael Owen won in 1998, the World Cup year, and David Beckham in 2001 for the free kick against Greece at Old Trafford which gave England a shot at the bunting and the car flags.
Cricket follows precisely the same pattern. Cricketers have only ever won SPOTY in the year of an Ashes summer – when everyone's a cricket fan. There was David Steele in 1975, dubbed the "bank clerk who went to war" that summer – and who for my money deserved his prize on the basis of getting lost in the Lord's pavilion on his debut and winding up in the basement toilets after descending too many flights of stairs.
They don't make heroes like Steele any more. Jim Laker (Old Trafford, 1956 and all that), Ian Botham (1981, Headlingley and all that) and Andrew Flintoff (2005) are the other cricketers. Their sport trails boxing in the SPOTY medals table. Rugby limps in behind eventing in that same league.
Needless to say, it required nothing less than Jonny Wilkinson's favourite drop goal, in 2003, to give a little SPOTY pride to a sport which I'd unscientifically calculate is the third most followed within these shores. And certainly more popular than eventing.
It's certainly a very skewed list which has honoured Joe Calzhage with the top prize but never Bobby Charlton; Zara Phillips and never Michael Atherton. The nation's feelings for football have simply never been reflected by it. It was Steven Gerrard's misfortune that his 2005 miracles in Istanbul coincided with Andrew Flintoff almost single-handedly winning the Ashes.
Yet he was edged out into third place by Ellen MacArthur, who had sailed single-handedly around the world – a year earlier in 2004.
He is not always everyone's paragon of virtue, but Wayne Rooney's so many moments of thrilling brilliance have not registered anywhere on the scale since he won the young SPOTY award a decade ago.
Of course, there's nothing wrong with sports other than football getting a look in because they need all the help they can get. Breaking the football monopoly is hard and Wiggins' win will help that – even though it's a personal view that he could have done a lot more to help cycling's need to mend its battered reputation in the light of the Lance Armstrong case.
There will also always be a problem with a shortlisted footballer's name being out to the public vote, on the basis of his domestic performance, because support is so partisan. (Manchester United's treble didn't deliver them a winner in '99: Lennox Lewis took it that year).
But we should at least drop the pretence that we, like France, Spain and the Netherlands, are a sophisticated sporting nation, absorbed by all who appear before us.
"There's a competition called the America's Cup that we've never won," Ainslie said last night, as he talked of what lay ahead of his Olympics retirement. It was a figure of speech but we needed reminding. Sailing never crosses our collective consciousness outside of an Olympic year.
. .
Ian Herbert is a sports correspondent for The Independent (see archive of his work here). Follow Herbie on Twitter here.
.
Follow SPORTINGINTELLIGENCE on Twitter