By Nick Harris
SJA Internet Sports Writer of the Year
14 September 2012
Manchester City have announced new details about their world-class academy 'campus', which is spread over 80 acres, believed to be costing £100m, and is scheduled to be open for the 2014-15 season.
The facility will be built by BAM construction, described as 'a leader in sustainable construction', and will provide employment mainly for local people, especially the long-term unemployed, and use, where possible, local materials and service suppliers.
The academy (artist's impression of finished site at night below) will be sited on previously polluted wasteland, and the club says the campus 'will reach the highest possible environmental standards – the gold standard under L.E.E.D guidelines – with low carbon, low water and low waste measures being employed to miminise impact on the environment and encourage local bio- diversity.'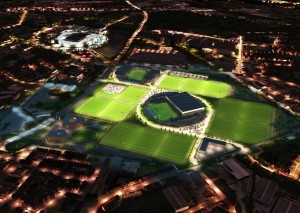 Some critics of City will inevitably suggest that the academy campus, funded by Sheikh Mansour, is an attempt to somehow circumvent Uefa's new Financial Fair Play (FFP) rules – which dictate that clubs in the long term must not lose more money than they earn.
As things stand, City lose more money than any club in England, indeed in the world, with global record losses in the 2010-11 season of almost £200m for that one campaign alone.
Under FFP, clubs will not be allowed to lose more than €45m (or around £36m at today's exchange rate) from the two seasons 2011-12 and 2012-13 combined – or risk punishments from warnings to expulsion from European competitions.
City are expected to announce losses somewhere in the region of  £100m for 2011-12 later this year, and depending on the on-pitch success this season, further losses of tens of millions for the current 2012-13 season.
In other words, they remain on course to miss the FFP targets by some margin, and will hope that Uefa are lenient in the early stages of FFP and acknowledge their development and community work. (Clubs are allowed to deduct losses for youth and infrastructure investment from FFP losses).
The idea that the academy can be used as an FFP 'dodge' is false.
The vast majority of last season's losses, for example (and this season's) are down to huge expenditure on player wages and player amortisation (transfer fees spread over time).
City cannot – and won't – simply try to say "We'll knock £100m off those losses because we've spent that on the campus".
They cannot and won't do that because they haven't spent most of it on the campus – yet.
And when they do spend it on the campus, that spending will contribute to even greater 'headline losses' – and it is from those bigger headline losses that some deduction will be allowable.
To simplify: City are losing lots of money now for reasons unrelated to the academy. They will lose even more because of investing in the academy. They will be allowed to deduct the academy expenditure for FFP purposes. But that won't suddenly stop the losses they're making due to wages and players. (Those losses will come down in the long term, City hope).
More articles mentioning City / More  stories mentioning FFP
As Sportingintelligence has discussed before, City's commercial income leapt when signing a 10-year deal with Etihad, which will sponsor the campus, as well as City's shirts. As detailed here, that deal can be argued to be legitimate too (and not an FFP dodge).
The football facilities City will own from 2014-15 will be stunning and include:
A new Academy for up to 400 young players with classrooms for 200.
On-site accommodation for junior and senior players.
16.5  football pitches, 12 of them dedicated to players aged from 8 to 21.
A state of the art first team building with changing rooms, gym, refectory and injury and rehab centre.
A 7,000-seat stadium for youth matches.
Staff offices and a dedicated media centre .
A bridge linking the site to the Etihad Stadium and the rest of the Etihad Campus.
City have also today released a 'fly through' view of what the finished campus will look like.
Story continues below
Ferran Soriano, City's new CEO, formerly with Barcelona in the years they became commercial as well as footballing giants, says: "Today is an extremely important day for the future of Manchester City football club.
"The development of young and home grown players is central to our strategy of creating both a winning team and a sustainable football club – an ambition outlined by Sheikh Mansour at the outset of his ownership in September 2008.   We are now in a position, after four years of research and planning, to execute that strategy and we are delighted to join with BAM who will play a large part in helping us to do so."
Sir Richard Leese, the leader of Manchester City council, added: "It drives forward the regeneration of the area, building on the legacy of the Commonwealth Games a decade ago. It is as clear a demonstration you can get of the commitment of the club to our city as a whole and local people in East Manchester in particular."
. .
Follow SPORTINGINTELLIGENCE on Twitter