By Nick Harris
SJA Internet Sports Writer of the Year
15 February 2012
Two business associates of the beleagured Rangers owner Craig Whyte have spoken about their links to Whyte, but have raised more questions than answers in the process, particularly in relation to the role one of them has played in the Rangers takeover saga and subsequent collapse of the club.
One of those men is Aidan Earley, a former bankrupt. Aidan Earley and his brother Wulstan and a third sibling, the late Brendan, have all been involved in multiple business ventures with Whyte, a number ending in failure and winding-up orders.
Rangers' were plunged into financial administration on Tuesday, largely as a result of a £49m tax dispute with HMRC, and the club's future remains in doubt.
*** RANGERS: the club with the most league titles in world football *** (Click this line to see where Man Utd, Celtic and others are)
Sportingintelligence was first asked to investigate Aidan Earley's role, or if indeed he had any, in Whyte's plans for Rangers when contacted last Autumn by another business associate of Earley, a man called Len Palmer who said he was owed £115,000 by Earley.
Mr Palmer  said that a cheque he had been given, from an Earley-owned company [Wulstan Earley-owned, according to an email from Wulstan Earley] called Liberty Capital Markets (LCM), had bounced.
Sportingintelligence has seen paperwork from Barclays showing that a £5,000 cheque to Palmer did indeed bounce.
The situation was confused because Craig Whyte had bought via Rangers via an offshore company called Liberty, and the Earley brothers had started a completed unrelated company with a similar name around the same time, which had no connection to Whyte.
Mr Palmer had believed a company controlling Rangers was issuing bouncing cheques but it transpired the two Liberty ventures were separate while owned by people who frequently work together, and had – entirely coincidentally – started those ventures with similar names.
An intermediary working on behalf of Mr Palmer, called Peter Williamson, said the Earley brothers had told him last Autumn that Aidan Earley was involved in the plan to take over Rangers with Craig Whyte, despite having no official shareholding or any official post.
Aidan Earley did not respond to questions about this at the time, while Wulstan Earley denied in an email sent on 27 October 2011 that he or his brother were involved in any way in Rangers.
That email, in which Wulstan Earley said he had had no contact with Whyte since a golf day in 2009, is here:
.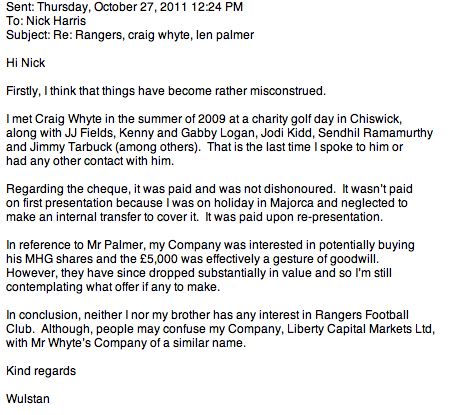 Mr Palmer still insists he is owed £110,000 by Aidan Earley, who himself signed an agreement appearing to acknowledge that in September. The Earley signature on that is here (although Aidan Earley says Palmer's claim is not true):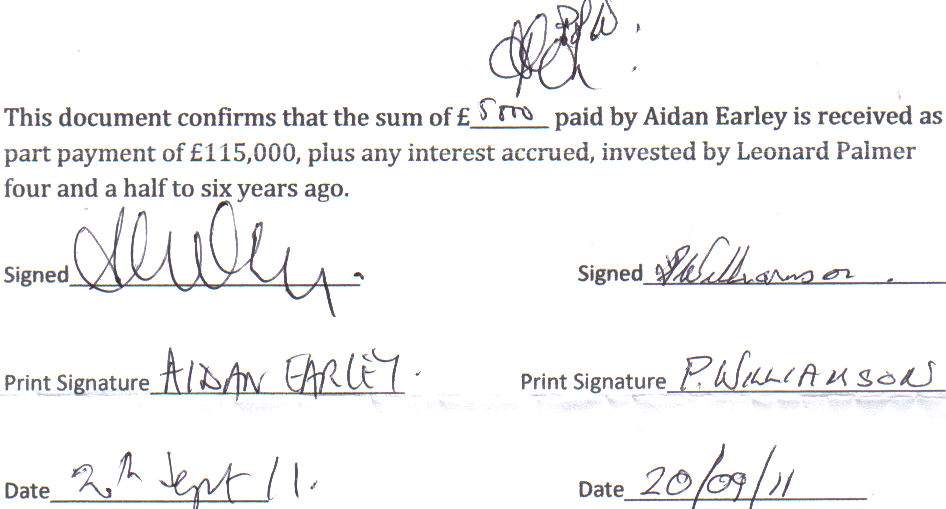 .
.
Of particular interest now is the claim by Wulstan Earley that neither he nor Aidan Earley have any interest at Rangers.
Officially, of course, they haven't. They are not declared shareholders and hold no office.
But in recent days Aidan Earley has been linked to Whyte and Rangers, bizarrely, via a non-league football club in England, Banstead Athletic, which has been mooted as the site for a possible feeder academy for Rangers.
Banstead's manager, Dave Tidy, told the local paper: "Aiden Earley … was part of the consortium that has bought Glasgow Rangers. And the talk is that we are going to be their base in the south of England.
"It is really exciting times for Banstead. I can't wait. Nothing has been signed yet, but we are a long way down the road as far as the negotiations are concerned. They have even spoken about sending a Rangers team down for a pre-season friendly."
Banstead's owner Terry Molloy, says Earley will become joint owner of the club and has already invested money in it. "It is not a secret that Aidan is involved with Rangers, but to say that any academy we set up at Banstead would be a Rangers academy is not true," he said.
Asked by Sportingintelligence by email last night how he could explain undisputed quotes by Tidy and Molloy – both of whom he knows – linking him to Rangers, Aidan Earley replied: "Because I know Craig Whyte, people put two and two together and get 17 …
"I have discussed the establishment of an Academy at Banstead run by one of the top coaches in the South of England who has developed many players for top English Clubs. This has been discussed with Mr Whyte, because I know him and he will at least listen, and also discussed with other clubs."
Rangers' PR company has not responded to questions about links between Whyte and Earley.
One of Whyte's failed business ventures was Vital UK, which went bust owing creditors around £400,000 and the tax authorities £313,000 in unpaid income tax and VAT. Vital's collapse led to a seven-year on Whyte being a company director.
That ban expired years ago, freeing Whyte to complete a takeover of Rangers last year, funded largely by money, it now transpires, borrowed against Rangers' future ticket income.
The second business associate of Whyte's who has talked today about his links to Whyte is Kevin Sykes, jailed for eight years for his role in a £3m pension fund fraud.
He talked to the Daily Record in Glasgow today (link to full story here) about his involvement in a string of companies, alongside Whyte, that ended up being wound up.
When I asked Craig Whyte in October last year about his relationship with Aidan Earley, his spokesman said: "Aidan Earley is one of scores of people in Craig Whyte's network of contacts who ocasionally introduce him to deals. That is as far as their relationship extends."
Despite that apparently arms-length relationship, Whyte has been personally involved in Aidan Earley's Banstead venture.
Asked last October what role Aidan Earley had in the Rangers takeover and what shares if any, Earley held, Whyte's spokesman said: "The Circular to shareholders makes it perfectly clear that Craig Whyte is the sole owner of the 85.3% shareholding previously held by Murray International Holdings.
"That remains the case. Of course, Rangers is a plc and Craig has no control over who else might buy shares inthe company but he is not aware of what shares, if any, Mr Earley may or may not hold."
.
Follow SPORTINGINTELLIGENCE on Twitter
Sportingintelligence home page
.