By Brian Sears
and Nick Harris
SJA Internet Sports Writer of the Year
16 December 2011
Manchester City are in their 15th season of Premier League football, having missed five seasons elsewhere, and they are, of course, a very different club from when they were founder members of the Prem in August 1992.
This weekend they play hosts to Arsenal, famous for their 'old money'.
Our first graphic shows how the new money of Sheikh Mansour at City in the past six years has seen City's wage bill climb to match and then surpass Arsenal's, and shows how this has been reflected in better finishing positions in the Premier League.
Figures calculated as per Sportingintelligence's annual reviews of global sports salaries. (Story continues below graphic)
.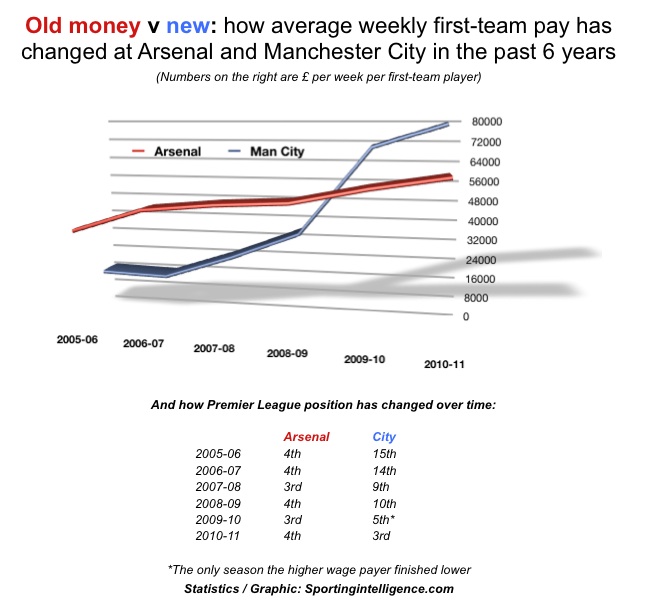 Those with an eye on the history of Premier League results might have known that City's last and next matches (Chelsea away and then Arsenal at home) would present difficult hurdles to overcome.
They fell at that first hurdle, losing to Chelsea, and now face an even tougher hurdle, statistically at least.
As our second graphic shows, City's Premier League record against Arsenal (in points per game) is worse than against any other team currently in the Prem.
(Story continues below graphic)
.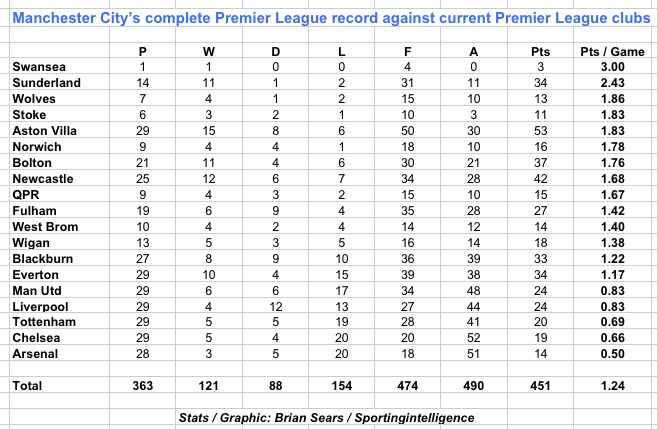 *
City have won just three of their 28 Premier League games so far played with Arsenal. Those three wins were all in Manchester: 1-0 in August 2006, 3-0 in November 2008 and 4-2 in September 2009.
City have yet to win a single game in London against Arsenal and their overall reward from Arsenal is a paltry 0.5 points per game.
Money talks, of course, as this weekend may illustrate.
.
More on Arsenal  / Man City / Man Utd / Chelsea / Liverpool / (or search for anything else in box at top right)
Follow SPORTINGINTELLIGENCE on Twitter