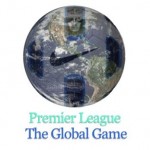 By Nick Harris
SJA Internet Sports Writer of the Year
31 October 2011
England's Premier League is, by far, the nation's most successful sporting export, watched live each week in more than 200 countries, and earning from foreign TV rights alone £1.437bn for the current three-year overseas deals (or £479m a year) as reported by sportingintelligence last year here and here.
But who exactly watches? And where? At home? In pubs or bars?
What channels carry the games? How much does it cost to subscribe? Why do foreign fans tune in?
Is is just popular in a few key markets, or can you really find PL fanatics in Tonga and Papua New Guinea and Gambia and Peru and all points in between? Find out what we've discovered so far (A-Z of nations, and listed by continent).
Over the coming months, we aim to find out, inviting PL viewers from around world (from as many of the 200+ different countries as possible), to share details of a single game watched.
Elsewhere in this series, find out how the League is viewed in:
KENYA and AZERBAIJAN and INDIA and SWEDEN and the CZECH REPUBLIC and SERBIA and AUSTRALIA and MONTENEGRO and ISRAEL and MALTA
Without further ado, here are two separate views, both from American women living in Illinois (one a Manchester United fan, one a Liverpool fan) about what's it like to watch the Premier League in . . . . .
.The United States of America
.
Name: Sandy K Costello.
Age: 55.
Occupation: Research monitor.
Game watched: Everton 0 Manchester United 1. Date: 29 Oct 2011. Time: 6am local time (midday UK).
Where: Home, in Chicago.
Who else was watching: My cats; my husband (begrudgingly) watched the second half.
TV Channel carrying the game: Not broadcast in the US due to the Chelsea-Arsenal match beginning at 06:45h; so watched on WatchESPN.com.
How much does it cost: GOLTV.TV is part of our regular cable package, which carries Central and South American matches, as well as La Liga and the Bundesliga. We subscribe to Fox Soccer for an extra US$15/month (£9.35 at today's exchange rates), as well as www.foxsoccer.tv online for US$20/month. (£12.45).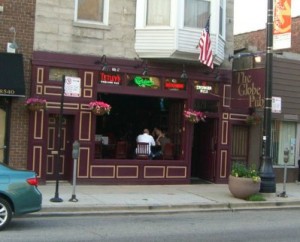 What's the local tipple and how much does it cost: At the Globe Pub (pictured left), which is our home, Guinness is the breakfast of champions at US$6. (£3.73). The Globe also carries a wide range of imports on tap (like Boddingtons), as well as lots of the local microbrews.
What's the popularity of the English Premier League in the country where you live: Immense; the US has become EPL heaven over the past 10 years or so, with every match accessible on TV or online.
When I was growing up, you only saw highlights from the BBC that the local CBC channel from Windsor (across the river from Detroit) broadcast at odd times. Living in a city like Chicago, which has a huge immigrant and expatriate population, pubs responded to the demand by carrying live EPL matches in the 1990s; before that, some pubs had pay-per-view for big live matches or even managed to get tapes of matches that they would replay a few days later.
EPL clubs like Manchester United, Liverpool, Arsenal, Spurs, Everton, Newcastle have had active supporters' groups here for about a decade or so; and more recently Chelsea, Fulham (Fulhamerica), and Manchester City.
These days, there is at least one group from our home pub who go to either Old Trafford, Anfield, or White Hart Lane every season, and some lucky supporters have relatives in England or Ireland whose season tickets they borrow every chance they can get.
EPL-watching has grown exponentially in my neighborhood in the past year because of one person: Chicharito.
Chicago and, in particular, my heavily Hispanic neighborhood has always turned out in droves if, say, a Central or South American team played the US team. From the World Cup games that were played in Chicago in 1994 to the most recent international qualifiers and friendlies, the number of Hispanic match-goers have dwarfed the non-Hispanics, with the relationship between US and Mexico supporters like that of England and Argentina supporters; not good.
But now it's all about Chicharito, usually on a Mexico shirt but often on a Manchester United shirt; especially if you're a younger supporter. And I can't even begin to describe some of the shirts I've seen on his young, female Hispanic fans.
One informal measure of how popular the EPL has become in Chicago and in the US might be, in fact, the shirts.
I began buying Manchester United replica shirts in the early 1990s, when I could first really afford them. The shirts never seemed to attract much comment unless there was someone in the pub who didn't like Manchester United (or thought Keano was a thug or Beckham was just a pretty boy).
A few years ago, I began to wonder if United supporters were just prone to visit Chicago often, because of the "thumbs-up" the shirt would get on the street. Now shirts seem to be all over, all the time, and it is not uncommon for someone on the street or public transit to strike up a conversation about their own favorite team or critique Antonio Valencia's performance at the weekend.
Any other observations: The EPL is the source of some of the best, as well as the trickiest days, in my life: my husband is a Liverpool supporter and we cannot watch a Manchester United-Liverpool match in the same room, and sometimes do not speak to each other much for a day or so after the match.
Thus the pub is a key "marital aid" for us, where we can each stick with our own fellow supporters and celebrate or commiserate, as the case may be, without unduly irritating the other.
Right now, I'm praying that the increased popularity of the EPL does not intrude on my own little EPL heaven. DirecTV (a satellite operator) in the US seems to be in a dispute with Fox Soccer and Fox Soccer Plus (formerly Setanta) and has dropped them from their lineup.
What will happen if the popularity of football and the EPL gives rise to a broadcast structure like the UK, where the full Sky package is exorbitantly expensive and many pubs do not carry matches because of the cost? Although we would have to accept it if the bad old days of pay-per-view matches and Setanta shakedowns came back, we would much rather save our pennies for beer, next year's shirts, or a trip to Old Trafford or Anfield.
Then there's the insanity of a [suggested] 39th EPL match in the US, or instituting a play-off structure similar to the US MLS, and/or doing away with relegation. The mind – and heart – boggles.
You'd be hard-pressed to find somebody who enjoyed the recent Manchester United tour of the US more than I did, but that doesn't mean I want to see them making a long-distance flight to play an EPL match here. Isn't the travel for CL and international matches disruptive enough?
And, although I can just about maintain my interest in Chicago Fire and other MLS matches during the regular season (as slow and shambolic as they can be), the cup play-offs seem a mockery and just wrong.
Where is the drama and romance of the struggles of a team like Newcastle going down and fighting their way back into the EPL? The tragedy of Leeds or the periodic triumphs of Norwich, QPR, or Blackpool? Or the final day of the 2007 season when Hodgson's Fulhamerica stay up by the skin of their teeth?
Simply nothing like it; nothing in the world like the EPL.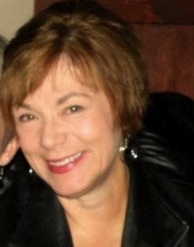 Name: Linda French.
Age: Contemporary of Kenny Dalglish.
Occupation:  Astronomy professor.
Game watched: Stoke City 1 Liverpool 2 (League Cup). Date: 26 October 2011. Time: The match was 1.45pm local time (7.45pm) and I followed online at work but watched it later in full at home at 10pm on DVR. I watch live when I can.
Where: At home, in Bloomington, Illinois.
Who else was watching: My husband.
TV Channel carrying the game: Fox Soccer Plus on DirecTV (satellite).
How much does it cost?  About $100 per month (£62 a month) for the satellite service, which we use for all our television, and another $15 per month for Fox Soccer Plus.
We have DirecTV and a satellite dish at home to watch all Liverpool matches that we can.  If we play the early match, we're up at 7 a.m. on weekends.
If the match isn't on, we either listen via the liverpoolfc.tv website or follow online (Twitter is faster than any game tracker). We watch a few other matches in bits and pieces. I confess to watching Man Utd v Man City with great enjoyment last weekend.
We lived in York for six months in the first half of 2010 and I was surprised that we were unable to see any matches live without going to a pub with Sky. Coverage in the States is actually much better!
What's the local tipple and how much does it cost? The most popular drink at sporting events here is American lager such as Budweiser. That would cost about $3 in a bar. (£1.90). We prefer English beers and usually drink Newcastle Brown in the States; it costs about $9 per six pack (£5.70). Since EPL matches are on in the mornings due to the time difference, I'm more likely to be drinking coffee while I watch.
What's the popularity of the English Premier League in your country? Americans aren't known for their love of the game. But at our university "soccer" games, many people are familiar with the big EPL teams and perhaps Barcelona/Real Madrid. On campus, I see a few Manchester United and Chelsea shirts.
Any other observations? I think the popularity of the game is rising in the US, but it's happening slowly. The success of the US women's team and the improvement of the men's team have helped.
Americans still have a lot to learn about the fine points of the game, however, and many parents of younger children at soccer matches seem to see the game as a "nice" activity for their children. Neither the parents nor their kids seem to be as competitive as their counterparts playing basketball, baseball, hockey, or American football.
Real football is so superior to American "football" that there is no comparison. Baseball is good, but it's slow.  Basketball is a good game, and it's the only game that compares in interest, speed, fluidity, and creativity on the part of the players.
It drives me crazy when people look at my "This is Anfield" scarf and say "Why Liverpool?"  My answer is "Why not?"
It just shows how little Americans still know of the history of English football. I've been to Anfield many times, while most Americans will never visit Old Trafford or Stamford Bridge.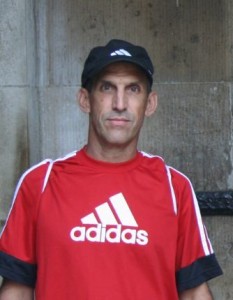 Name: Gene Peterman.
Age: 49.
Occupation: Manager with an electronics firm.
Club supported and why: Manchester United. I started supporting them in the mid-1990s just from reading news reports because television coverage was very spotty in the US.  The best three minutes (for United fans) in the '99 Champions League finals sealed the deal for me.
Game watched: Everton 0 Manchester United 1. Date: 29 Oct 2011. Time: 6am local time (midday UK).
Where: My home in Mendon, MA.
Who else was watching: My wife and youngest son.
TV channel carrying the game: Fox Soccer Channel.
How much does it cost: $14/month.
What's the local tipple and how much does it cost: typically do not go out to watch as games here in the US  are on in the morning.
What's the popularity of the English Premier League in the country where you live: pretty popular. Many Liverpool and Chelski fans. Of course, there are ex-pats who support Villa, Arsenal and an occasional Championship side.
Any other observations: I watch many leagues on the weekend including Bundesliga, Serie A, La Liga, League 1 and Brazilian leagues as well as MLS.
By far, and I mean by far, the Premier League matches are much more entertaining. This is due to the quality of the players and the game as well as camera angles provided and the fans. There are some Italian games that look like they have no more people than a mediocre MLS match.
I will say that there are a few MLS sides that are gathering great followings. They take many of their chants and their energy from English football. Makes me want to be a Seattle Sounders fan as opposed to the NE Revolution who have been horrible as of late. They are the local MLS team so there is a certain affinity for them.

Name: Chris Goike.
Age: 25.
Occupation: Writer.
Club: Arsenal.
Game watched: 3-4 every week.
Where: At home in Romeo, Michigan.
Who else was watching? Occasionally my Dad.
TV Channel carrying the game? Fox Soccer Channel shows most of the EPL and Champions League matches. ESPN2 has one game each week on a Saturday morning broadcast. GOLtv is the source for Bundesliga 1, Serie A and La Liga.
How much does it cost? $13 for the sports pack, on top of the regular price for Directv.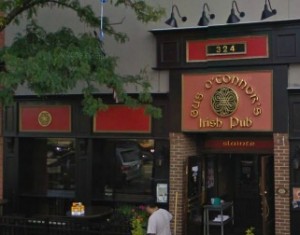 What's the local tipple and how much does it cost? If I am looking for some drinks with my match, I will head to Gus O'Connors, an Irish pub (left) that will gladly turn on the match for you if you ask. They have a fairly good selection of brews for around $3 for 23 oz. and the food is excellent as well.
What's the popularity of the English Premier League in the country where you live? The EPL is by far the most popular and well known league in the United States. However, football is still far from being a mainstream sport. Though football fans are a minority in the US, they are as passionate about the game as anyone else. The rarity with which I meet football fans in the United States means I walk away with a huge smile on my face every time I happen to bump into another football fan somewhere, even if they are supporters of a rival club, I can't help but feel a common bond with them.
Any other observations? It is common to hear Americans state that 'soccer is boring'.  In my opinion, the people who say this are not speaking honestly, because they have likely never given proper football a chance. It's likely they wouldn't even know where to find a soccer game, in person or on television. They claim it's slow and nothing happens, but they only think that because they refuse to understand the rather understated simplicity of the game. Compared to most other sports football is much more active and fluid of a game without have to deal with huddles, pitches, line changes, and shot clocks.
———————————
This feature will be updated on a regular basis. Sportingintelligence invites readers who watch the Premier League overseas to send your own experiences to submissions@sportingintelligence.com, answering the questions posed above, and including a JPEG of yourself. We cannot guarantee to use all submissions (although if we've not had one from your country it's almost certain we will) and we'll be appealing via Twitter from time to time for viewers from specific nations.
.