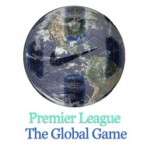 By Nick Harris
SJA Internet Sports Writer of the Year
26 October 2011
England's Premier League is, by far, the nation's most successful sporting export, watched live each week in more than 200 countries, and earning from foreign TV rights alone £1.437bn for the current three-year overseas deals (or £479m a year) as reported by sportingintelligence last year here and here.
But who exactly watches? And where? At home? In pubs or bars?
What channels carry the games? How much does it cost to subscribe? Why do foreign fans tune in?
Is is just popular in a few key markets, or can you really find PL fanatics in Tonga and Papua New Guinea and Gambia and Peru and all points in between?
Over the coming months, we aim to find out, inviting PL viewers from around world (from as many of the 200+ different countries as possible), to share details of a single game watched.
Elsewhere in this series, find out how the League is viewed in Kenya, Azerbaijan, India and Sweden (all linked here). And in the Czech Republic (here). And in Serbia (here).
Without further ado, what's it like to watch the Premier League in . . . . .
.
.Israel
.
Name: Jonathan Kahn.
Age: 27.
Occupation: Accountant.
Game watched: Man Utd v Man City. Date: 23/10/2011. Time: 14:30 local time. (13:30 UK).
Where: The Dublin pub, in Herzliya, Israel.
Who else was watching: The Israeli Reds Official Manchester United Supporters Club. Roughly 100 of us were there. For a big match like that, it's not as many as usual because quite a few of our regulars travelled to Old Trafford to watch the game. The atmosphere is typically great. About five minutes before the game kicks off everyone raises their glasses and we "make a toast", which in our case involves singing 'Eric the King'. [For those who don't know it, there's a hearty version at this YouTube link, albeit not footage from the pub in Israel].
We sing throughout the entire game, although on Sunday we were pretty much shell-shocked after the 70th minute. It was all United supporters, nobody else. I doubt whether there are any City supporters in Israel, and anyway The Dublin is our regular pub. This is the third year that we – the Supporters Club – have been working with the pub, them hosting us for games, and it's very rare there are supporters of other teams when we're there.
Notwithstanding what I wrote about the atmosphere dying out a bit after it was 0-3, people who came for the first time said it was brilliant. After Fletcher's goal the place was on fire again and after the game finished we sang "We'll never die".
Again, some of our regular more vocal supporters were in Manchester and there were quite a few first-timers so I guess I should factor that in as well. But the atmosphere was still very good.
TV Channel carrying the game: Sport 1.
How much does it cost: 50 NIS (Israeli shekel) monthly, which is £8.60 a month at current conversion rates. That is for a home subscription. I don't have it as I just can't stand the Israeli commentators. I actually wrote to Sky Sports asking to pay for an online Sky subscription that I could use here in Israel but obviously with rights restrictions and all it couldn't work. So if I'm not at The Dublin, then I'll watch games via online streaming.
What's the local tipple and how much does it cost: Beer, and the price varies but up to five quid a pint (29 NIS), but since it was lunchtime, it was Happy Hour with buy one, get one free, which makes it more like £2.50 a pint.
There are two major commercial beers in Israel – Goldstar and Maccabee – both are a kind of dark lager. There are however many boutique breweries. I'm more into German beers so I usually drink Weihenstephan.
What's the popularity of the English Premier League in the country where you live: It's the most popular foreign league. The Israeli Reds facebook group has just short of 1,700 members.
I started to support United during the 1995-96 season when I followed their comeback into the title race through the newspaper. (Back in those days there was only one game broadcast here every week).
And the first game I actually watched was the FA Cup semi-final against Chelsea, in which United went down 0-1 but won 2-1. As an 11-year-old boy it was just amazing to me that a team had the character to do that and obviously over the years I realised this was the "United way" of doing things.
So obviously that answers the question about how long I've supported them; I take that Chelsea game as the "official date" – 31 March 1996.
Liverpool are a very well supported club in Israel as well as Chelsea and Arsenal. Spurs are also popular among Jewish immigrants from the UK.
Any other observations: Almost every Premiership match I watch is via online streaming / iPhone applications. I prefer to watch Sky Sports Soccer Saturday when United aren't playing at 3 o'clock on a Saturday. I also listen to various Radio 5 Live programmes (Monday Night Club, Kicking-Off, Sports Report, 606) and podcasts (The Guardian's Football Weekly, The Football Ramble and United Rant).
It is true that I mainly follow via the Internet, although I sometimes give in to nostalgia and listen to Sportsworld on the BBC World Service radio station, which broadcasts the second half of 5 Live's featured match on Saturday 3pm.
I follow the English leagues down to the Evo-Stik Premier, and take an interest / have sympathy with a number of clubs for various reasons: Sheffield Utd, Hartlepool, AFC Wimbledon, Plymouth and FC United.
———————-
This feature will be updated on a regular basis. Sportingintelligence invites readers who watch the Premier League overseas to send your own experiences to submissions@sportingintelligence.com, answering the questions posed above, and including a JPEG of yourself. We cannot guarantee to use all submissions (although if we've not had one from your country it's almost certain we will) and we'll be appealing via Twitter from time to time for viewers from specific nations.
.