By Brian Sears
30 September 2011
As if Bolton's start to this season hadn't been tough enough, they now face the visit of Chelsea – who in their last dozen visits to Bolton have had a remarkable turnaround in fortunes.
In the pair's Premier League games on Bolton turf, Bolton began with two victories; McGinlay, Curcic and Holdsworth netted the goals.
Then came two draws with further goals from Ricketts, Nolan and Pedersen.
But since 23rd November 2002 and that 1-1 draw, Bolton have suffered eight straight home defeats to Chelsea and not managed a single goal in 720 minutes of Reebok football.  (See table below).
On Sunday Chelsea visit Bolton again and Bolton are the only Premier League team without a single home point. This is what might be termed a 'challenge' for Owen Coyle.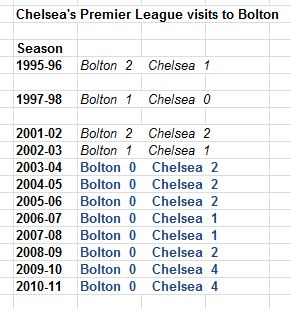 And another thing …
Tottenham and Arsenal face each other this weekend for the 39th time in the Premier League.
It's the fixture that has produced more drawn games than any other fixture : 17, with 10 at White Hart Lane and seven when Arsenal have been at home.
In three seasons – 1997-98, 2005-06 and 2008-09 – there have even been 'double draws'.
The top three drawn fixtures in the Premier League are, 1992 to date: 
17 draws Tottenham and Arsenal
16 draws Everton and Chelsea
15 draws Aston Villa and West Ham
.
And another thing too …
Wigan have won 104 points in 117 away games during their years in the Premier League until now.
That gives them the 13th best (or eighth worst) away record in points per games of the 20 current sides. (See table below).
But against Aston Villa in six trips to Villa Park they have not lost a game, amassing a title-contending 12 points from six matches thanks to three wins and three draws.
Can Wigan play Villa every week?
No.
This weekend?
Go on then …
.
Sportingintelligence home page
More on Chelsea / Swansea / Man Utd / Man City / Arsenal  / Liverpool (or search for anything else in box at top right)
.