By Nick Harris
SJA Internet Sports Writer of the Year
31 May 2011
.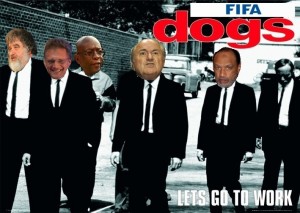 When Sepp Blatter took to the stage in Zurich on Monday, Fifa's president declared: 'Crisis, what is a crisis?'
In a display widely reported as "arrogant" and "contemptuous" (and which can be viewed in full here), the 75-year-old Swiss, the head of Fifa since 1998, declined point blank to answer a number of significant questions. He provided fudged, unimpressive responses to others.
On Wednesday, as things stand, he will be re-elected unopposed as Fifa's president, following the withdrawal of his only rival candidate, Mohamed Bin Hammam of Qatar.
Sportingintelligence was told late on Saturday afternoon that Bin Hammam was about to pull out of the presidential race, with one source saying he was doing so under pressure from the Qatari Royal family. The withdrawal statement was ready, the source said. We called and texted Bin Hamman but received no reply. In the early hours of Sunday, UK time, a withdrawal statement was made public.
Another source said a deal had been struck whereby Bin Hammam would leave the way clear for Blatter to be re-elected unopposed if Blatter, in turn, made sure that the decision to send the 2022 World Cup to Qatar would not be overturned or reassessed. Bin Hammam has not responded to calls.
Blatter – cleared by Fifa's Ethics Committee himself of any recent wrongdoing – won't answer questions. It has been reported, by Dagbladet in Norway, that Blatter made an impromptu visit to a gathering of Fifa Ethics Committee members earlier this year in Zurich to praise their work and to let them know they would be re-elected unopposed for another four years in their posts. They'd met to discuss allegations about Jack Warner and ticket touting at the 2010 World Cup.
Blatter's re-election will happen against a backdrop of disapproval and calls for his removal from office, from fans, activists and politicians. Blatter has been apparently close to the end of his Fifa career amid accusations of corruption before, more of which later.
But before detailing some of Fifa's political history and scandals for those who might not know or recall some of the relationships and histories involved, here is a brief recap of the past week's events and accusations.
.
Wed 25 May: Fifa announced Bin Hammam and Jack Warner had been charged with offering bribes to Caribbean members of Fifa's 208-man electorate in exchange for supporting Bin Hammam in the presidential election. These allegations came via Chuck Blazer, who has worked closely with Warner in Concacaf for years. Paul Kelso's detailed report in the Telegraph about the contents of Blazer's dossier of bribery allegations is linked here. Kelso is on Twitter @pkelso. A photo of an actual cash bung from the alleged scam, next to an actual brown envelope, can be found at this Twitpic link courtesy of Martyn Ziegler (@martynziegler) of the PA.
.
Thu 26 May: After confirmation that Bin Hammam and Warner will face an Ethics Committee hearing on Sunday 29 May, it is announced Bin Hammam wants Blatter to face a hearing too – because Blatter knew bribes would be offered. In a bizarre and rambling column involving talk of cows and Swiss farmers (which may or may not still be fully active at this faltering link), Blatter said it gave him no joy to see MBH and JW in the dock. He wrote: "To now assume that the present ordeal of my opponent were to fill me with some sort of perverse satisfaction or that this entire matter was somehow masterminded by me is ludicrous and completely reprehensible."
.
Sat 28 May: Warner warns of a 'football tsunami' ahead of the presidential election.
.
Sun 29 May: Bin Hammam and Warner are both suspended from all football activities while Blatter is cleared. Late on Sunday night, Warner unleashes his tsunami, or at least the first waves of it, in a statement linked here, that alleges:
Blatter gave $1m to Concacaf in May 'to spend as it deems fit', an act that annoyed Uefa president Michel Platini, who approached Fifa secretary general Jerome Valcke – a key Blatter appointee and ally – to complain, only to be told Valcke would 'find the money for Mr Blatter'.
Valcke said Qatar 'bought' the World Cup. (Valcke later confirmed the email in which he wrote this was genuine, but that he meant Qatar had 'bought' the World Cup – with financial muscle generally – rather than 'bought' the World Cup – with pure old fashioned bungs).
The case against him and Bin Hammam is politically motivated and not subject to due process.
Blazer can't be trusted (citing evidence from an unrelated court case where a judge said Blazer couldn't be trusted).
.
Mon 30 May: Blatter held his now notorious press conference. By Tuesday 31 May, Warner is saying 'support Blatter' – which a cynic might interpret as Warner having been told to hold any further tsunami revelations in exchange for guarantees that he'll by alright, Jack.
.
Now to recap some of the key accusations against senior Fifa figures over the past 13 years, beginning with Blatter himself. The following is intended as a summary, with links for detailed further reading.
.
Blatter: Sponsored by vote-fixing, bung-taking mentor Havelange
Sepp Blatter won the Fifa presidential race of 1998 to beat rival Lennart Johansson thanks to the backing of his long-time mentor, and former Fifa president, Brazil's Joao Havelange. The 1998 election was mired in accusations that Havelange effectively – and sometimes literally – bought support for Blatter. Blatter was also being supported at this stage by Mohamed Bin Hammam of Qatar (with financial and organisational support from the Gulf for his election campaign) and also relied on staunch support from two key Concacaf allies, Jack Warner and Chuck Blazer. Blatter also had key support in South America from Havelange's son-in-law, Ricardo Teixeira. More on all this can be read in an Andrew Jennings backgrounder linked here. At Blatter's press conference after his 8 June 1998 victory, he was asked about Gulf cash funding and replied: 'The match is over. The players have already gone to the dressing-room, I will not respond.'
Blatter: the 2011 relevance of his long-term backers
The longer-term relevance of Havelange's support for Blatter – and Teixeira's – is that both Havelange and Teixeira have been implicated in taking massive bribes from ISL as part of $100m in bungs to football officials. The central point of the BBC Panorama programme that caused such a brouhaha on the eve of the 2018-2022 World Cup votes in December was to expose a secret internal ISL document that detailed 175 bungs. More can be read on this in a blog by Panorama editor Tom Giles, while the show itself can be seen at this link (not available to viewers in all regions).
More recently, in the latest Panorama about Fifa, broadcast on 16 May 2011, it was specifically alleged that Havelange took a $1m bung in 1997 that Sepp Blatter knew (and knows) about. A criminal investigation in Zug, Switzerland, has come to this conclusion, but Fifa is blocking the release of those findings. The May 2011 Panorama can be seen here.
Thus the headline corruption accusation against Blatter himself is he came to power through corrupt patronage, supported by people he knows have taken and given bribes, but has chosen to cover this up and keep it quiet. Teixeira, subject to a number of corruption allegations in his native Brazil, remains on Fifa's ExCo and is in charge of running the 2014 World Cup in Brazil.
Blatter: Accused of corruption by ExCo colleagues in extensive 2002 dossier
In May 2002, with the Fifa presidential election looming – between incumbent Sepp Blatter and challenger Issa Hayatou – Blatter was the subject of a formal legal complaint by 11 Fifa colleagues, comprising five Fifa vice-presidents and six other ExCo colleagues.
Fifa's then general secretary, Michel Zen-Ruffinen, had compiled a dossier of alleged abuse of power by Blatter. It was delivered to Swiss prosecutors on behalf of ExCo members Lennart Johansson, David Will, Antonio Mattarese, Issa Hayatou, Mong Joon Chung, Michael D'Hooge, Per Ravn Omdal, Amadou Diakite, Slim Aloulou, Ismael Bhanjee and Senes Erzik. Thirteen specific 'offences' were alleged including:
Payment of $100,000 to a former ExCo member Viacheslav Koloskov, president of the Russian football union, allegedly to buy his influence and that of those close to him. Blatter admitted he'd paid the cash, saying: "Koloskov was no longer in an elected office but he was still active in an official function in Russia, so I decided to pay him $50,000, the annual salary of an executive committee member. That was an irregularity. The finance commission should have signed it off." [Incidental note: Koloskov was a key figure in Russia's successful bid to win the right to stage the 2018 World Cup]
Payment of $25,000 and the promise of another payment of the same amount to Lucien Bouchardeau, a refugee living in Nigeria, for information that could blacken the name / reputation of Farah Addo, a senior African Fifa official who had alleged Blatter (or rather Blatter's camp) had paid bribes to buy Blatter success in the 1998 election. Blatter admitted he gave cash to Bouchardeau, but said it came from his own pocket. "Because of Addo, Bouchardeau has been left out in the cold in Africa. He said to me with tears in his eyes that he was a poor devil and had nothing left. So I gave him $25,000 of my own money," Blatter said. "I'm too good a person."
A series of decisions that, directly or indirectly, benefitted Jack Warner and / Concacaf, including giving Warner a travel contract for a Fifa U-17 tournament; writing off $9.5m owed to Fifa by Concacaf; and paying $1m to Concacaf under the GOAL project 'although it was contrary to procedural rules for this project.'
.
Blatter's response to the accusations, shortly after they were made, was to suspend an internal Fifa investigation into the matter on the grounds that confidentiality was being breached.  "In order to guarantee and to protect the interests of Fifa and the Fifa executive committee, I have to suspend the work of the Fifa ad hoc Internal Audit Committee," he said at the time. He duly stood against Hayatou and won easily, amid yet more suggestions of rigging and cronyism.
Late in 2002, the Zurich prosecutors closed the case into alleged corruption. NB: they closed the case – as opposed to clearing Blatter – on the grounds of finding no "criminal" behaviour and because those acts that had happened as alleged had happened under Fifa rules. "My good name has been cleared," Blatter said. "The whole matter has been a dirty game that has caused unnecessary and untold damage to the image of football, the game's world governing body and not least that of its president."
After the prosecutor dropped the charges, it was announced that Concacaf (domain of Warner and Blazer) would get an extra play-off place for the 2006 World Cup at the expense of Europe. Michel Zen-Ruffinen had already been sacked, and was replaced by Urs Linsi, a Blatter ally.
.
Jack Warner – serial ticket tout
Warner has been accused of a catalogue of malpractice, from not paying Trinidad & Tobago player bonuses at the 2006 World Cup, to asking for cash for a friendly international to be paid into his own account, to snaffling lucrative Fifa contracts (for staging tournaments and / TV rights) for a pittance, to the most recent allegations of being party to bribes.
Time and again he has escaped charge, let alone punishment – because of the protection of Blatter, to whom he has been a staunch ally, delivering bloc votes from Concacaf in the past. But even Fifa itself has found him guilty of one offence: wide-scale ticket touting.
This was exposed most comprehensively on Warner's own turf in late 2005 and early 2006 by an investigative journalist, Lasana Liburd. (Link here). Working with Liburd, The Independent (for whom I was then writing) established, contrary to Warner denials, that his family-run Simpaul travel business was still touting 2006 World Cup tickets.
This coverage prompted Warner to ask Fifa's Ethics Committee to consider his conduct. He expected to be cleared by his cronies. Instead, in secret, they found him guilty of unethical behaviour. Mohamed Bin Hammam was among the members of the Ethics Committee at the time who used the word 'unethical' to describe Warner's touting, as sportingintelligence reported in December last year when we published a secret memo from the 2006 Ethics hearing.
Dagbladet in Norway subsequently reported Warner was touting again at the 2010 World Cup. Report linked here.
.
Touting by Concacaf as far back as the 1990s
As far back as the 1998 World Cup in France, there were strong suspicions that World Cup tickets assigned to senior officials and confederations were being sold for big profits on the black market. It was considered a routine perk of football life. During an investigation for The Independent in late 1998, I was told by a source that Concacaf officials were particularly culpable, including senior figures.
I had an eye-witness account from somebody who had been in a hotel lobby in Montpellier and said that Chuck Blazer was present as a batch of tickets changed hands at above face value, passed between people in the Concacaf party – including a female Blazer employee and her boyfriend, a Costa Rican referee – and some fans.
This was, potentially, a sensational story: Blazer, who had been a Fifa ExCo member since 1996, party to the irregular distribution of World Cup tickets in a hotel lobby.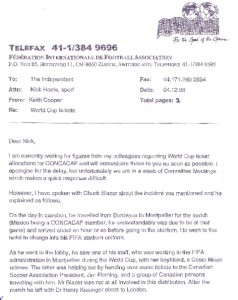 I contacted Fifa and asked for an explanation. None came. I contacted Fifa again – it was late November 1998 by this point. On 4 December 1998, I received a response by fax (left, click to enlarge) from Keith Cooper, who was then head of media at Fifa. (Cooper was axed, years later, in a Blatter purge).
'I have spoken with Chuck Blazer about the incident you mentioned and he explained as follows,' Cooper wrote to me. Cooper went on to explain that Blazer had indeed been in the hotel lobby in question – just passing through, just as one of his female staff, and her Costa Rican referee boyfriend, were 'handing out some tickets to the Canadian Soccer Association President, Jim Fleming, and and a group of Canadian persons traveling with him. Mr Blazer was not at all involved in this distribution.'
Blazer was not touting tickets himself, it seemed. A senior Fifa insider separately told me at the time that Blazer was 'not very happy that the Costa Rican referee was involved in this' and that 'the system [of ticket distribution] is anyway far from perfect'.
The story never made it into the paper. Keith Cooper's fax to me is published here for the first time ever, ending with the sentence: 'After the match, [Blazer] left with Dr Henry Kissinger direct to London.'
Newspapers will routinely have large amounts of information that they can't or don't publish for various reasons. On this occasion, we'd been told Concacaf tickets were touted in France, and Concacaf officials were involved, and that Blazer was present. But Chuck Blazer gave his explanation as to his own non-involvement, and with no big scalp, we didn't run it.
It would be interesting to know now what measures, if any, were put in place after that to make sure that Fifa official tickets, especially within Concacaf, didn't get touted from within. Evidently not many measures were taken: Jack Warner took the touting in-house, and Fifa certainly knew this and privately censured him for it as long as five years ago. Only in the past few days has he apparently become expendable. Or not.
.
Prior dishonesty by Fifa men currently key to Blatter
MasterCard had been a Fifa sponsor for 16 years when they were dumped for Visa in a move that led to a high-profile court case in 2006. Chuck Blazer's evidence was described by Judge Loretta A Preska as "generally without credibility based on his attitude and evasive answers on cross examination." His testimony was rejected as fabricated.
As detailed in this contemporary report, other Fifa employees were implicated in wrongdoing, including Jerome Valcke, then director of marketing and TV. "The employees who had conducted negotiations were accused of repeated dishonesty and giving false information to the Fifa deciding bodies in question," said Blatter. They were fired for breaching business principles, although Blatter later said Valcke chose to leave.
Valcke is now the general secretary of Fifa and on Sunday was prominent at the press conference announcing the suspension of Warner and Bin Hammam following those allegations made by Blazer.
Warner and Bin Hammam both allege a set-up involving Blatter, Valcke and Blazer.
Warner and Bin Hamman both say due process was ignored in the run-up to their suspensions, and certainly it seemed odd that Valcke should brandish apparently supporting evidence against the pair, received at the 11th hour, during a press conference. (This was a communication from Puerto Rico).
Blatter maintains that it is ludicrous to suggest he would set up his sole presidential race rival for a fall.
.
Etcetera
As stated previously, the above is a brief summary of historical events. Further reading is recommended on other more recent – and easily available – accusations that have been made / denied / disproved / ignored relating to current and recently former Fifa ExCo members Issa Hayatou (in relation to ISL and 2022), Warner, Angel Maria Villar Llona of Spain (in relation to the alleged collusion deal with Qatar over 2018-22), Teixeira (over ISL and by Lord Triesman), Bin Hammam, Worawi Makudi (implicated by Triesman and in relation to collusion deal with Qatar-Spain), Nicolas Leoz (ISL and implicated by Triesman and others around 2018 bidding), Jacques Anouma (implicated in alleged bungs as reported by the Sunday Times), Amos Adamu (ditto) and Reynald Temarii (ditto).
NB: Other dodgy Fifa-related figures are available, including a wide range of middlemen and fixers, but we don't have the time or will to include them all.
MOTTO: Fifa, overseen and ruled by Sepp Blatter – for the good of the game?
. 
Sportingintelligence home page
.
On all matters Fifa, sportingintelligence would also recommend that you follow the brilliant Tariq Panja of Bloomberg (@tariqpanja), the immensely well connected James Corbett (@james_Corbett), the fearless Rob Harris of AP (he of the Fergie whispered ban threat, @RobHarrisUK) and Torgeir P. Krokfjord of Dagbladet (@tpk360), as well as Kelso and Ziegler, while the Guardian sports editor Ian Prior (@ianprior) routinely retweets the findings of his massed reporting troops.