.
By Nick Harris
SJA Internet Sports Writer of the Year
15 May 2011
Manchester United's point at Blackburn yesterday earned them a 19th English league title. In the run-up to the game, I interviewed Rio Ferdinand in Manchester for a feature (linked here) and another story (third item in the column linked here) in today's Mail on Sunday. But with about 6,000 words of Ferdinand quotes from the interview, they clearly wouldn't all get in the paper. For anyone interested, here is the full transcript of RF's answers.
.
RIO FERDINAND ON …
.
… the 2010-11 season so far
'You never go through a season without a mixture of emotions, and ups and downs, and this season has been no different. It's just been different this year that we've been questioned on the ability front, which baffles me a little bit because when I look around the changing room I wouldn't swap any of our players for anyone else.'
.
… United routinely being described as not as good as previously
'That's the first thing I noticed when I came up here. The manager, he gets that, and he understands that. And because Manchester United is a successful club there's an element of envy, jealously maybe, I don't know. The people who write those articles about Manchester United will be able to tell you. But it's a little bit like "We don't want to see you winning again" type of thing.
'But we get the job done. We can go to Stoke and play below par, or other clubs where it's difficult to go, difficult grounds like Stoke, Bolton, West Ham, or to teams that come up from the Championship with great atmospheres that are bouncing. And a lot of other clubs go to those places and are not used to it, or don't get down to the nitty gritty. And that's what we DO, and that's how you win championships. Teams that come up can always cause problems, especially for the bigger clubs. It's their cup finals.
'We were 2-0 down at Blackpool, 2-0 down at West Ham, and managed to drag those games back [to win 3-2 and 4-2]. And that's where you win your leagues. You don't necessarily win it against the other teams up there [challenging] although this season we got a chance to effectively win it against Chelsea. But invariably you've got to earn your points and your stripes against the teams where it's difficult to go.'
.
… having the best home form of any United Premier League season, and the worst away form
'Our standard is high. Don't get me wrong – we're disappointed with our away form, but that doesn't mean you're a bad team. Our home form is ridiculous. That's just the way it's been this year.'
.
… the Champions League final at Wembley
'At the start of the season, you're not even thinking about Wembley, you never think who you'd like to play but we're in the final and it's great to play against Barcelona, one of the best teams in the world at the moment. It's a dream final for sure for the endorsers of the competition as well as the fans. And for the fans that don't support either team, it's probably one of the finals they wanted to see.
'It's a massive game. Last time [in 2009 v Barca in Rome] we probably came out of that game with loads of ifs and buts and thinking we could have done more, done this and that as a team and as individuals – things that are private and to keep in-house – but I think this time it will be about wiping that slate clean and giving a better account of ourselves than we did last time, and that will end, hopefully, with lifting the trophy.'
.
… on Barcelona
'You enjoy watching Barcelona. They're entertainers. They've got some great players. And just like us, say when Wazza's not playing well we've got Nani who comes up with the goods or gives you something to look at, or Antonio's good to watch, or Giggsy's good to watch, Scholesy's good to watch, Berba's good to watch, Chicharito's good to watch.
'Barcelona are exactly the same. You've got Messi and if he's not on form – and it doesn't happen that much – but if he's not doing the bits and pieces then you've got Iniesta to look at. And if he's not doing it, you've got Villa, and if he's not doing it you've got Xavi. Or Pedro. So they've got loads of players and if you stop one then there are others who can step into their shoes and cause damage, and that's what we've got to be mindful of.'
.
… and how a defender prepares to face Barca
'I go and get videos. That's exactly what we do. We prepare so all being well there will be no surprises on the night. With the technology these days we see their games anyway so we watch and analyse teams and individuals.
'But I'll work with the [analytical] team at United and look at certain aspects of their game, and their trends and the way they play, and try to combat that. These are massive games. This is a showpiece game and you want to be able to put yourself out there and stamp your name on a game like this, whether it be through a sterling defensive performance or nicking a goal or just having an influence on the game. Getting through it and winning a game of this importance is something to aim at.'
.
… on the importance (or rather not) of Wembley as the venue
'I wouldn't care where the final was. It doesn't bother me. I'm not into all that, "It's Wembley" and whatnot. It's great for my family, they've not got to go trek to Moscow or somewhere, which was an absolute nightmare in terms of getting over there, just the logistics of it all. Being in England it's great for my family and friends, and for our supporters, but for us, the pitch isn't going to change shape and the venue is neither here nor there.
'I don't think [the venue] will have any bearing [on the result]. If it was Old Trafford it would be a different story. But Wembley – you play there once or twice a year for your club, if you're lucky.
'People keep harping on that it's poetic that it's Wembley but for me, all that stuff counts for nothing if you don't win. I won't remember it for any other reason apart from if we win it. It's as simple as that.
'If we win it, I'll talk to you until the cows come home about it being at Wembley, and the drama, and all that kind of stuff. But if we don't, just like in Rome, you went get me harping on or looking back on it.'
.
… on history, and emotion, and playing with a 'cold' attitude
'The fans know the history of the club and we don't forget that. We know that, and that's ingrained in us as Manchester United players. As soon as you walk through the door at Manchester United, the history hits you. But if you take all that emotion into a game and you're not on a level playing field.
'Having emotions in a football match doesn't do anything but harm you. I don't believe in being an emotional footballer. When it comes to the big games, the nitty gritty, being emotional can be detrimental.
'This is where experience comes in, and you don't know about it until you get to the later part of your career where you can look back on certain things and see lessons you learned. I remember when I was at the World Cup in Japan in 2002 and we were about to play Brazil in the quarter-finals. As the national anthems were being sung, I heard someone calling my name.
'I looked over to where the families were and I saw my mum, my missus, my dad and my brother and I welled up. I was thinking, "My family's here, I'm playing against Brazil, the dream game, at a World Cup for England. Ronaldo and Rivaldo, players I'd looked up to as a kid, are out there, and the National Anthem's on".
'I really don't think I played as well as I could have in that game and it was because of all that emotion.
'I learned that you've got to go out there cold. If you feel yourself being drawn in, you have to stop and tell yourself, "It's just business". It's the only way you can think about it. It's probably not as enjoyable to play like that, but I enjoy winning, I don't enjoy the moment.'
.
… on being a senior figure in the dressing room
'With the players we've got in our squad, it's not about shouting and bawling from the rooftops "This is what you do!".
'The younger players come into the dressing room and see the way that senior players like myself, Edwin, Giggsy, Scholesy, the way we conduct ourselves in and around the training ground, and they learn from that.
'You can talk all you like but if you're not doing what you're saying as a senior player, then the younger players aren't going to take any notice. They're not going to do what you say, but they might do what you do.
'It's like an unwritten rule at the club, the way you apply yourself in training. It comes from the manager, but the players implement it. It's about leading by example, not by talking.
'There are times to talk, but a lot of the time it's done through action. If a player is having a bad time, I believe in encouragement. I choose to lead and I've always done that. You're going to get more out of someone by encouraging them. There are times you do lose it.
'Today in training I lost it with one of the players, going bananas at him, shouting and bawling, because he didn't track back, and we conceded a goal from it. But afterwards you laugh about it and you talk about it and you move on.
'And that's where our squad is different from a lot of squads. There's no maliciousness, there's no carry-on if we have an argument on the pitch – it stays out there. We come into the changing room and the banter is flying again. That's what this squad is about. The ambience is as good as I've seen it.'
.
… on Chicharito
'The best thing about him is his willingness to learn, and his desire to work. He's one of the first in, if not the first, every day, and one of the last to leave. So he's getting his rewards. Hard work pays off in the end, and that's what he's getting. But you can see from his game that he's a thinking forward.
'He doesn't run willynilly. He runs for a reason and that's to get in on goal and to create chances and if you do that and keep doing that, plugging away, then you're going to create chances and you're going to score goals. And when he gets in there, he's cold blooded, although as a person he's a really nice kid.
'You see a lot of that with strikers. It's what I've always seen with strikers. Michael Owen, Chicharito now, Ole Gunnar Solskjaer, Ruud Van Nistelrooy. These guys see a clear picture, it's black and white with these guys.
'I'm not talking in football, I mean when you speak to them as people, it's very clear to them, they know what they want to do, there's no funny business, it's just "Bang! This is what's happening. This is it."
'Black and white. Single minded. That's the common thing I've seen with top goal scorers: a clear picture not just of football but of everything.
'As a character, Chicharito, he's a really good lad. He's a simple fella who just loves football and he's not interested in anything else apart from playing football and playing for Man United.
'His ability speaks for itself. We saw from the first few training sessions that he's going to be a player. But I don't think anyone at the club expected what we've got out of him, and the manager's already said that.'
.
… on Wayne Rooney
'He got injured at the beginning of this season as well. And the World Cup takes a lot out of players. I think you saw that with Frank Lampard as well, beginning the season with an injury. And Steven Gerrard too.
'I think you get that drag after a World Cup and [Rooney] got that, and obviously the stuff after that [the contract situation] dragged on. Mentally, physically it takes it out of you, and now we're seeing a fresh Wayne Rooney, the player we all know and love, and he's a fantastic footballer and loves playing football, day in, day out.
'Definitely I was relieved that he signed. You want to keep your best players and he fits into that category.'
'He wasn't scoring goals [for a period] but he was still being part of a team and because the season before he was so brilliant and prolific in front of goal [it was more noticeable]. But he was still putting in a shift for the team. And that's what you get with Wayne Rooney. He might not score a goal in couple of games but you know he's going to put in a shift and be an honest part of that team.'
.
… on Edwin van der Sar
'Van der Sar is the best goalkeeper I've played with. The best feet on a keeper I've ever seen. The coolest temperament. You just run out of things to say about him. And the difference between playing for a team like Manchester United is you don't concede too many shots on goal, but when you do, the top goalkeepers are the ones who make those saves because they're concentrating, and that's what sets you apart.
'You can have keepers who've come from teams who conceded chance after chance and lose 4-3 but the keeper's made 10 saves in a game, but come to Man United and asked to make one save in a game, he doesn't make it. It's different and you've got to be able to deal with that and he does that better than anyone.'
.
… on Paul Scholes
'The best footballer I've played with. The most talented footballer. He's just unbelievable. I call him Satnav. His passes tell you where to go. I just cannot speak too highly about him. He dictates a five-a-side, an 11-a-side. Whatever you game you put on, he's the geezer that runs that game. He's the conductor, he's the orchestrator.
'And don't forget he's gone from being a goalscoring midfielder – the best goalscoring midfielder that we've had – to change the whole dimension of his game to being the person that conducts the game. To do that at the top level and still win trophies is some feat.
'And he's got a funny sense of humour. People that know him – he's just dry. There'll be something going on in the changing room and he'll just chuck in a little comment that will kill the whole situation.
'He used to hammer Gaz [Gary Neville] all the time on the bikes in the warm-up. Gaz would say something and he'd just cut him down, straight. Scholesy. I'm just stumped for words to describe him.
'If you spoke to Zidane, Iniesta, Vieira, they'll all say he's there with the best players, as if he's got eyes in the back of his head. The ball comes to him and he's already got a picture of what happens next, three steps ahead like a snooker player. He's thinking ahead, always ahead.
'You very rarely see him give the ball away. And when you watch him, he's always doing that [Ferdinand moves his upright head from side to side], he's always looking around. So Scholesy would shade it for me as the best player I've played with for club or country.'
.
… on Ryan Giggs
'He's gone from being a wing wizard who darts past people, or floats past people, with pace and skill and grace, to being someone in midfield who's running games, and who can still have that change of pace, that burst, in the middle of the pitch to make a difference to the game. And you look at the last three games we played against Chelsea and I think he set up five goals.'
'His game has evolved, changed. His game was all about pace and directness and running at people, and now he can do that still but as well he can slow it, or quicken up the pace of a game. His assist rate is now probably as good as it's been in his career. And he's a joy to play with as well. At 37, you can't even begin to explain how he's doing it. I think he was just born with a good body that can take the trials and tribulations of a Premier League season.'
'I think Giggsy can play for another two years, easy, so could Scholesly. It just depends on whether Scholesy wants to or not. Look at the last three games against Chelsea and Giggsy has probably been our most effective player. That's top, top level, the two best teams in England at the moment.'
.
… on Nemanja Vidic
'Me and Vida when we play together, we understand each other. Sometime it just happens. Me and Sol Campbell played well together for England. We just understood each other, we didn't work on it. Same with Vida. He came to United and we just clicked.
'We compliment each other with different styles but it's a good blend. Without having to shout at him, he knows where I'm going to be, and vice versa.
'When you've played with someone so long and then you've got to play with someone else, it can be difficult. But the players who can come in – Jonny Evans is going to be a top central defender. Chris Smalling has come in this season and done a great job. He's going to be a top defender. And those two are probably going to be the future of Man United when me and Vida are finished. But me and Vida have been playing together for four or five years and that experience counts for a lot.'
.
… on hitting form
'We're in the Champions League final. It won't count for anything if we don't win it but to get there is an achievement in itself. And we've reached three Champions League finals in four years. Four semi-finals in five years. Three league titles in four years before this season. That tells you a lot about what this squad is about. We're resilient, we're determined. For everything that's written in the media, it's water off a duck's back to us because we believe in ourselves and in each other.'
.
… on the next development stage of the squad, and signings
'We just do what the manager says. We're like fans. The manager will tell you that I've badgered him in the past about signings, asking him who we're buying. You want to know, like the fans do, like everyone else. But we find out, like they do, in the paper. You've got to trust his judgment. The manager commands that we believe in what he does because of his achievements. He deserves that. He's earned that right never, ever to be questioned. We as players see him make the decisions and trust in what he does, 100 per cent.
'It's not just me [badgering him about signings]. There are others who say "Listen, boss, who are we buying?" But the manager is the manager and he'd never tell us who he was buying or what he's going to do because the manager knows his business and he doesn't need any of us telling him.
'We're fans at the end of the day. People forget that. If we weren't playing football, we'd be down the pub watching football and standing on the terraces watching games. And that never leaves you.'
.
… on next season's title race
'Man City will have a go again, spending wise, so they're going to have to be taken seriously. They'll improve on from this year. If Arsenal strengthen then they'll be there or thereabouts again. Chelsea are going to be there, definitely, along without ourselves.
'Liverpool? You don't know. When they have a good run of games you hear that they're going to make a charge again, and then whatever happens, happens. Liverpool have got some very good players. I watched Suarez the other day and he looked fantastic. Andy Carroll's going to be a top player. And they've got Jamie Carragher and Stevie Gerrard there. Lucas is playing well now. So they've got good players there. It's just whether they can make a sustained challenge.
'It's all up in the air because you don't know who anyone's going to buy, and if they're going to gel. I think every one of those teams will invest heavily for next season in the summer. But it's how well they go together that will matter.
'Just because you spend money doesn't mean you're going to win all the time. Players have to get along a form a close group. Time will tell, but those teams will be up there. And if Spurs spend, they can be in there as well. All of these teams have money to spend and will spent money.'
.
… on the best opponents at Old Trafford
'West Brom have probably been the best team at Old Trafford against us, and they came up from the Championship. They played expansive football.'
.
… on not caring who else is in title contention
'And I think the top four next season, and title contenders, will be four teams from the top six now but I don't care about who else is there aside from United. I just don't care. I just care about winning. At the end of your career, the only think I'll care about is when I go into that draw, how many medals I've got. It's irrelevant whether we've just pipped Man City or whoever, Liverpool, Arsenal, Chelsea. I won't be remembering that.'
.
… on retirement (or not)
'I'd love to play on until I'm 45! But we know that can't happen so you've just got to take every year as it comes. That's where the example of Giggsy comes in. Speak to him and he'll tell you that when he hit 30, everything changed. And he just took it year by year from then, and that's just the way you've got to do it. You can never plan too far ahead.
'It's one season at a time. You get to each summer and hopefully we've won one or two things, and then you make plans for the next season. I've got another year left on my contract after this season, so I'd definitely like to be looking to 33, 34, 35.'
.
… on staying in football after his playing days are finished
'I would definitely like to be putting something back into football, whether it be working as a manager, as a coach, with the youngsters, on the media side, I don't know. It's too early to think too hard about it or make a fixed plan.
'I'll definitely have some place in football. I love the game too much [to leave]. I can't imagine not having some involvement. It's all I've done, it's what I love, it's my first port of call. I started my badges a while ago, before I got my injuries. But when you get injured you've got to give everything to getting fit, so I put the badges on hold. I'll do my badges when I retire from playing now, I'm sure.'
.
… on Twitter
'New Era* [management group] were the people who told me about it, ages ago, before I started it. And I was always skeptical, like everyone is with new technology. I thought it could be a bit intrusive, and there might be security issues, and I didn't really understand it.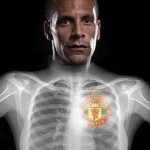 'But once I understood it and went online [in July 2010] and took an interest in it, I realised it's a platform that you can control, and give fans your real persona. People can see the real you.
'I've done interviews with magazines or with papers in the past and words get taken out of context and whatnot, and what you say gets shaped the way that they want to see the story written for the public to see it.
'And there was a persona of me out there, an image of me out there that I was this bling king, someone who loved all the finer things in life, who would rather be on a red carpet than be playing football, or be in a nightclub, or doing this and that.
'When really, if anyone does actually know me, football's No1 in my life, family aside obviously, and everything else works around that. Football is the hub of everything and without that I'm not the same person. And people see via Twitter that I just do a lot stuff that everybody else does.
'One of the funniest things I've realised since being on Twitter is when you post a picture on a train, or talk about being on a train, the first thing a lot of people say is "You're on a TRAIN?! You go by yourself?"
'People expect you to have an army of security guards with guns, or be flying your own plane down to London. It's weird. But then they see I travel by train and start saying "He's actually normal, doing normal things", whether it's cooking or playing with your kids in the garden or going to the cinema or just the basic, normal things that people do. Going to Butlins in Presthaven, whatever. Because of the image out there, in the media, that we [players] are so aloof now and untouchable, people forget that we are just normal run-of-the-mill people.'
.
[*New Era is run by Jamie Moralee, a fellow London footballer, who played for Palace, Millwall, Watford and others. Another London-born footballer acquaintance of Ferdinand's is solicitor Udo Onwere, formerly of Fulham and Blackpool, among other clubs. Onwere works for law firm Thomas Eggar, whose sport and media team are collectively The Sports Lawyer, long standing columnists on this website].
.
… on the separation these days between players and fans.
'[It's] because of the money. And nowadays because of the way the media is. For instance camera phones [have changed things]. Players used to go into a pub, just sit there, not even have a beer. Me and Lee Bowyer [when at Leeds] used to go into a pub in Linton near Leeds and have a pub lunch, with a glass or orange juice or a Diet Coke. But it would be hard to do that now.
'What if someone takes a picture of you going to a pub now? Or takes a picture of you sitting in a bar during the day, a day or two before a game. It can be taken out of context. There are so many different angles these days, [the media] hungry for that kind of information. That creates the barrier between the player and the supporter. The trust isn't there and that's a lot to do with some of the media as well.
.
… on Twitter changing perceptions
'Twitter has been important in changing perceptions because people can see what I'm actually like and understand me a lot better now.
'I do question and answer sessions. If I'm on a train for an hour or two I'll do a Q&A on Twitter, answering sport-related questions, or just general questions and I answer as many as possible. That's what fans love, it's what they want and it's what I'd want as a fan.
'That's what I want now from other sportsmen. I've got my magazine and I get to speak to people like Roger Federer, Usain Bolt, and I'm then going into fan mode to ask them questions.'
.
… on other Manchester United players and Twitter
'They were probably looking from afar thinking 'murky waters'. But they see it's only been good for me. It's not like they're following me, more waiting for me to break down the barrier and then piling in behind.
'All I ever said to Wazza and to MO and to the others about it is that you can give a true account of yourself through it. So if people want to judge you, you can tell them to have a looked at your Twitter page, have a look there before you judge me on the basis of any article you read about me.
.
… on a changing dynamic between players and media because of Twitter
'Because if [a journalist] lies, then I'll shoot that down [via Twitter] straight away. [Interaction] is so good to see for a fan. There are a lot of people who come on there to hammer you. But as I said to the lads, you need to be thick skinned enough either to not look at it, or look at it and laugh.'
.
… on his next cyber venture
'My App is coming out, it's free, news feeds after a game, Q&As, links to the magazine and the shoes, important dates coming up, competitions, post-match videos in my car, speaking straight away, thoughts and feelings before and after a game, information about what food we eat as players, food, diet, giving an outline of what it's like to be a footballer. And a forum where I'll encourage people to give me their views. It's not a case of me saying this is what you're getting, it's a case of asking the fans what they want and developing it from there, adding things over time.'
.
… on handling the balance between being accessible and protecting his family's privacy
'That's easy. I do nothing in the media with my kids. I might mention them in passing, but no pictures. My family don't want to be in media. I'm not criticising anyone who does it differently – each to their own. But my kids can choose what they want to [about being in the spotlight] when they're old enough to make their own decisions.'
.
… on the drawbacks of being famous, notably the recent stalker case
'I always look at in a different way, that the good stuff outweighs the bad. And the day people aren't asking for my autograph is the day I'm not a good footballer any more. [As for security] you don't get into football thinking about these things. You do it because you want to play football. Hopefully this will be the last of it. Because it can be scary.'
.
… on his own sporting heroes
'Maradona. He was my hero as a kid, the game changer. I love sportsmen who dominate team sports. Michael Jordan. Don't get me wrong. Federer and Bolt are phenomenal sportsmen but Maradona and Jordan are my favourites.
'I admire the single mindedness of Federer, and it's been interesting to meet them. When you meet these guys [to interview them for the magazine], they're so different to their media personas.
'You know 50 Cent doesn't drink, doesn't smoke. He was chilled, really entrepreneurial, completely different to how I thought he'd be. Based on the media's information, you judge someone.'
.
… on being available for England duty, despite all this season's drama
'Definitely. Always … [but] I'm not looking beyond this summer. Hopefully I'll be involved in the next squad, although I've got to get in the squad first, then hopefully play in the game if I'm chosen. And then go on from there.'
.
… on playing at Euro 2012
'You might think I'm lying but I don't even look towards that. I've not got to August 2011 yet.'
.
… on the young England players who excite him
'Jack Wilshere is going to be a great player. He's a great technical footballer. I think Danny Wellbeck's got a chance. He showed what he can do at Sunderland and now he's got to replicate it at United. Ashley Young is going to be a top player.'
.
… on the best moments of his career to date
'Moscow. And winning my first championship for Man United, my first Premier League medal in 2003. That and Moscow, which combined two scenarios that you dream about as a kid – leading your team out for a Champions League final then lifting it at the end of it. You don't get many moments better than that.'
.
… and the worst
'Losing the FA Cup final to Arsenal when we battered them. That was an injustice. Even Ashley Cole said me "I don't know how we won that." We could have won four games with the amount of chances we missed on that day.
'And Chelsea in the Cup final, the last few minutes when Drogba scored. Portugal, for England was just a disaster. We should have won that as well. Brazil in 2002. Portsmouth in the FA Cup. Everton in the FA Cup final was just a disgusting feeling. And Rome. And I could name about 100 training sessions. I'm a bad loser and you'll notice that I don't tweet when we lose. You can't swear on Twitter.'
.