By Nick Harris
24 August 2010
When the first breathless reports emerged that Kenny Huang, "billionaire sports mogul" (or some such description), owner of an NBA team (ahem), and boss of the Hong Kong sports investments giant QSL (ahem), was "closing in on takeover of Liverpool" (or some such description), funded by Chinese sovereign wealth (as you do), the first move was to make some calls to check him out.
He checked out as unlikely. Established figures in the sports industry in China had only heard of him through a failed attempt to get involved in buying a slice of the Cleveland Cavaliers in America's NBA. His sports interests in China were minor.
It was quickly established that Huang's former business partner, the genuine billionaire Adrian Cheng, had left the picture for reasons unknown. And Huang's flagship investment vehicle, QSL, was a small firm of fairly recent origin, not domiciled at the Hong Kong address it claimed to be at, and with a low-key, infrequently-updated website that crashed and has been under maintenance ever since.
Huang did not, frankly, have the credibility of an Abramovich, or a Sheikh Mansour. Or a Dave Whelan.
People who know Huang say his family do have some money, enough to be rich in China but only moderately well off in the USA, where they now live. Huang's mother, Daisy, is in property.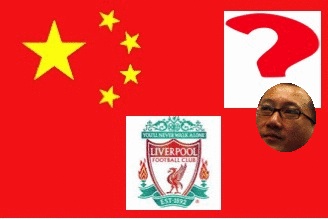 This website's first story on Huang reflected the flavour of this background on 2 August, concluding he didn't have the cash to do a Liverpool deal, certainly not himself. Then by 4 August it had been possible to establish that his major completed deals in professional sport to date were finding the Cavs a Chinese beer partner, and finding the New York Yankees a new commercial partner "in the instant-noodle category".
Sportingintelligence has also spoken to people who'd done business with Huang and who describe him as a nice guy, a middle man, a self-publicist, charming, well-connected within limits, big on ambition, but, ultimately, not a big hitter who has delivered consistently on any one project. Not yet, anyway.
Our story on the fabrication of some of his credentials is elsewhere today, while here, below, sportingintelligence explores how Kenny Huang "parlayed" his fame as a sports investor.
He's gone from absolutely nowhere with QSL to being "the man who almost bought Liverpool" in under 15 months.
.
PARLAYING TO CREDIBILITY
23 May 2009 First reports emerge linking Huang to the Cavaliers
"Calls to Huang's company are not returned," says the report, which nonetheless manages to describe him "a Chinese businessman who has become successful by linking American and Chinese companies."
The touch of a spin doctor is evident when the piece also manages to describe Huang as a "leading dealmaker with pro sports teams" (apropos of little), and describe his (at least partly fictional but unquestioned) US university background and interests in ventures that are already defunct.
1 June 2009 First mention in any English-language media of QSL Sports Limited
The first mention of QSL Sports Limited in any English media comes in a report from the Associated Press news agency, which reported: "A Chinese-born financier at the center of a deal to buy a stake in the NBA's Cleveland Cavaliers has announced plans to invest in baseball in his homeland. QSL Sports Limited, led in part by Jianhua Huang . . ."
Records show that the QSL website was first created, but not necessarily opened, on 18 January 2009. Its first article seems to have appeared in the summer of 2009.
The AP report derives from a press release issued by Hill & Knowlton in Hong Kong on behalf of "well-known Chinese-born financier Kenny HUANG Jian Hua [who is] a renowned Hong Kong businessman".
The press release, focusing on Huang's plan to launch a youth baseball league in China, says: "QSL Sports will serve as an investment platform focusing on business opportunities in sports such as basketball, baseball and tennis, as well as establishing media channels for sports related broadcasting."
9 June 2009 A small amount of scepticism creeps in
Chinasportstoday reports that Huang won't talk about the Cavs at the youth baseball launch, where, it adds, there are few hard facts to announce. It also stresses that Major League Baseball of the USA are not involved in the QSL initiative.
12 June 2009 An Associated Press article gushes on the rise of Kenny Huang
It begins: "Barely a month ago, Jianhua 'Kenny' Huang was relatively unknown outside business circles, just one of many entrepreneurs working to match money and business opportunities across the Pacific. Now, he's shot into the U.S. sports headlines with a bid to buy a chunk of the Cleveland Cavaliers. Huang followed that with a deal enlisting the help of Major League Baseball in setting up a youth league in China."
And it reports a load of guff about his education, talent, and flair for languages and investment.
8 July 2009 QSL announces a youth sports development fund
"'Happiness' and 'Health' are the key principles behind QSL's sports development business," says Huang in a PR statement released through Hill & Knowlton in Hong Kong, nothwithstanding his firm's stated aim of a month before of being a platform for business and media. The release says the Fund "will help create activities and facilities such as 'QSL Happy Baseball Courts' and 'QSL Happy Sports Grounds'." And it adds that QSL is "devoted to developing youth sports and creating opportunities for the younger generation through nurturing talent in sports."
24 November 2009 Huang buys a basketball club
The China Daily reports "Huang Jianhua has bought the Jilin Northeast Tigers basketball club in his latest move to build a sports empire … Huang, 46, shot into the US sports headlines with a successful bid to buy a stake in the Cleveland Cavaliers in May. He followed that with a deal enlisting the help of Major League Baseball in setting up a youth league in China. Huang told reporters that he plans to bring NBA management and operation model to the Northeast Tigers in order to relieve the team's financial stress."
Ahem.
18 December 2009 Cavaliers see the first benefit of Chinese owners (ahem). A beer deal
A press statement released by Hill & Knowlton in Hong Kong begins: "The Cleveland Cavaliers are seeing the first benefits of being partly owned by Chinese investors after this week's announcement that brewing giant Tsingtao have put pen to paper on a multi-year home court multi-million dollars advertising contract."
31 December 2009 China Daily gushes at Huang's burgeoning empire
Says the paper: "Huang Jianhua, is making the most of his fortune by building up a sports empire at whirlwind speed. First, he led a Chinese investment group in buying a 15 percent stake in the NBA's Cleveland Cavaliers in May. Then, after landing a mega-sponsorship deal for his CBA club, the Jilin Northeast Tigers on Tuesday, he unveiled a new basketball magazine yesterday.
"'I will definitely step up my efforts to expand the sports market in China. This is not the end,' said Huang, who also goes by the name of Kenny Huang in the US."
19-22 January 2010 Kenny Huang appears at a trial in Miami where evidence amassed by sportingintelligence this month suggests he committed perjury in relation to his background.
He wins the case on a jury decision. The case is not reported widely, or in fact, at all, anywhere. Hill & Knowlton don't release a statement.
23 February 2010 Huang does a deal to manage and promote China's semi-pro, second-tier basketball league, the NBL
A statement from Hill & Knowlton in Hong Kong describes the deal in which Huang, now suddenly the No1 philanthropist in China (ahem), describes QSL as a joint venture between Huang and "his well-respected business partner Mr. Adrian Cheng."
"The QSL acquisition of NBL is a milestone in the history of professional sports in China," says the statement.
24 February 2010 Huang waxes lyrical about his plans for the NBL
A report on the China Daily website, says: "After buying a share of the NBA's Cleveland Cavaliers and introducing little league baseball to China, Jianhua 'Kenny' Huang now aims to transform professional basketball in his homeland. As an investor in China's National Basketball League, Huang says he'll introduce cutting-edge management practices adopted from England's Premier League football, the NFL, and other leading overseas competitions."
(The report omits to mention Huang's experience of the aforementioned cutting edge practices is, err, zero.)
12 April 2010 The NBL announces huge sponsor deals (and Cavs clarification)
A statement from QSL says QSL has signed up sponsors for the NBL in deals worth 500m RMB (£48m). This would be substantial, if true, but the numbers and even some of the deals cannot be corroborated.
(The same statement buries in the sixth paragraph confirmation "that its two co-founders and co-chairmen Huang and Cheng do not hold any stake personally in Cleveland Cavaliers of NBA in the US").
Ahem.
24 April (website) and 25 April (paper) 2010 Huang (apparently) tells the Sunday Mirror he's close to a deal to buy Liverpool
Huang is reported as working alongside business partner Adrian Cheng on the deal, and quoted as saying: "Negotiations have taken place over the last few months and we are at a crucial stage . . . I really hope it turns out to be a successful bid. Right now my audit team is examining the books and my legal team is in close contact with theirs. We have a fierce competitor in the Middle East, but it could be finalised in June."
27 April 2010 Huang denies ever talking to the Sunday Mirror
A statement issued by Hill & Knowlton in Kong Hong says: "Mr. Huang would like to clarify that he did not speak with the newspaper nor the reporter and did not make the statements attributed to him. Mr. Huang would not make any comment in relation to the Liverpool FC."
1 May 2010 Adrian Cheng, billionaire, leaves the building
A statement from QSL reveals: "Mr. Adrian Cheng has decided to leave QSL with effect from April 24, 2010 to focus on his other business and commitments."
According to the statement, in Cheng's place appears respected investment banker Guang Yang, although there are no quotes from him.
(While the statement says Yang will be "advising QSL" in the NBL work and in expansion, his company, Franklin Templeton, will later deny on four separate occasions that Yang is involved in any Huang-led bid for Liverpool.)
27 May 2010 QSL announces a deal to develop the China Baseball League
Huang says: "I believe the partnership between QSL and CBL will bring forward transformational changes to the sport of baseball in China."
It is announced that the 2010 season will take place in seven cities from 12 July to 29 August. All the latest can be found on the website for this exciting, if fledgling, league, surely?
Ahem.
2 August 2010 Chinese businessman with NBA stake wants to buy Liverpool
One of many reports, this one from the AP agency begins: "A Chinese businessman with a minority stake in the Cleveland Cavaliers has offered to buy Liverpool's $374 million debt from a British bank in an attempt to end Tom Hicks and George Gillett Jr.'s control of the English Premier League club. A person familiar with the situation said Monday that Kenny Huang is in talks with Royal Bank of Scotland. The person was not authorized to talk to the media and spoke on condition of anonymity to The Associated Press."
Ahem.
Also on 2 August 2010 Yankees seal pot noodle deal, Huang involved
Say no more. This is top-level sport, at the sharp end, in a pot, with hot water.
9 August 2010 Chinese kids win softball-esque tournament, Huang pleased
The day after sportingintelligence asks Hill & Knowlton what tangible progress has been made in QSL's youth baseball scheme in a year, Hill & Knowlton tell sportingintelligence China have won the world junior baseball championships. Impressive, we think, but it turns out not to be THE 2010 World Junior Baseball Championships (where China isn't involved). Rather, a statement from Hill & Knowlton in Hong Kong confirms a team of junior school children from China had won a soft baseball event in Japan, errm, almost a fortnight earlier. Quite how such good news took so long to get out is startling.
16 August 2010 Tsingtao and QSL set a fund-raising record
As the situation at Liverpool is become more and more unclear by the day, and doubts persist about the seriousness of Huang's bid (or not) for Liverpool, a QSL statement announces "that the Tsingtao Beer QSL Charity Fund-raising Gala held on August 14 raised over RMB12.9 million (approximately US$1.9 million), setting a new record for similar gala events organized by other Mainland China sports charity funds in 2010."
This takes the funds earnings to RMB42m in a year, the statement says. Sportingintelligence points out that in December 2009, at the Tsingtao beer launch for the Cavs, Huang (on video at this link) said RMB30m had been raised by that point. We asked "How come, if Kenny Huang spends a third of his time on QSL charity work, as he said in court, have there been no funds raised in the eight months from December to 14 August?"
To which a Hill & Knowlton spokeswoman in Hong Kong replied: "There was no major fund raising from Dec to Aug as the focus during this period was on making donations to the schools in different provinces. The Aug 14 charity gala is the major fund raising event for Tsingtao QSL China Youth Development Fund."
19 August 2010 Sportingintelligence provides Hill & Knowlton with a transcript of Huang's trial testimony, and information pertaining to what appear to be multiple counts of perjury.
20 August Kenny Huang leaves the bidding process for Liverpool.
.
Sportingintelligence home page
.
Want to comment on this story?
The subscription and comments policies of sportingintelligence have recently changed. Any user can comment on any story, however, by emailing using this link and including the story topic in the subject box. Your comments will then be manually posted by an administrator.