By Brian Sears
17 August 2010
Liverpool bestrode the 1970s and 1980s like a colossus, and then fell off.
As our main graphic shows below, they were top dogs for the best part of 20 years, winning 11 titles in 18 years in England's elite division between 1973 and 1990, and have now gone two decades without adding another.
Something about the Premier League era disagrees with the Reds, and while they remain, most assuredly, members of England's "big four" according to their achievements in the Premier League era, they trail the dominant club of the period, Manchester United, by 270 points.
Now, writing as a Watford fan, I would be in statistician's heaven if I could write that my beloved Hornets were a mere 270 points adrift of Manchester United over the past 18 years. But I appreciate that gap is quite unsatisfactory to Liverpool fans.
More palatable is the fact that, week in and week out, Liverpool are – and have been – better than most of the other Premier League clubs who they will face this season.
On head-to-head records with all this season's other Premier League clubs, they are comfortably superior. As our second table shows, they have a 100 per cent record in eight meetings with West Bromwich Albion, for example, and have taken more than 70 per cent of all available Premier League points from Wigan, Bolton and Sunderland.
On the other hand, Liverpool have won just 37 points from a possible 108 in 36 Premier League meetings with Manchester United (winning 34.3 per cent of points), have fared only slightly better against Birmingham in 12 meetings (winning 13 points, or 36.1 per cent of those on offer), and have a losing record against Chelsea (46 points against 55).
What does all this mean for the weeks ahead? Using the stats as a guide, it means a period of turbulence for a while longer with the next four League games being Manchester City away (no gimme), at home to West Brom (gimme, gimme), Birmingham away (no gimme) and away to Manchester United (say no more).
.
Sportingintelligence home page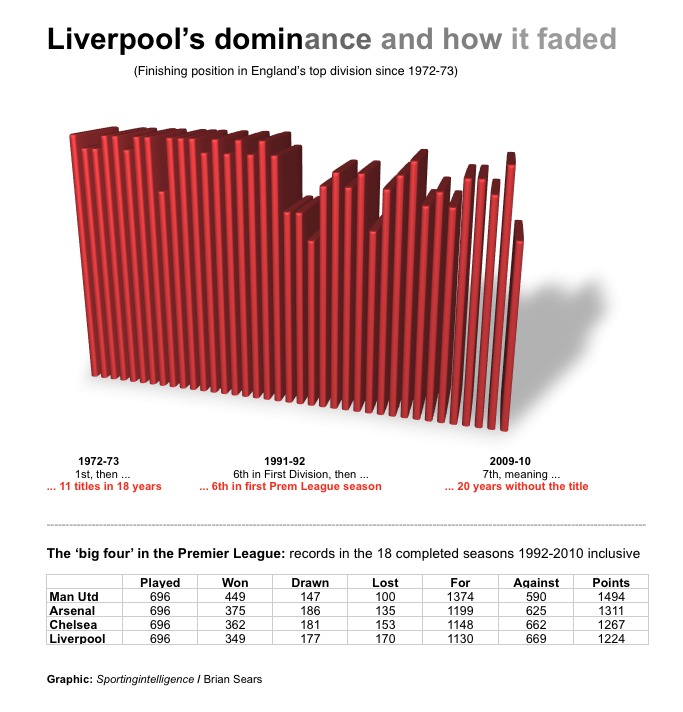 .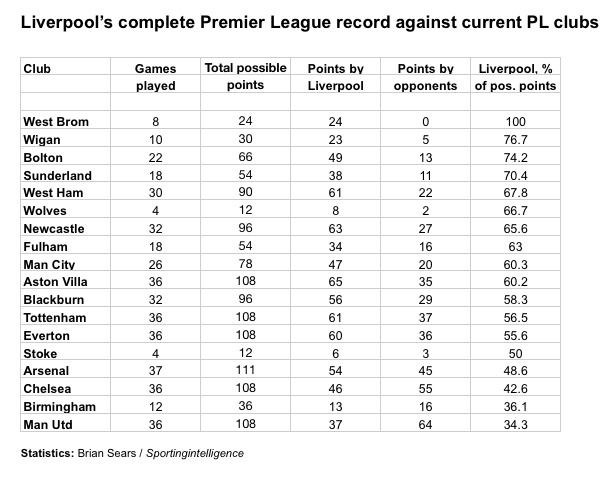 .
Want to comment on this story?
The subscription and comments policies of sportingintelligence have recently changed. Any user can comment on any story, however, by emailing using this link and including the story topic in the subject box. Your comments will then be manually posted by an administrator.
.
To WIN a copy of sportingintelligence's global sports salaries report, worth £195, CLICK HERE; the report tells you the REAL average pay of the world's biggest sports team, AND we'll also give you a free subscription for a year to our unique sports salaries database