By Brian Sears
17 May 2010
Chelsea have just completed the Double but Manchester United were the team of the Noughties in English football, comfortably topping a new table that takes into account average league finishes for the past 10 years.
With five Premier League title wins in the past 10 years, as well as two second places and three third places, United's average finish since 2000-01 has been "1.8". The second-best team over the period has been Arsenal, whose average finish has been 2.6, just ahead of Chelsea (2.8) and Liverpool (3.8).
If a 20-team Premier League were to be formed today from the 20 best-performing teams of the past decade, it would comprise the clubs involved in the 2009-10 season minus Wigan, Stoke, Burnley and Hull, and plus Newcastle, Middlesbrough, Charlton and West Bromwich Albion.
Next season's Premier League will in fact include Newcastle and West Brom, while losing Burnley and Hull. The "true" positions of those latter two clubs on the basis of the past decade are respectively the middle and bottom of the Championship, as our 'League of the decade' chart shows below.
The top four teams are unlikely to surprise many fans: the "big four" occupy the top four places, followed by Tottenham, Aston Villa, Everton, Newcastle, Blackburn and Manchester City. Wigan and Stoke, meanwhile, could be said to punching well above their weight to be retaining their Premier League status, while Burnley and Hull could be said to be returning to where they belong.
The table aims to provide a snapshot of each team's "weight" over 10 years – allowing fans to see at a glance whether their clubs are currently punching above it or below it. Look how high clubs like Charlton and Southampton respectively "should be" (in the Premier League and at the top of the Championship); instead they spent the season in League One.
Charlton and Saints are among 14 clubs whose league finishing position in 2009-10 was their lowest at any stage in the past decade. We list those 14 in the graphic below (See 'Low ebb') in order of the depths to which they have sunk from their highest position of the 10 years.
Thus Bradford were 20th in the Premier League in 2000-01 but have just finished 14th in League Two this season, a drop of 62 places.  And Liverpool, twice runners-up in the past decade, have not finished as low as this campaign's seventh place for 12 seasons. Newcastle and Norwich finished at decade-low levels but at least their promotions will lift them back towards more accustomed levels.
In contrast, 13 clubs this season have enjoyed their highest finishes for a decade having played all 10 years in the Football League and / or the Premier League. Swansea have soared the most: from 89th position in 2002-03, they finished seventh in the Championship this season. Scunthorpe finished 50 places higher than that their lowest ebb of the past 10 years, while Blackpool finished 49 places higher.
Blackpool contest the upcoming Championship play-off – with a place in the Premier League at stake – having had an average finish in the last 10 years of just below 52nd in the league pyramid. Should they prevail then it will give hope to many others that dreams of Premier League football can come true. If Blackpool can do it – or at least come within a game – then why not others with similar average finishes in the past decade, clubs such as Crewe, Colchester and Brighton, Walsall, Tranmere and Huddersfield?
.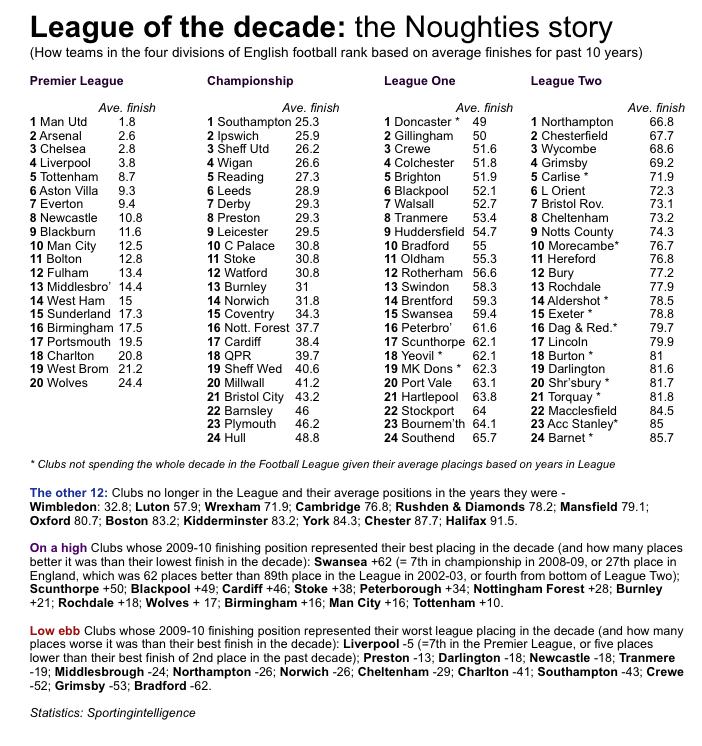 .
Sportingintelligence home page
Sports salaries database: an introduction
.