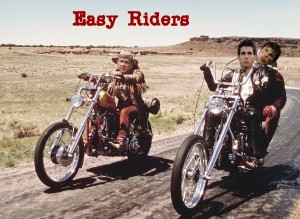 By Brian Sears
5 March 2010
If we define a nail-biting game as one in which the result could be changed with the last kick of the match, then they're becoming rarer in the Premier League. Never before this season has the percentage of nail-biters been as low as this campaign.
In the first season of the Premier League, as many as 67.3 per cent of top-flight league games were nail biters, with just one goal at most separating the teams at the final whistle.
That rose to 68.2 per cent in 1993-94 and has settled at pretty much the mid-60s in percentage terms in every season since, with lows of 61.6 per cent in 2005-06 then 61.3 per cent on 2007-08. This season? Just 59 per cent of games have been nail-biters.
Arsenal are the least nail-biting team; just nine of their 28 games (or 32 per cent) would have seen a different result with a last-kick goal. Burnley have seen fewer nail-biters than most clubs (48 per cent), but whereas Arsenal's games are not nail-biters because they normally win so easily, Burnley's aren't nail-biters because they lose so heavily.
That's why today's match between Arsenal and Burnley at The Emirates is as unlikely to be a nail-biter as any game we've seen so far this season, statistically speaking. Arsene Wenger should be one easy rider this afternoon, watching his men speed past the clarets from Lancashire.
At the other end of the nail-biting spectrum, Birmingham really know how to put their fans through the mill: 24 of their 27 league games this season have been nail-biters, or 89 per cent, a whopping percentage that makes them by far the most nerve-racking side to follow.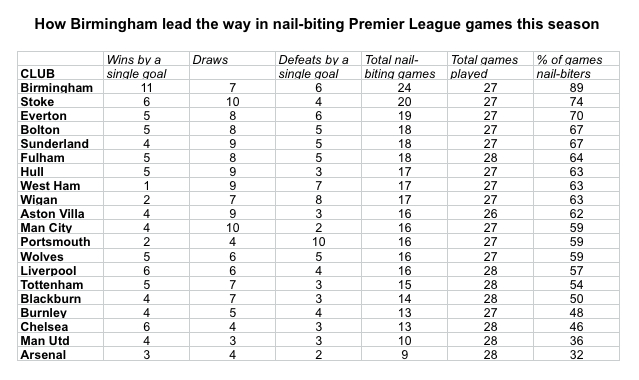 .
Thankfully Blues fans get a break from the league nerves this weekend as Birmingham play at Portsmouth in the FA Cup (see 'Omens' below). The pair last met in the FA Cup in 1977, and Brum won, 1-0. Personally, we'll be keeping a close eye on Reading v Aston Villa on Sunday. If Villa win, as they did the last time these sides met in the Cup, then it's 'Hurt Locker' for Best Picture at the Oscars, we say.