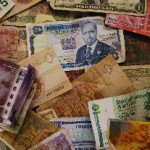 By Nick Harris
1 February 2010
A UK government report into sports-related betting corruption in Britain, published today, recommends the formation of a pan-sport integrity unit to gather intelligence on suspicious cases and co-ordinate the response.  It is generally accepted that Britain does not have a widespread problem with betting-related corruption but it has been termed a "clear and present danger". Here, sportingintelligence looks at a sample of 10 cases related to British sport from the past two years, with details to be expanded over time on what happened next.
.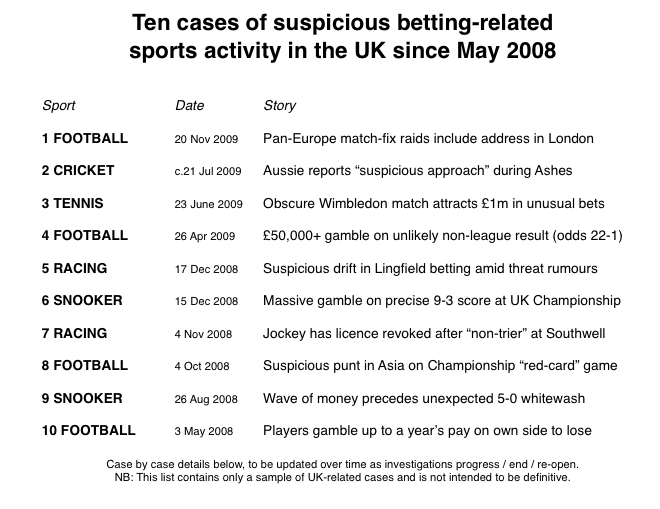 .
Case by case details
.
1 FOOTBALL
Uefa said it is co-operating with German police to investigate "the biggest match-fixing scandal that European football has ever seen". Initial raids on 20 November 2009 led to 17 arrests. There was also a linked police raid at an address in London, where sources say a money-laundering arm of a match-fixing ring is suspected to be at work.
A BBC report is here. An Independent report is here. ABC coverage in Australia is here. A Uefa statement is here.
.
2 CRICKET
An unnamed Australian cricketer was approached in London during the 2009 Ashes series against England by a man with alleged links to an illegal gambling gang. There was a "short" conversation and the player immediately reported the approach. The ICC launched an investigation.
A Crincinfo report is here.  A Daily Mail report is here. A Telegraph story is here. A Channel 4 report is here.
.
3 TENNIS
Some bookmakers suspended betting after "unusual" amounts of money were placed on Jurgen Melzer to beat Wayne Odesnik in straight sets in their first-round match at Wimbledon. Some bookmakers did not suspend betting; they included William Hill and Betfair, even though gamblers on Betfair had flagged up an unusual six-figure  "gamble" on Melzer to win 3-0 that morning. The low-profile match went ahead on a outside court. Money continued to pour onto Melzer, who won in straight sets. Betfair reported the unusual patterns to the Gambling Commission and the Tennis Integrity Unit. An investigation was opened by the TIU, which has a "no comment" policy on all cases. Sportingintelligence understands that the investigation had not reached a definitive conclusion by the end of January 2010.
An Independent report is here. An ESPN report is here. A BBC report is here. A Daily Mail report is here.
Pre-Wimbledon reports on match-fixing in tennis in The Independent are here and here.
.
4 FOOTBALL
Betting was suspended by most British bookmakers – but not Betfair – the day before the low-profile non-league match between Grays Athletic and Forest Green Rovers in the Blue Square Premier on Sunday 26 April 2009 because of suspicious bets. It was estimated that around £50,000 was gambled in sums up to three figures on Grays being behind at half-time but winning. This odd combination, priced at 22-1, would typically have attracted minimal sums across the industry as a whole, with individual bets of no more than a few pounds. The pan-industry gamble meant most markets were stopped a day before the game and rumours were rife before kick-off about a fix. Grays subsequently fell 1-0 behind at half-time but went on to win 2-1, in line with the "unusual" money. The incident was reported to the FA and the Gambling Commission and investigation is ongoing as of February 2010. Alan Alger, a spokesman for Blue Square – sponsors of the league as well as bookmakers – told a BBC Radio 5 documentary that he believed the game was fixed. Update: The Gambling Commission told FGR on 23 April 2010 by letter that it lacked evidence to prosecute, but the matter has now returned to the FA for further consideration.
An Independent report is here. A Guardian report is here. A BBC report is here. An ESPN report is here.
.
5 RACING
The British Horseracing Authority opened an investigation in December 2008 after a suspicious drift in the betting for a horse, Sabre Light, and reports that the horse's trainer, Jeff Pearce, had received threats. BHA's Paul Struthers said: 'Our betting investigator alerted the Lingfield stewards to the betting patterns before the race. This was upgraded to a red alert – which compels the stewards to hold a running and riding inquiry – after the race. Despite the stewards finding no breach . . . there will be a full and thorough investigation into the suspicious betting patterns.'
A Daily Mail report is here. A Guardian follow-up mentioning the case is here. A Racing Post report is here.
.
6 SNOOKER
Stephen Maguire and his fellow Scot Jamie Burnett met in the first round of the UK Championship in Telford in December 2008. Bookmakers suspended betting after "suspicious" amounts of money were gambled on a 9-3 score line in Maguire's favour. At 8-3 to Maguire, Burnett had the chance to pot the black for 8-4 but missed. Maguire went on to win 9-3. Both men have denied any wrongdoing. World Snooker launched an investigation, as did the Gambling Commission. The matter was then handed over to the economic crime unit at Strathclyde Police, who began their own inquiry in April 2009. The players were interviewed by police and released without charge in August 2009. Until December 2009, the police said their investigation was ongoing. By January 2010 they were no longer able to comment for legal reasons. The office of the procurator fiscal (the national prosecutor in Scotland) said the PF had not yet had a report. The most recent update on the case was on 15 April.
A Daily Record report soon after the match is here. Verbatim transcripts from the players when interviewed in the press conference straight after the match are here. A filmed interview with Burnett by the BBC, and footage of the missed shot at 8-3 are here. A Guardian report here from April 2009 is here. A BBC report from August 2009 is here.
.
7 RACING
Jockey Dean McKeown was found in breach of the non-trier's rule at Southwell after his horse, Rascal in the Mix, was unplaced having been backed heavily then drifted in the betting. At the time, he had been given dispensation to ride while waiting the outcome of an appeal for a four-year ban for involvement in race fixing. Legal action is ongoing.
A report from The Times is here. A report from The Guardian is here.
.
8 FOOTBALL
The Championship fixture between Norwich City and Derby County on 4 October 2008 came under scrutiny after a report in the Sunday Telegraph the following week said that "a massive amount" of money had been traded on the game at half-time in Asian markets. The identity of the clubs was not named at that stage. Following parliamentary intervention by two Members of Parliament from Norwich, Ian Gibson and Norman Lamb, the Football Association took the unusual step of confirming they would investigate that specific fixture. In the game itself, Derby led 1-0 at half-time. Shortly after the break, Derby's goalkeeper, Roy Carroll, was sent off, and Norwich equalised with a penalty. Derby ended up winning the game with an 85th-minute goal. The FA concluded its investigation quickly, saying it had found no evidence of wrong-doing. In fact, well-placed sources revealed the FA had no jurisdiction to carry out a full probe, so asked the Gambling Commission for help. But the GC has no jurisdiction overseas to force gambling firms to comply with its work, so when initial emails and / or calls went unanswered there was nothing more the GC could do. Thus nobody can say, definitely, whether there was anything suspicious, or whether the initial reports were wrong and there was nothing to worry about in the first place.
A report from the BBC is here. A report from The Guardian is here. A follow-up to its initial story was in The Sunday Telegraph, here. Related reports from The Independent are here and here.
.
9 SNOOKER
The Gambling Commission launched an investigation after unusual betting on a second-round match the Northern Ireland trophy in August  2008 between Peter Ebdon and Liang Wenbo. The unusual bets were on Ebdon, the rankings favourite, to lose, which he did, 5-0. In August 2009, the Commission said it did not propose to take any further action.
A report in The Observer is here. A Daily Mail report is here. A World Snooker report of the Commission's final decision is here.
..
10 FOOTBALL
The Football Association launched an investigation after suspicious betting on a League Two game between Accrington and Bury on 3 May 2008, the last day of the 2007-08 season, led to several firms of bookmakers suspending the market. Almost a year later, in April 2009, five players – four from Accrington and one from Bury (a former Accrington player) – were charged by the FA with infringements of FA rules on betting. They were Jay Harris, David Mannix, Robert Williams and Peter Cavanagh of Accrington, and Andrew Mangan of Bury. An FA statement read: "All five are alleged to have placed bets on Bury to win this match. Mannix is alleged to have placed stakes to the value of approximately £4,000; Mangan £3,500; Harris £2,000; Williams £1,000; and Cavanagh on a £5 accumulator." All five were found guilty, and were fined and banned, punishments that were upheld after appeals. Cavanagh got an eight-month ban and a £3,500 fine, Harris was banned for a year and fined £5,500, Mannix banned for 10 months and fined £4,000, Williams banned for eight months and fined £3,500 and Mangan was banned for five months and fined £2,000. For all the length of the investigation, the guilty players were caught and prosecuted mainly because one branch of Ladbrokes in Derby Lane, Liverpool, handed over CCTV footage of the players placing cash bets. This fascinating detail and much more was only revealed when extensive documentation on the cases was posted at the equivalent of a backwater on the FA's website in October 2009. All the documents can be found and downloaded by clicking this link. The official findings repeatedly stated that "There are serious concerns that the match was fixed." No match-fixing charges were brought because, according to senior FA sources, proving beyond doubt that a match was fixed has been deemed virtually impossible, unless someone involved in a fixing plot becomes a whistleblower. The players who were charged and banned bet a combined total of a little more than £10,000 on the match, but bets on the game overall, across Britain and across the whole betting industry, were thought to be in the high six figures and perhaps more than £1m. That leaves big questions over who placed all the other money, and why, but these are not questions the FA could answer, or the Gambling Commission, and it is understood that the case effectively remains open – and open to future police involvement. But further action will only happen as and when anybody provides hard evidence to investigators who were already stretched in bringing a handful of rule-infringement cases that were effectively laid on a plate for them by a branch of Ladbrokes.
A Daily Mail report of the initial investigation. Independent reports on the details behind the case, including the size of bets compared to the players' wages, are here and here. A Daily Telegraph report of the bans is here.
.
.