Part of Sportingintelligence's guide to the 2016 FIFA presidential election: HOME PAGE here
.
PROFILE:

 

Jerome Champagne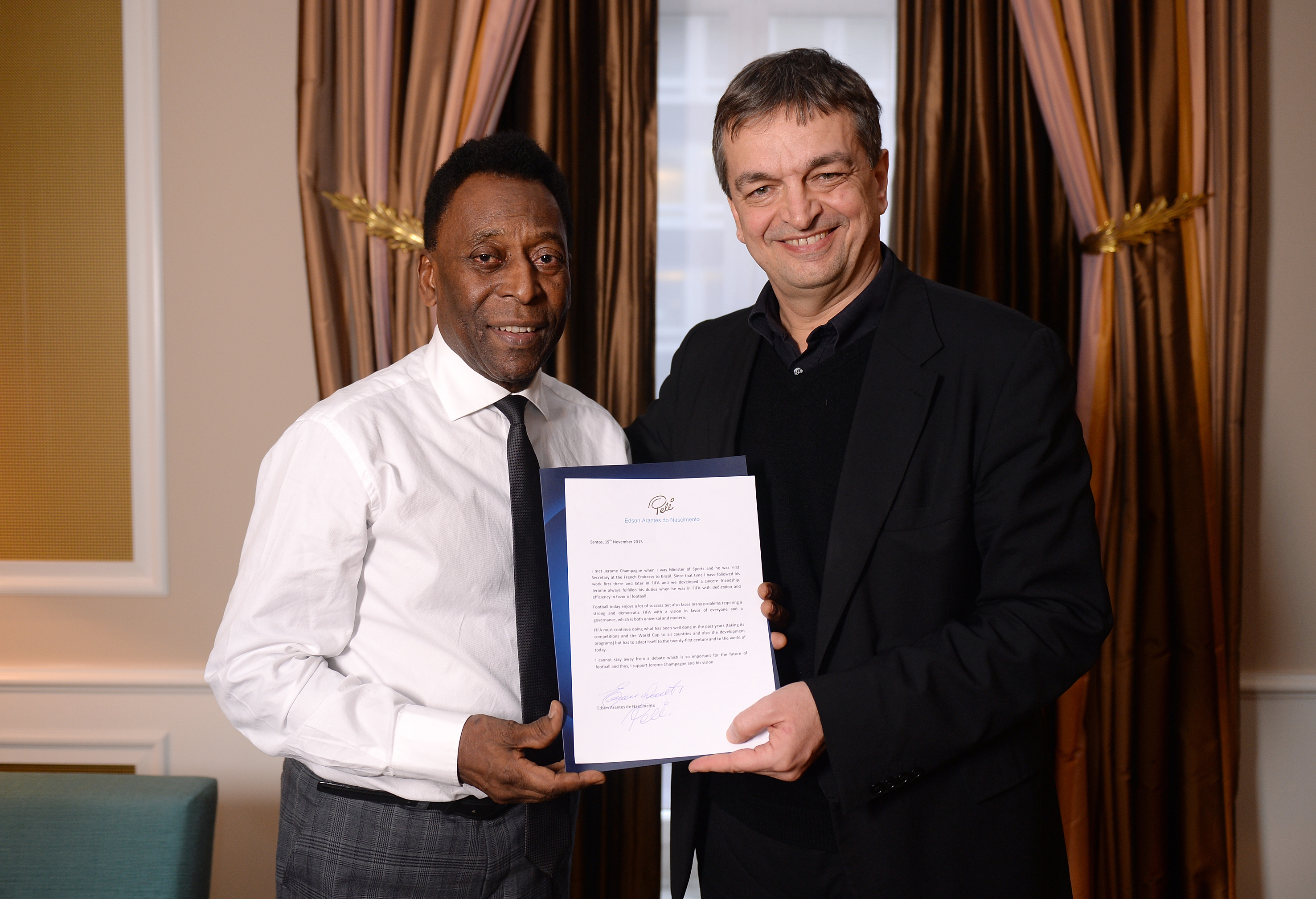 Age: 57.       Born:  June, 1958, Paris.
Twitter: @jchampagne2016           Website:  www.jeromechampagne2015.com
Manifesto (PDF download):  Jerome C manifesto
Football background:  Head of Protocol, France98, 1997-98. Worked at FIFA from 1999-2010 as Adviser to Blatter, Deputy-Secretary General and Director of International Relations. Football Consultant since 2010.
Non-football background:  Journalist with France Football (7 years); French Diplomatic Service (15 years) rising to First Secretary.
Any corruption?  None reported.
Allies: Hungary, Kosovo.
Enemies: UEFA executive.
Links to other candidates: Champagne was sacked on the insistence of Mohamed Bin Hammam in January 2010 having been instrumental in securing Prince Ali's position as President of the Jordan FA from a Bin Hammam backed rival. Champagne and Tokyo Sexwale have known each other since at least 2004. Champagne was a guest at Camp Beckenbauer, alongside Sexwale.
Football teams: St Etienne, Barcelona, France.
Latest news: 16 November 2015 – Champagne talks in the wake of the Paris terrorist attacks and says Euro 2016 must go ahead as planned in France. "We need of course to protect the players, we need to protect the fans but we need to play because it is exactly what they want to destroy." For latest news on all candidates click here for TIMELINE on resources page.
.
PORTRAIT
By Bonita Mersiades
Jerome Champagne is a man with a plan. It's one he's been shaping for almost four years since he circulated FIFA in the 21st Century, two years after he was sacked from his role as Director of International Relations at FIFA by his boss and mentor, Sepp Blatter.
In it, he identified three major themes for FIFA to address based on "my knowledge of the institution and my passion for the game." They were that the Executive Committee did not function properly, concern about the growing inequalities in the game and the need for greater separation of executive governance and management.
He's expanded on these themes in his latest manifesto known as Hope for Football (with an emphasis on the 'all' in football) that he prepared for his aborted tilt at the top job in May 2015. Champagne couldn't muster the five nominations required for his first attempt, but managed to find eight member associations to nominate him for the 2016 campaign.
The measures he outlines show a more contemporary approach to football and governance issues – for example, introducing technology to assist referees, elevation of women's football in FIFA's priorities as well as women in key roles, and some governance and administrative reform. He says FIFA should have standards similar to a public sector organisation and, for this reason, believes the remuneration of the FIFA President, the Executive Committee and the senior management team should be public.
Like Blatter, with whom he has continued to have an on-again, off-again advisory role, he rails against the growing inequities of the game. He recently told the biennial Play the Game conference in Aarhus, Denmark, that the inequalities "are so big there simply isn't enough money to correct them all."
He points to the gap between the 20 wealthiest clubs in the world which are valued at €6.2 billion in total, while more than half of the 209 member associations survive on less than €2 million annually. He notes that small member associations such as Oceania's Papua New Guinea have an annual turnover of €500,000 and can only afford two international games a year. He believes this financial inequity has to be addressed in order to address the development inequity, although he is less clear about how this should happen.
Like Blatter, Champagne pushes the view that redistributing FIFA's wealth is an unwelcome concept in most of UEFA. He is an impassioned critic of Michel Platini and the UEFA hierarchy whom he believes are hell-bent on destroying world football through a European hegemony. Champagne believes that "being able to score pretty goals" – a pointed reference to Platini as well as David Nakhid – doesn't qualify someone for running for FIFA President.
For many commentators and fans, the similarities between Blatter and Champagne in policy terms is Champagne's Achilles heel. It may also be his greatest strength.
During the lead-up to the 2015 campaign, Champagne was viewed as the 'stalking horse' candidate for Blatter; the one who was in the field to draw out the opponents; and who would eventually receive some sort of pay-off by way of an ongoing role, not a bribe. The events of May 27th mean that we will never know the accuracy of this analysis. It is a charge Champagne denies but he is still seen as one of Blatter's men in the Presidential race.
In some ways, it is a strange accusation considering Blatter was the man who actually sacked him, but Champagne doesn't help himself by refusing to countenance any criticism of Blatter – either on or off-the-record.
He has said that Blatter's "only mistake" in relation to the 2018-2022 World Cup fiasco was to hold the bidding race simultaneously for the two tournaments.  One day before Blatter 'laid down his mandate' in June 2015, Champagne also declared that none of the "political controversies" engulfing FIFA were the fault of Blatter, but the Executive Committee. 
In the court of public opinion, such loyalty to Blatter counts against him. In the realpolitik of FIFA, it is seen as a way of attracting votes from those who are traditional Blatter supporters, especially in Africa, Oceania and the Caribbean where his talk of redistributing wealth to address growing inequities is a familiar formula and a welcome message.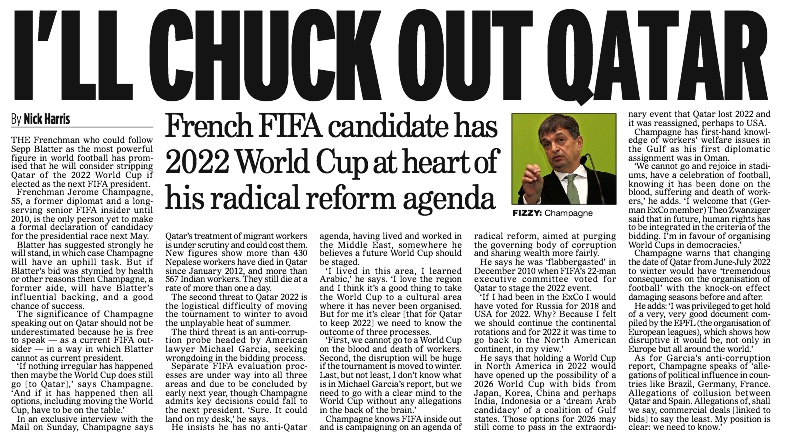 It is perhaps the realpolitik of the state of world football that has also seen him be more ambivalent about the Qatar 2022 decision recently. While careful to acknowledge that Qatar is innocent until proven guilty, he has previously been adamant there is too much that is "unacceptable" for it to host the World Cup, citing the kafala system and the distortion of domestic competitions around the world to accommodate a November/December tournament.
On the other hand, he is unconcerned about Russia hosting the 2018 tournament – a right they won in just two rounds of voting – because "they have a real tradition of football".
Champagne's accessibility, his knowledge of the game and his willingness to debate issues sees him as a favourite of many journalists. Compared with his opponents who are mostly resolutely silent about the enormous issues facing world football, Champagne will engage with almost anyone if it suits his purpose. He can turn on both the charm and skill of the diplomat he once was, he is able to converse in five languages, can dip into a knowledge bank of football facts and can contextualise what's happening in football with the world around us. Conversely, he is also known to be haughty and, like a true politician, is said to have little time for people who cannot help his campaign.
Champagne says the new FIFA President needs to re-connect with public opinion. The election needs to be a moment where FIFA can "turn the page and put the scandals behind us".
Although he has been endorsed by none other than Pele (photo, top), without the public support of a powerful member association, and in light of what he says is already happening – in typical FIFA fashion, deals by some of his opponents behind closed doors in five-star hotels – does Champagne have a chance? His best strategy may be, beyond his primary supporters, to be the second favourite of as many member associations as possible.
He is not likely to be the man to inspire public opinion or to excite the imagination. But he could well be seen to be 'a safe pair of hands' for the FIFA Congress. Low-key, issues-focussed, a bureaucrat and relatively uncontroversial. Familiar enough for those who still yearn for Blatter; different enough for those who can accept modest change.
.
More on the FIFA presidential race
Follow SPORTINGINTELLIGENCE on Twitter