By Brian Sears
2 January 2013
Queens Park Rangers had the joint worst record in the calendar year 2012 of any club in English professional football (four main divisions).
With just seven wins in 39 matches and just 30 points from those games, QPR's average tally of points was 0.77 points per game.
This was the same risibly low level as Barnsley (36 points from 47 games), and in a table of the 90 clubs who spent all year in the PL/FL, that placed them 89th and 90th respectively.
QPR only edged above Barnsley into 89th spot because they scored more goals per game and conceded fewer per game, just.
Of graver concern to QPR is the statistical omen of having such a poor record. In recent seasons, the Premier League club with the worst calendar year record has then been relegated in the May of the following year.
For example in 2010, West Ham had the worst Premier League calendar year record (in the PL) and went down at the end of 2010-11.
And in 2011, Bolton and Blackburn had the worst and second-worst calendar year records (in the PL) and  both went down at the end of 2011-12.
A bad calendar year record suggests either a terrible end to one season, a terrible start to the second, or most likely, a bad end / start to both.
Here is the 2012 calendar year table for the Premier League, which also highlights the gap between the Manchester clubs and the rest:
Article continues below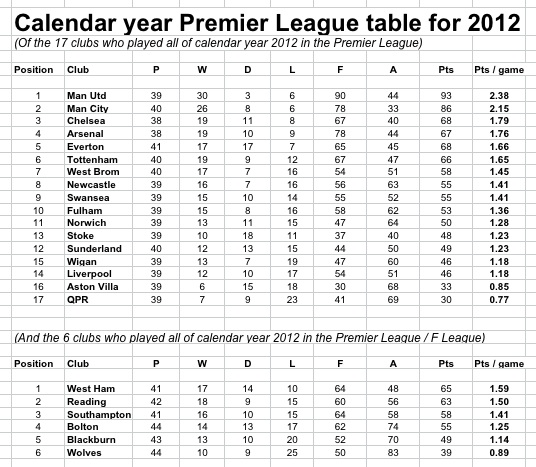 Browse the BEST of Sportingintelligence from 2012
Of the 66 clubs who spent the whole of 2012 in the three divisions of the Football League, Swindon had the best record, followed by Sheffield United and Cardiff.
At the other end, Barsnley were worst and then Hartlepool and Peterborough.
The composite Football League for 2012:
Article continues below
When we merge all 90 teams into one table (it's not 92 because other teams spend part of the year in the league and part in the non-league conference), we get this 'best and worst' in English football in 2012.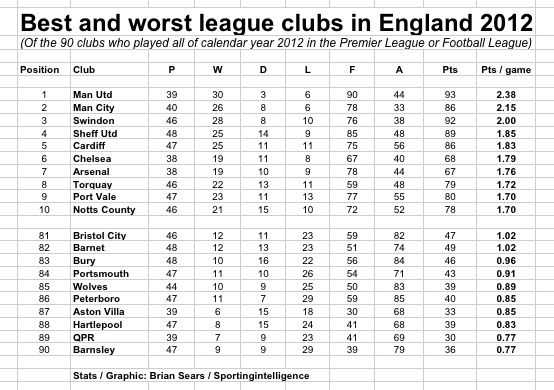 .
More on Man Utd / Arsenal (or search for anything else in box at top right)