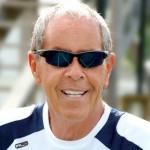 *
NICK BOLLETTIERI is the world's most famous tennis coach, and the most successful. He's coached an unequalled 10 players to No1 in the world, from Andre Agassi and Monica Seles to Jim Courier and Maria Sharapova. He's never been accused of being shy, and he's certainly not retiring. Ever. Holy Mackerel!
.
.
.
.
.
By Nick Bollettieri
11 March 2010
There's been some harsh criticism of the people who run tennis in Britain in the wake of Britain's defeat in the Davis Cup to Lithuania but to pick one or two people and start calling for them to be removed isn't a cure-all solution.
The blame game won't work because British tennis has shortcomings with deep cultural and historical roots. There's even an argument that Britain is not a "tennis nation".
Sure, you stage the most prestigious event in the world – Wimbledon. But your national sports are soccer and cricket, and your Olympic resources go to cycling, rowing, sailing, swimming, all sports at which you excel at or are improving in. Tennis is part of a social scene.
So to argue that Roger Draper, the chief executive of the LTA, is responsible for British tennis's ills is to misidentify the problem. If you'd had generations of  Grand Slam winners (like the Australian men from the mid 1940s to the early 1970s, or us Americans for many decades) and then they'd disappeared, then seek blame.
But those generations of British tennis winners never existed, not this side of the black-and-white movie era.
Those players who have flown the flag for Britain in recent times have been largely family-produced (Henman, Murray) or from elsewhere (Rusedski). So you can't say that there is a system that's broken down because there never was an effective system.
Sure, it's Draper's job to implement a plan – not so much turn the ship around as build one. But British tennis has been lumbering for a long time and fixing things is never going to be quick and simple.
What would I do? The answer to that is: "Look what I did."
I built an academy. I went out and found the most talented young players I could find and I put them together in one place where tennis was central to their lives, and I asked them to work very, very hard. I've done that for decades and I still do.
My academy is now part of a complex with everything on one site; dozens of courts; gym facilities fit for the best NFL and NBA stars as well as the world's best tennis players; A-list coaches; conditioning experts who work on every aspect of an athlete's mind and body.
Needless to say there's accommodation, a school, other educational establishments tied to us. It's all there and tennis is central to my students' lives, whether they're with me to try to become good enough to get a college tennis scholarship or because they dream of being pro.
I have students from around the world. In fact I've had a multinational make-up of students for a long time, and that's part of the "secret". The best get to work with, play with, compete against and learn from their fellow best, day-in, day-out.
So if you asked me what would I do with British tennis, I guess in a Utopia I'd say build an academy in England and open it to the world. Put your best and the best of the rest together.
But that's not a small ambition, that's a long way off, if at all. You'd probably need a whole new attitude to hot-housing of talent to make that work. And if you do that or not, that's fine, that's your choice.
If Draper and British tennis want my views or help, I'm here and ready, and Roger knows that. In fact he's invited me to give the keynote address at a major conference – the Grand Slam coaches conference – in London on the eve of Wimbledon this summer. I'm honoured to be delivering that address, and no doubt Roger and I will discuss British tennis when I'm over.
But let's be practical. What can British tennis do immediately?
First I'd like to say that losing to Lithuania shouldn't be deemed crisis on its own. Not when one of their players, Ricardas Berankis, 19, who won two rubbers against GB last weekend, has lived and trained at my academy for a number of years! He's an extremely hard-working, promising kid.
But back to what you can do immediately. I'd' say take your best young players and help them to spend time in other, more testing environments, even just for a few weeks here and there. I don't mean my academy necessarily, I mean any good, established academy in Europe or America or wherever, be it the Sanchez Casal academy where Murray prospered or elsewhere.
You need to make your athletes central to your planning, and find a way so the best work together. You need consistently to push your players, to provide them with the best coaches. Those coaches also need exposure to the best methods from elsewhere. Our doors are open to them.
I'm talking now about the players below Murray, the young players like Daniel Evans and James Ward who played against Lithuania. At their age – 19 and upwards – it should no longer be about techniques, it should be about building physical strength, about conditioning, mentality, strategy, and of course day-in, day-out improvement against players as good and better than you.
If for now, that means shipping your players out to other environments, so be it. If it means looking differently at how to identify 12, 13, 14-year old players and giving them regular exposure to tough competition elsewhere, so be it. You need to put the athletes at the heart of what you do, and tennis at the heart of what they do.
It's a big task, to overhaul a system, especially one that doesn't function in the way that a system in, say, Spain or France operates, a system where sport – and tennis – is a much more integral part of community life.
Look at the rankings to see what that brings: 12 Spanish men inside the top 100 and 40 inside the top 500. France has identical stats. Germany has 11 men in the top 100 (and 30 inside 500), Argentina six (and 37), Russia three (and 20), Serbia three (and eight), and Croatia three (and eight).
The USA has seven top-100 men, and 31 inside the top 500. Britain, at about a sixth the population of the US, should have about one man in the top 100 and five inside the top 500 if it wants to aspire to America's standards. In fact it does have one, and 11 inside the top 500.
Does that make British tennis better than American tennis? No, but neither is one (more) Davis Cup defeat a fresh crisis from nowhere. It's just another prompt to look again at what you can do to get better. I'd also add that I'm bewildered that that some players these days don't play Davis Cup. There was a time when they'd kill to do so, but that's another story.
Back to British tennis, on the women's side, you have two recent girls Slam champions, Laura Robson and Heather Watson (who's been with us for some time in Florida). You've got more players in the top-100 than for a while. Look at the positives, and learn from them.
..
Thanks for reading, and any time you'd like to drop by my website for news, views and tennis picks, it's linked here.
.
Sportingintelligence's front page
.
.
.