.
To anyone growing up in Britain in the 1970s, they were larger than life sporting heroes and heels, household names, stars of our TV screens. Big Daddy. Giants Haystacks. The legendary – and masked – Kendo Nagasaki. And Mick "The Man You Love to Hate" McManus, who was famous throughout Europe and who died yesterday, aged 93. MARK STANIFORTH, having elicited a rare and wonderful reflection from Nagasaki on the life and meaning of McManus, recalls a golden era when even Frank Sinatra acknowledged these wrestlers as the world's greatest entertainers. Read Mark Staniforth's blog here
.

By Mark Staniforth
23 May 2013
I got an e-mail from Kendo Nagasaki today. Okay, it was from his office, rather than directly from the man himself, but still, given he has maintained a more-or-less lifelong vow of silence, I believe I have every right to consider it a minor triumph.
In over a decade as a sports writer at the Press Association, I've interviewed world heavyweight champions and Champions League winners, but deep down my biggest ambition has always been to get the phrase "Nagasaki told the Press Association" on the wire of the 148-year-old, utterly sober and reputable national sports agency, or for that matter, "Haystacks told the Press Association",  although the Haystacks ship has, alas, long since sailed.
Sadly, the careful ruminations of Nagasaki, who has maintained his in-ring aura of mystery with the exception of a regrettable episode in the late 1980s when his identity was unmasked by a plumber he had round to fix some pipes, concerning the sad death this week of his equally iconic fellow wrestler Mick McManus, were deemed unsuitable for such publication. I've pasted the full text on my blog here but as a taste, Nagasaki says: "[McManus's] lifetime has enriched the world for a great many, in ways they may not even realise."
Now long retired, Nagasaki's official website lauds him as "an accomplished mystic", and includes deliciously unfathomable essays on topics like karma, destiny and mind, space and metaphysics.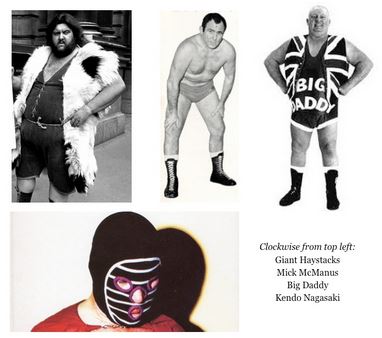 With McManus's passing, Nagasaki is pretty much the last man standing when it comes to that small clutch of wrestlers who transcended their sport to become Saturday lunchtime legends for three decades until ITV pulled the plug towards the end of the 1980s.
Les Kellett and Jackie Pallo, tough early trailblazers alongside McManus, died in 2002 and 2006 respectively (the less said about Jimmy Saville the better). Their antics courted acclaim in high places.
We all know the stories: the Duke of Edinburgh was said to be a particular fan of McManus, while Giant Haystacks recalled meeting Frank Sinatra back-stage at the Royal Albert Hall: 'Mr Haystacks, I watched you on television this afternoon,' Sinatra allegedly told Haystacks. 'I believe that British wrestlers are the best entertainers in the whole world!'
Weighing in at well over forty stone, Haystacks was one of the stars of the bright-lights era that followed as it edged towards pantomine, and according to many, hastened its demise. While the likes of the super-fit, tight-trunked McManus could put on a convincing show, the script was not so surprising when it came to Haystacks or in particular Big Daddy.
As McManus so capably proved, the sport's strength had to be measured in the success of its heels – or bad guys – and while Haystacks did a more than passable impression of someone you'd prefer to avoid, the same could not be said for cuddly, kid-loving Shirley Crabtree.
Big Daddy's over-bearing presence strung out the sport for a few more years but it was much changed from the proper competitive early days, the fabled days of smoke-filled halls full of screaming grannies stubbing their fag-ends out on the bad guys' butts.
Plenty of wrestlers who lit up our pre-pubescent Saturday lunchtimes are long gone and largely forgotten, kept alive only by a small number of commendable wrestling forums and an annual reunion at a pub belonging to former wrestler Wayne Bridges in Kent, which gets smaller with each passing year.
Catweazle, a skinny kid from Doncaster who wrestled McManus on a number of occasions and once scored a controversial victory by tickling him whilst pinned. Dr Death, a masked wrestler in the manner of Kendo Nagasaki, although evidently not quite so mysterious.
'Dr Death was Paul Lincoln, most of the time,' a wrestler called 'Superstar' Mal Sanders told Simon Garfield for his definitive book on the sport's golden era, 'The Wrestling', in 1996.
'One night in Saffron Walden Paul didn't show up so they asked John Elijah to do it… So they get a mask for him, announce him as Dr Death, and as he walks out to this packed audience someone in the crowd shouts, 'Hello, John!' and John goes, 'Allo love, how are you?'
My personal favourite was King Kong Kirk – actually Mal Kirk, an ex-rugby player from Castleford – another overweight baddie who deserves to be remembered for more than the tragicomic manner of his death: of a heart attack in the ring at the Great Yarmouth Hippodrome following a Big Daddy bellyflop.
Bare-chested and shaven-headed, King Kong Kirk was hide-behind-the-sofa scary: if Haystacks was the sort of character you might fear to meet in a fantasy horror movie, Kirk's gimmick, in a sense, was precisely the fact that he didn't have one: he was an every-day psycho-bloke whom you could quite conceive storming from the ring and coming straight round to kick in your front door. When Kirk clutched one of his waif-like opponents in an ever-tightening headlock, he had this chilling way of convincing you he was never going to stop.
In fact, according to his wife Ilona Kirk, Kirk was 'honest, decent and kind-hearted.' This thread on a British wrestling forum is testament to the esteem in which he was held by his former colleagues, and serves as an enduring epitaph.
Given the silly, age-old obsession in some quarters with exposing the sport for the – shock, horror! – scripted nature of its bouts, it might be said that McManus had the last laugh in his choice of his final home – Brishing House in Twickenham, known as a home for retired actors. But the mask mishaps and rumoured early submissions in order to fit in ITV's football results cannot hide the pain these men and in some cases women went through in order to provide our weekend entertainment.
They limp and wobble into history as far more than simply the central characters in a fleeting comedy. McManus was, according to Nagasaki, 'intelligent, a subversive renegade.'
'Mick McManus challenged perceptions of right and wrong,' Nagasaki told the Press Association. Well, okay then: after a fashion.
.
Follow SPORTINGINTELLIGENCE on Twitter
Sportingintelligence home page