*
The Africa Cup of Nations has placed the footballing brilliance of the 'forsaken continent' back in the spotlight for a few weeks.  But Ian Herbert says there is a more significant question about football in Africa than whether Ghana, Mali, Nigeria or Burkina Faso will win Saturday's final.
.
By Ian Herbert
4 February 2013
The story of Ndomo Sabo is told in a relatively obscure but extremely fine documentary film, Soka Afrika, which has earned a mention in the margins of the New York Times arts section but barely surfaced in England.
It is a more significant story about football in Africa than any game in Africa's Cup of Nations, which is switching us back onto football in that continent, and chronicles a young footballer desperate to make the sport a route out of poverty.
'Mr Filbert' is the agent who is only too pleased to help. It is Sabo's ability to articulate the terrible consequences of their meeting with him which makes the film resonate as it does.
"I'd scored a goal and was out of this world," Sabo says of the role in his school team which prompted the encounter. "Mr Filbert said he was looking for players just like me. He said players like me aren't meant to stay in Africa."
You won't be surprised to know that Mr Filbert's powers of persuasion worked just as well on Sabo's parents, who were encouraged to invest the value of the family inheritance – a corrugated iron shack – in the two air tickets which took their boy from the Cameroonian capital of Yaounde to one of the training bases in Paris.
That's where young Africans often alight from the continent, their minds filled with promises of gold.
"Mr Filbert told my parents 'What's a plot of land? What's a little house compared to what you're going to get'," Sabo relates. "He told them what they wanted to hear…"
Article continues below
The film works so powerfully because of the fleeting glimpses it provides of the riches which might lie beyond the clouds which Sabo's plane cuts through – and the chaos which lies behind them.
Another who has made the journey is Kermit Erasmus, whose story runs in parallel. We meet him when he's made it to Feyenoord and the sense of entitlement that brings is revealed when he is filmed back home at Gelvandale, Port Elizabeth, meeting the boys training on bumpy pitches who want exactly what he wants.
"I think I want that Mini Cooper. Let me show you the one,"  Erasmus says, calling up a picture on his flash mobile phone. "I want to buy the GTi. It's expensive. I'm buying a house as well."
There are no pictures for Sabo (right). No phone, either, and certainly no cars.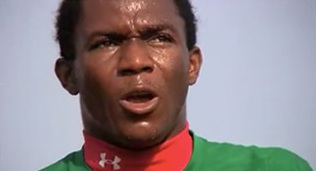 It's cold in Paris. The club that he's expecting turns out to be a field with a lot of leaves on it near the airport, where he tries and fails to catch someone's eye. When the nightmare is over, he reflects of the French scene that "you've got to be a killer there. You've got to be something they have never seen. That's the only way they'll take you on."
But before he can philosophise, he must contend with a sequence of events which include Mr Filbert vanishing and his parents telling him, when he calls to explain he's lonely, stranded and out of money, that he'll heap shame and embarrassment on them if he tries to come home.
It's not as simple as agents trafficking young players to Europe, you see. The parents are complicit in it and it's worse for Cameroonian boys like Sabo than most.
"Cameroonians don't actually like football that much," an African football agent tells the documentary. "They like the money that's in football."
That there should be a story and a scandal to tell at all is down to Culture Foot Solidaire, a charity aiding African teenagers illegally trafficked and then abandoned, which is based in Paris.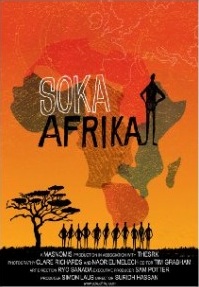 At one stage it was monitoring 987 boys lost in France alone – many taken from up to 500 illegal football academies by clubs all searching for the next Michael Essien, Emmanuel Adebayor or Yaya Toure. The agent tells the filmmakers that only 60 per cent of Fifa registered agents in Cameroon are working legitimately.
The film is shot through with fly-on-the-wall coverage of the progress of Erasmus with South Africa's Under-20 team.
Sabo is given reason to believe he will be selected for Cameroon's equivalent, though the film provides evidence to suggest that he fails to make the final squad because he is unable to pay for the privilege.
The margins between success and failure are painfully narrow. Erasmus is loaned out to SBV Excelsior, a one-time Feyenoord satellite club, for whom he scores heavily, but he is told that he will make it at neither club and that training is the most he will get if he stays on in Rotterdam. The boy with the dreams of his Mini Cooper GTi follows Sabo home.
Google him today and you'll Erasmus at Supersport United amid talk of him maybe moving to Norway or Sweden's Helsingborg – still chasing that elusive European dream.
Sabo has moved on too; is still moving on.
The film has been released on DVD by Masnomis to coincide with the Cup of Nations. It reveals the struggle that continues for the African continent, nearly three years on from the World Cup.
Nightmares persist. Don't let this one pass you by.
.
Ian Herbert is The Independent's Northern Football Correspondent (see archive of his work here). Follow Herbie on Twitter here.
.
Follow SPORTINGINTELLIGENCE on Twitter
Sportingintelligence home page