*
In his first Monday column of 2013, Ian Herbert, The Independent's man in the north-west, asks why we only remember Ronnie Radford when 21st century giant killers are far more up against it; why ITV's Splash! was a car crash; and why the Premier League chairmen won't take Fergie on.
.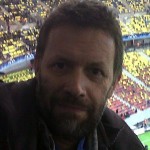 By Ian Herbert
7 January 2013
You might tell me Radford is one of a kind and that they don't make pitches like that 1972 Edgar Street bog any more.
You'll say that everything seemed to fit about his goal against Newcastle United – except for Radford's shirt, which was at half mast when he raised his arms aloft, though even that has become a part of the legend.
And then there was the distance on football's pyramid between the teams on that February day in 1972 – Southern League v Old First Division.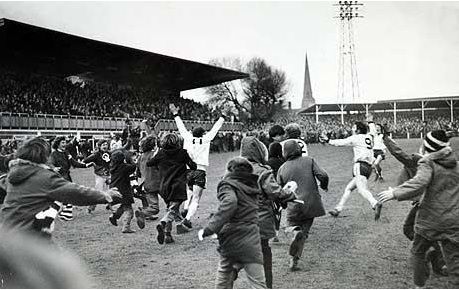 But there's another, far bigger type of chasm in football these days – the financial one – and the way the carve-up serves the big sides and fails the small ones.
In the era of the £100,000-a-week player,  a 21st giant killing is a far more incredible feat.
Consider the share-out. The Premier League's annual income is around £1.2bn, of which £2m goes to the entire 68 clubs of the Conference's North, South and Premier divisions, and £56m goes to the Football League's 72 clubs.
So yes, there's a very good case to say that the weekend heroics of the Conference sides Macclesfield Town and Luton Town, in beating Cardiff City and Wolves, is an even greater achievement than the one achieved by Radford and Co.
For a start, Macclesfield and Luton inhabit precisely the same tier of football that Hereford did in 1972: one tier below the fourth division of the professional game.
And the wealth disparity between that tier and those above has grown exponentially since.
As this website revealed in 2011, the difference in the early 1980s between average top-flight basic pay in English football (£480 a week) and fourth division pay (£160 a week) was three to one.
In Radford's day, that sepia season of 1971-72, the difference between average top-division pay (then £50 a week, rising to £85 with bonuses) and Radford's weekly pay would not have been massively bigger than three to one.
Today, a top footballer in the Premier League on £100,000 a week will earn as much as a thousand times what the smallest earners in the Conference are taking home; and the players at vanquished Wolves and Cardiff will earn many multiples of what even the stars of Macclesfield and Luton earn.
Yet the Macclesfield and Luton feats are quickly forgotten, of course, in an era when even those Premier League clubs beneath the top six don't feature much in the national conversation by the following Monday morning.
Consider too what Macclesfield have been up against in the past few months. Relegation from League Two, which they experienced last May, punishes sides in myriad ways that make some of the complaints we've heard from defeated top flight managers this weekend – Alan Pardew: "I didn't have enough players" – sound ridiculous.
For Macclesfield, it's turned even the basic cost of footballs into a financial consideration.
When you're in the Football League, you're given 120 balls a season courtesy of the League's arrangement with Mitre. In the Blue Square Conference, there are 50.
Gone, too, when you drop from the Football League, are the League sponsors who provide bottled water and energy drinks.
The BBC's tie-up with the Football League now subsidises the costs of costs of DVDs for every game, which home clubs must supply to the opposition, the referee and the referees' assessor. But a club relegated to the Conference must meet the costs of providing those six DVDs themselves – at £100 per fixture.
Conference Clubs have also found that the Football League's £16,000 contribution to the cost of their websites gone.
These were wounds which league clubs never had inflicted on them in the days before automatic relegation. But the era of two-up, two-down between league and non-league, with scores of ousted professional clubs, has made them part of life.
It has also made an incredible division out of the Conference National, where so many sides are mounting competitive challenges to get back up to something resembling the big time. In few places do the laws of the survival of the fittest look more intense.
I've spent the last week off in that territory, watching Wrexham's attempts to make it back to League Two, and while it's not all a bed of roses – Telford United were seriously short of a turnstile or two for the New Year's Day fixture – these few days have been a reminder of why the Conference clubs who get up again rarely fall straight back down.
No training ground bust-ups, no pleas for a winter break – despite Wrexham's four games in nine days with a 30-man squad – and some incredible investment by managers who are spending with their clubs' livelihoods.
Newport County's Aaron O'Connor would not be out of place in League One, judging by his display in the 1-1 draw on Friday night with Wrexham, whose goal confirmed Danny Wright as a striker of immense touch and strength.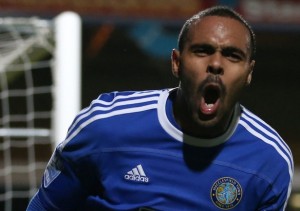 Macclesfield's Matthew Barnes-Homer (left), who says he has forgotten how many clubs he's played for in a journeyman career, is one of the same. Wrexham are currently vying with Grimsby, Newport, Luton, Forest Green and Kidderminster to make it back.
Macclesfield almost certainly won't. They, like Stockport, have found the adjustment hard, which is why they so badly need their fourth round tie – at home to Wigan Athletic, if Roberto Martinez's players can see off Bournemouth – to be televised.
It's another sign of our top six obsession that this Moss Rose fixture isn't being talked of as a tie of the round. But if TV coverage does follow, then on the basis of last season's FA Cup pay-out Macclesfield will get £123,500 TV income.
That would not buy you four days of Carlos Tevez's salary in today's money but it does get you a hell of a lot of footballs.
It's at times like this that you give thanks for the FA Cup being one of the most re-distributive football competitions in the world, with infinitely more hand-outs than league football brings.
For Macclesfield, there is already at least £67,500 income for winning their third round game. That matters, since the 3,200 attendance on Saturday will have limited their own gate take to around £20,000. (Each side get 45 per cent with 10 per cent going to the FA).
You see now why Macclesfield will be waiting nervously to hear if they've drawn the cameras for the fourth round, though the odds are already set against that, with Liverpool at Oldham, Chelsea at Southend United or Brentford and Luton at Norwich.
Barnes-Homer has probably delivered his club the biggest pay-out they're going to get this year – and even his on-field achievements elicited no more than five minutes or so of ITV highlights on Saturday night.
Radford was granted something better. His heroics were only due to have been given a small clip by the BBC, on a day when Liverpool played Leeds United  and Preston North End faced Manchester United, though the decision was instead taken to make it Match of the Day's featured game.
Since only selected games were featured, Radford got a decent airing.
In so many ways, it was easier to be small back then.
————————————-
And while we're at it, Tell me why …. ITV's Splash! had to be such a disaster on Saturday night?
It seemed a promising way of introducing a prime time audience to an Olympic sport, with Tom Daley launching a TV career by acting as mentor to would-be celebrity divers in a sort of  Strictly for the water.
But while Strictly has the odd joke dancer, Splash! had the odd serious diver and mostly jokers. It was slapstick when it could have been sport.
————————————-
Tell me why … Sir Alex Ferguson CAN'T be forced to appear at post-match Premier League press conferences but CAN be forced to do so at the Champions League equivalent.
This question arose out of last week's column and I'm indebted to the Football Writers' Association's Chris Davies for explaining that while UEFA can make their own rules governing managers media commitments, the Premier League would need 75 per cent of their chairmen to vote on a measure enforcing managers to appear.
There is a guideline, agreed with the FWA, that the manager will appear within half an hour of the end of a game but that's as strong as it gets.
Fifteen chairmen are evidently not willing to take up arms and take Ferguson on.
.
Ian Herbert is a sports correspondent for The Independent (see archive of his work here). Follow Herbie on Twitter here.
.
Follow SPORTINGINTELLIGENCE on Twitter