*
In the latest instalment of his brilliant weekly Monday column, Tell Me Why, the Independent's man in the north-west, Ian Herbert, poses 13 questions that are guaranteed to remain contentious and unanswered satisfactorily in the sporting year ahead. 
.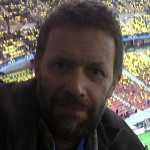 By Ian Herbert
31 December 2012
1. Tell me why we can't stop demonising officials in 2013. All of us – from managers and journalists to pundits and diving players – are guilty. Mistakes are understandable. The game is played at breakneck speed. Maybe these silenced souls need a slice of the £1bn-a-year (and rising) TV money to create the PR machine which the managers enjoy and fight back. Maybe they need a bit more sporting intelligence from us all.
2. Tell me why someone in the Premier League won't realise that assembling and coaching a good defence could win them the league, because in the English era of all-out attack none of the rest have one. The Premier League will be won by someone else's mistakes.
3. Tell me why Match of the Day can't become a programme of 21st standards in 2013. Bring back Lee Dixon. Bring in analysis. Spare the thousands who resort to SkyPlussing it every week and just fast-forward through the talking.
4. Tell me why, for that matter, and on a different sport, tennis, we can't have the old 'Wimbledon' Match of the Day show back. The one that used to air at 10pm and showed plenty of match action from SW19. Less of the sound of presenters' voices. Fewer gimmicks. 15 minutes of the day's best game.
5. Tell me why David Moyes won't get a job at a big-money club in 2013. Equal third best performing manager in 2012, his achievements in the year also included getting £12m for Jack Rodwell, getting Nikica Jelavic for less than half that price. And getting even more out of Leon Osman and Phil Jagielka this year than last. A remarkable individual.
6. Tell me why football still hasn't featured in fiction in the way that baseball does. One of the best sport books I read this year was Chad Harbach's 'The Art of Fielding', about shortstop Henry Skrimshander and his career playing college baseball with the Westish College Harpooners. American sport has so many more competitors who can articulate what it's actually like to be out there, on the field of play. Football doesn't. Unless I've missed something, its fiction has never progressed much beyond the output for children. Michael Hardcastle in the '70s was a part of life but it's time to move on.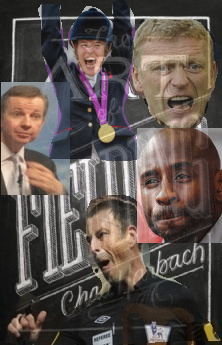 7. Tell me why the new Premier League deal entitles rights holders to yet more time interviewing players and managers when they actually have nothing more to say. Talking heads might be what people think they want to hear but they don't tell us anything. There must be a more imaginative way of presenting and covering the Premier League narrative.
8. Tell me why Ofsted's report which examines the levels of sporting activity in schools prior and subsequent to the coalition government coming to office, in 2010, has still not been revealed, four months after its scheduled publication date – and may not see the light of day until the Spring. Is it because it will reveal the effect of Michael Gove's abolition of Labour's School Sports Partnerships? Friends who are PE teachers say Gove's actions have been seriously detrimental.
9. Tell me why there is a bigger scandal than the denial of knighthoods, where Paralympic sport is concerned. They're the disability benefit cuts. Paralympic equestrian Sophie Christiansen used her OBE as an opportunity to say so. She's a heroine indeed. There are more ways to make a point than rejecting an honour.
10. Tell me why the Professional Footballers' Association six-point plan to tackle modern manifestations of racism in the game has never been heard of again? It was rushed out three months ago to counter Jason Roberts' explanation of how 30 black and ethnic minority player had called for action from the union, won reassurances and never heard anything from the PFA again.
11. Tell me why, in the era of the £200,000-a-week player, there isn't money for an investigative unit for the rigorous analysis of those who want to take over football clubs? The Premier League and Football League's fit and proper person tests are only able to establish previous misdemeanours of prospective owners. That allows companies like Venky's a clear run at destroying proud clubs like Blackburn Rovers.
12. Tell me why I'll get more stick from Manchester City fans than any other in 2013 when I've had more positive material published on that club than on any other, on subjects ranging from the Etihad Campus to Mario Balotelli and Garry Cook. They're convinced I'm conspiring against them, of course. The one-eyed nature of Twitter is what makes you withdraw, rather than engage.
13.  Tell me why we've so far failed to keep the Olympic sports which obsessed us last summer in the public eye. It's probably a losing battle in this football obsessed nation. Those sports need controversy as well as the Olympic halo because a week-to-week narrative needs dramas and bad guys. But it would help if legacy was about more than gongs.  A BBC investigation after the Olympics found more than a third of councils in the UK have cut back their public sports facilities in the past three years A total of 375 sites had either closed or reduced their provision.
. 
More questions than answers? Hope not! Thanks for the responses and comments on what I've written in this place, in the past few months. See you for more on sportingintelligence.com in 2013. Best wishes to you all.
.
Ian Herbert is a sports correspondent for The Independent (see archive of his work here). Follow Herbie on Twitter here.
.
Follow SPORTINGINTELLIGENCE on Twitter
Sportingintelligence home page
.
The Independent is supporting Unicef in its charity appeal this year, and its work in rescuing child soldiers from conflicts in central Africa. The money goes to this fund and does enormous good providing immediate care and protection as well as supporting longer term projects that help children recover, be reunited with their families and have a better childhood. Please give generously – you can: CALL 0800 037 9797. GO TO unicef.org.uk/independent TEXT CHILD to 70030 to donate £5 (texts cost £5 plus 1 standard rate SMS. Unicef receives at least £4.96. POST a cheque to Unicef, Child Soldier Appeal, FREEPOST CL885, Billericay CM12 0BR. BID to win a fantastic prize in ourcharity auction. Tweet  #childsoldiers and #indycampaigns
The Independent on Sunday is supporting Refuge, the national domestic violence charity, providing emergency accommodation and emotional and practical support. You can: GO TO: The appeal. CALL : 0207 395 7710. POST a cheque to IoS appeal, Refuge, Freepost RRKT-RRRR-TRGE, International House, 1 St Katharine's Way, London E1W 1UN. Tweet – #iosappeal