*
In the latest instalment of a new weekly Monday column, Tell Me Why, the Independent's brilliant man in the north-west, Ian Herbert, asks why the Manchester United manager Sir Alex Ferguson has been allowed to dominate the narrative  of a fine football match in Swansea yesterday with diversionary comments and a slur on a match official – and how this post-match circus can be stopped.
.

By Ian Herbert
24 December 2012
Sir Alex Ferguson's comments about referee Michael Oliver at Swansea yesterday were, frankly, offensive.
Let's leave aside for a moment Ferguson's eye-raising talk about how Robin van Persie could have been killed by a ball being cleared into his head, because the really nasty little comment came almost in parenthesis, a few seconds earlier.
"He is a young referee, but really, what a performance," Ferguson said of Oliver.
That will almost certainly be allowed to pass by the Football Association, in a way that it would not if you or I were to say about any 70-year-old: "He's getting on in years, but really, what a performance."
That's ageist, you'd say. But tell me: what's the difference?
And then let's look at Ferguson's remarks about Ashley Williams' punt into Van Persie's head.
"He could have been killed. The whistle has gone. He has done that right in front of the referee."
Pictured, right: Ferguson as he describes how Van Persie 'is lucky to be alive.'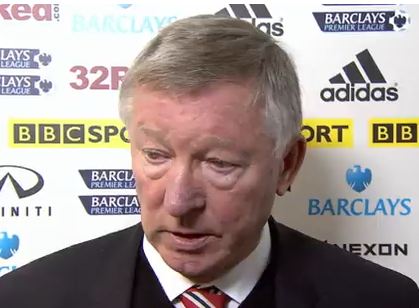 The problem with arguing Ferguson is either right or wrong is that we cannot know. No one can possibly know whether Williams acted with intent.
If you want to look on the negative side, from a Williams perspective, you might perhaps point to the way he punched the air after the resulting free kick was blocked, as evidence that the adrenalin was flowing thick.
You could even say that he was recently the subject of a ghost-written autobiography in which he slated Liverpool's Luis Suarez in no uncertain terms: evidence that he doesn't like big-timers. All of which is totally useless conjecture, of course.
We just can't know what is in a player's head. The cameras can't help us here.
And yet, inevitably, Ferguson's comments have dominated the dissection of United's draw at Swansea and overshadowed the excellent football – in the way they can have a habit of doing when United have been out of sorts.
It is almost besides the point that Oliver had an excellent game. Ferguson's comments ought to have landed him in trouble with the Football Association but they almost certainly won't.
Almost as poor were Brian McDermott's comments about the Gareth Barry goal which consigned his Reading side's defeat at Manchester City, on Saturday.
"It's a massive error from the referee," said McDermott. "It's an absolute joke. The decision killed us."
It wasn't. It isn't. It didn't.
We all love the ritual criticism of the officials which is all a part of the narrative of a weekend. But the number of bad calls is remarkably small considering the pace of the game now, the number of decision officials will make across the course of 90 minutes, and the absence of technology to help them.
The Premier League's officials are world class; the best in the world. It's just that we'd rather listen to unhappy managers' feelings about them.
If it was against the rules to discuss referees after the game then this would stop and we'd be discussing the footballing reasons why a team has been defeated.
A blanket ban does govern PRE-match press conferences and it means that the question can't even been put, because you risk landing the manager with a fine.
There's no good reason why that can't stand for the febrile post-match environment, when comments more often than not are nonsense.
"My deep feeling is that I was not always behaving very well in this situation, because they are very heated situations. I am a deep supporter of dealing with [my concerns about referees] internally," Arsene Wenger said recently.
It sounded a bit like the pot calling the kettle black but was absolutely right.
.
Ian Herbert is a sports correspondent for The Independent (see archive of his work here). Follow Herbie on Twitter here.
.
Follow SPORTINGINTELLIGENCE on Twitter
Sportingintelligence home page
.
The Independent is supporting Unicef in its charity appeal this year, and its work in rescuing child soldiers from conflicts in central Africa. The money goes to this fund and does enormous good providing immediate care and protection as well as supporting longer term projects that help children recover, be reunited with their families and have a better childhood. Please give generously – you can: CALL 0800 037 9797. GO TO unicef.org.uk/independent TEXT CHILD to 70030 to donate £5 (texts cost £5 plus 1 standard rate SMS. Unicef receives at least £4.96. POST a cheque to Unicef, Child Soldier Appeal, FREEPOST CL885, Billericay CM12 0BR. BID to win a fantastic prize in our charity auction. Tweet  #childsoldiers and #indycampaigns
The Independent on Sunday is supporting Refuge, the national domestic violence charity, providing emergency accommodation and emotional and practical support. You can: GO TO: The appeal. CALL : 0207 395 7710. POST a cheque to IoS appeal, Refuge, Freepost RRKT-RRRR-TRGE, International House, 1 St Katharine's Way, London E1W 1UN. Tweet – #iosappeal