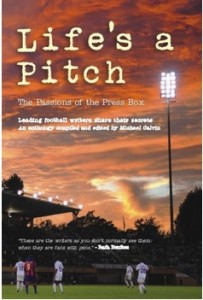 By Janine Self
24 October 2012
First, a scene-setter. One jumbo-sized sofa (red), one TV studio, one journalist-broadcaster-author with a vision.
Despite Boris Johnson's nudge-wink post-Olympic speech, the BT Life's a Pitch sofa tends not to witness too much in the way of paroxysms of tears and joy.
But, thanks to Michael Calvin, a whole load of creating – not to mention confessing – has been going on this summer and the result is out in paperback.
The premise: writers whose neutrality in their day jobs is taken for granted get to reveal what really rocks his or her boat.
First, allow me to declare an interest. I am a regular contributor to the vodcast which Mike hosts on behalf of BT and, as such, was one of the names on the invitation list to bare my soul in print, in 4,000 words.
Award-winning Independent on Sunday columnist Mike asked all the pundits as well as the star writers who provide a stream of excellent blogs on www.lifesapitch.co.uk.
Montpellier, Weymouth, Ted McMinn, Howard Wilkinson, China, Fernando Torres and egg and chips all feature. So do betrayal, heartbreak, love and Malcolm Crosby. And a lot more.
As chapter order is alphabetical, I find myself between prolific and highly-respected author Ian Ridley, and Rory Smith of The Times, who has been a busy boy ghosting Rafa Benitez's autobiography.
A sample of Smith: "Liverpool is the only city in the world where acceptance of belonging is judged by the colour of your bib. If the wheelie which stands on the edge of your drive is Liverpool City Council purple, you're in. If it is Sefton grey, as it is in Bootle, you're out. You are not, technically, from Liverpool.
"To some, the hard-liners, you're not even Scouse. … by the bin logic, Jamie Carragher, who would place well in the inevitable BBC Three documentary Word's Scousest Scouser, may not actually be eligible."
People chief sports writer Dave Kidd and the Mirror's football correspondent Martin Lipton have also put pen to paper, along with their colleagues Tom Hopkinson and John Cross.
Smith and Kidd discuss their contributions to the book in this clip. (Article continues below)
.

.
Dominc Fifield of The Guardian (a fan of Crystal Palace) will make you laugh – seriously – as he takes you on a club tour of China.
"Pre-match meals at Palace normally consisted of beans on toast. In China there were seven-course formal dinners involving roasted bats' wings and griddled forest dog. There were explosive incidents after brushes with duck's eyeballs, boiled whole chickens – complete with heads – and mallards brains, the richness of the local delicacies costing three players an appearance against Gou'an as they spent their days bent double over their hotel room toilets."
Meanwhile his Guardian colleague Rob Smyth is brave enough to confess to man love. Of Roy Keane.
"Keane, like Tony Soprano, is a mass of often uncomfortable contradictions," he writes. "Thank goodness for that. The most interesting people in life are invariably flawed, and Keane has been the most interesting person in British football for the last few decades – an outsider even down to his Diadora boots, never mind the candour that is so rare in modern football.
"What kind of hero would you prefer? Prom kings are for dreamers and liars. Having Roy Keane as a hero allows a vicarious ride through life in all its miserable glory."
You can read a fuller extract of Smyth's piece over on the Guardian website here.
Adrian Clarke is an ex-pro player and, without showing any favouritism at all, his tale of not making it is an emotion-charged treat. Clarke shares the fears of the young pro whose time at Arsenal is drawing to a close.
"Today in the late September sunshine with glistening dew on the grass, our tall, slim and staggeringly articulate new boss – whom none of us had heard of a month ago – puts his head above the parapet. Bunched up on the benches like schoolboys, with some strewn across the grass, others sitting almost cross-legged, Arsene Wenger makes his introductions."
Anyone on Twitter is probably already following Iain Macintosh so he needs no introduction. (But if you need one: Iain Macintosh). Iain also expresses man love, in his case for a man called Stan.
"Even from the stands, seeing Collymore run with the ball was like being a foot soldier watching a tank crest a hilltop and open up the throttle, thundering towards you. You were in awe of his size, in awe of the firepower, but most of all you were in awe of his speed. Quite what the opposing defenders made of him is anybody's guess."
If you're interested in football writing then you'll also be familiar already with other contributors Jonathan Wilson, author of best-seller Inverting the Pyramid, and Luke Moore of The Football Ramble, while Laure James, regular contributor to Sky, TalkSport and others, adds a touch of Gallic glamour to the line-up.
We have two sports editors. The esteemed David Walker of the Sunday Mirror, who was a director at both Leeds and Barnsley in a previous existence, and Dan Willis, editor of lifesapitch.co.uk.
Walker on Leeds: "During the speeches, Barca reiterated their belief that we were a nice, friendly little club, the sort they had to sweep aside on their way to glory. Even the Uefa officials present winced at the presumption of it all. And then George Harewood struck.
"He stood up and graciously welcomed our guests from Catalonia. He emphasised our honour in playing such a fine team, a sporting institution that prides itself on being 'more than a club'. He was warm, erudite and sincere.
"He then began a tour of the magnificent dining room, delivering a potted history of his noble ancestors depicted in the massive oil paintings hanging on his walls. As George jabbed  a finger at his great, great, great grandfather, it turned out that his relative had led the English fleet to victory over Spain in a famous sea battle."
Last, but definitely not least, the book showcases emerging talent Alex Hess, who appears to be conquering the internet.
The launch party was fun. Top of BT Tower, watching London go round and round. Now the serious stuff starts – trying to persuade people to buy it.
Interested? Find out more here, and it's also available via Amazon.
I'll leave you with a quote from Mike Calvin about his own tale, one of "love and loss, passion and betrayal. It features two football clubs, and a cardinal sin, the transfer of allegiance from one club to another. It sees a boy's world through a man's eye. It seeks to share the losses of a lifetime. It craves forgiveness, because I will shatter the illusion of innocence, but there is nothing to worry about. I've been blessed."
.
Janine Self on being Robbie Savage's ghost
Follow SPORTINGINTELLIGENCE on Twitter
Sportingintelligence home page