By Nick Harris
SJA Internet Sports Writer of the Year
17 June 2012
Jaws dropped, mine included, when the Premier League held a press conference last Wednesday at the Landmark Hotel in London to announce they had sold their UK live TV rights for 2013-16 to Sky and BT – for £3.018bn.
This represented a staggering increase of a bit more than £1.2bn over the cash paid by Sky and ESPN for the three years, 2010-13.
I've been following these auctions closely, in a professional sense, since the mid-1990s, and did not expect a leap like this.
The only circumstances in which I thought it might happen would be if the sports arm of Qatar-based broadcaster Al Jazeera got involved. Their petro-dollar billions would allow them to pay astronomical sums and a bidding war pitting Sky against Al Jazeera might have been truly spectacular.
In fact, according to sources, Al Jazeera did not bid this time. And if they did, it was half-heartedly and low at best; which again suggests they didn't bid at all.
As one source told me: "The didn't step up in the end, not this time."
Al Jazeera already have one new rights venture to manage: they've bought live domestic rights to French Ligue 1, a competition where Qatari interests own PSG.
And I'm told that Al Jazeera also want to get hold of the Premier League's rights in the Middle East, for which their could be some tussle with the Abu Dhabi holders, whose relatives own Manchester City.
So what happened to push up the UK rights this time?
BT came to the party instead, and went 'toe to toe' with Sky in an audacious effort to snatch a majority of the Premier League's best games from the broadcaster that has bankrolled the Premier League since it began in 1992-93.
So serious were BT, according to sources, that after one round of bidding, only two of the seven packages had been allocated: one each to Sky and BT.
What does that mean? It means that BT and Sky (and perhaps ESPN) were bidding sums too close to separate on the other five packages.
In the end, Sky dug deep into their pockets to deliver bids that earned them five of the seven packages available while BT got the other two.
The bottom line for Sky: they will pay £2.28bn over three years from 2013-16 for 116 games per season, or in other words, get 348 games at £6,551,724 each.
The bottom line for BT: they will pay £738m over three years from 2013-16 for 38 games per season, or in other words, get 114 games at £6,473,684 each.
How on earth can this make any sense?
How can these companies make this pay?
What does it all mean for the Premier League clubs?
And what about the fans and viewers?
Lets start with the way the rights were sold.
.
How did the Premier League sell the rights for 2013-16?
By auction. Anyone could bid and Sportingintelligence sources have confirmed that at least three major companies did: Sky, BT and ESPN.
There were seven packages of rights available and sealed bids were submitted in a highly regulated process.
After one round of bidding, BT had won one package and Sky had won one. This means there was 'clear water' in the bids for those.
In the second round of bidding, Sky upped their offers to move clear in four other packages, while BT secured a second package.
The graphic here shows how those packages are divided up, when the games will be screened and who gets the pick of the games in each slot.
NB: The total costs paid for the rights by Sky (£2.28bn) and BT (£738m) have been confirmed at source by the broadcasters themselves. They have not confirmed the breakdown by package; those figures are educated estimates.
(Article continues below)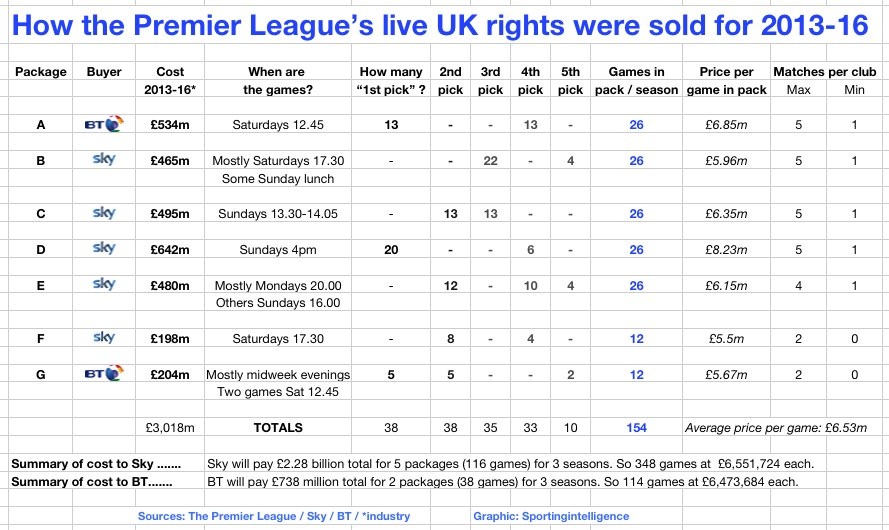 .
What does 'first pick' mean and how does that work?
It means what it says.
There are 38 'rounds' of games, and barring unforeseen circumstances, 33 of them will fall on weekends and five either in midweek or on public holidays.
You can see from the graphic that on 20 of the weekends, Sky will get the first pick of that weekend's fixtures to screen in there Sunday 4pm slot.
And on 13 of the weekends, it will be BT who get the first pick of games to screen in their 12.45pm Saturday lunchtime slot.
And in the other five 'rounds' (midweek and Bank holidays) it will be BT getting the first pick.
So to simplify: there are 38 rounds of games and Sky will get the 'best' game in 20 of them, and BT will get the best game in the other 18.
Broadly speaking, that 'best' game in any given round will be obvious. It will be Manchester United versus City, or versus Liverpool, or Arsenal, Chelsea or Tottenham. It will be a 'big six' versus 'big six'.
The second, third, fourth and fifth picks are self-explanatory.
There are limits to how many times each club can appear in each slot, but in effect the 'big' teams will get shown a lot and the others less so.
.
Is it a surprise that BT have joined the auction in such a competitive manner?
No, not when you think about why they are doing it.
This is a strategic decision to move bullishly into a marketplace – Premier League rights – through which they hope to sell other goods and services, namely internet access, phone calls, mobile services and TV packages.
Rupert Murdoch famously once said that premium live sport would be the "battering ram" that got pay-TV into people's homes. And he has been proved emphatically right.
Premier League football was a key driver – probably the key driver – in selling pay-TV, in the UK at least.
And now BT hope they can use that same premium product to win themselves new customers.
Their aim is not solely to sell you a subscription to a few football matches but to persuade you that their whole package of services (TV, broadband, phone) is better, and better value than the packages you might currently be getting from Sky, Virgin or whoever.
As BT's CEO Ian Livingston, says: "BT is already investing £2.5bn in fibre broadband. Securing Premier League rights fits naturally with this, as consumers increasingly want to buy their broadband and entertainment services from a single provider."
It is not just about football. It is much, much more strategic and wide-ranging than that.
And it is a long-term project that will be funded from deep, deep pockets.
If you think that BSkyB is rich with revenues of £6.6bn or thereabouts and profits of £1bn or thereabouts, then look at BT's numbers.
They have revenues of £19bn or thereabouts and profits of £2bn or thereabouts.
This isn't just about football: it's about the future of telecommunications and they way we increasingly live mobile and interactive lives.
.
How does it stack up financially?
Bear in mind that what follows is a broad brushstroke of how this works. But in essence, BSkyB has managed over two decades to get into a position where the rights largely pay for themselves.
How so?
Let's look at what they paid last time, for 2010-13. They spent £1.623bn for three years for five packages of rights, of six available. That works out at £541m a year.
Sky recoup a big chunk of that immediately by selling their games to pubs, clubs, hotels and other 'public space' buyers.
As I have detailed before, a spokeswoman for the Association of Licensed Multiple Retailers tells me there are 55,000 pubs and clubs in the UK, and that around 20,000 of them subscribe to Sky.
There are, apparently, 26 different pricing bands, but the ALMR says the average pub subscription cost is £15,000 per year, and on that basis Sky makes around £300m a year from the pub/club trade alone.
This will be bigger when hotels and gyms and other public screeners are added. And if the pub-club-hotel-gym trade doesn't cover all the cost of the rights, then it covers a huge chunk.
On top of that, Sky makes money from its football-related sponsorship deal with Ford, and from adverts during games.
So an outlay of £541m a year is perhaps covered by as much as £400m income from these sources. Before a subscription is sold.
Again, bear in mind these are broad brushstroke numbers, but Sky has more than 10m customers in the UK and it is understood around 7m of them subscribe to premium sports channels that include Premier League football.
I know customers buy Sky for many reasons, not just football. That goes without saying.
But nonetheless, there are around 7m 'football' customers of Sky, paying, for sake of argument, around £500 each per year for Sky services.
That's £3.5bn in annual income.
Do the maths.
BT have done – and now they want a share of the Sky pie.
Which is why they bid so aggressively.
Sky in turn needed to bid aggressively back.
To lose the live football remains unthinkable for Sky. What if BT had won the lion's share of the rights and a large chunk of 7m people had reconsidered whether they wanted to stick with Sky or move?
BT are different from previous pretenders like Setanta because they have massive resources. It's not solely about selling subscriptions to break even. It's about a wider strategic aim.
.
So how will people watch games on BT?
The details remain at the planning stage but BT will start a specialist sport channel on which the games will be shown.
I would expect it to be available via many platforms. You'll probably be able to add it to a Sky package or a Virgin package. You'll be able to subscribe at better rates if you take it via BT's BT Vision, which currently has 700,000 customers.
And I'd also expect the content to be increasingly mobile, ie: when you sign up you'll be able to access games not just via your TV but via your computer, tablet, mobile and any other new device that arrives.
Sky of course will be doing the same. As they said in their press release last week: 'Sky has been awarded live rights across all platforms – including satellite, cable, IPTV, online and mobile. This means that, in addition to TV, Sky customers will continue to benefit from live Premier League coverage through Sky Go on PCs, laptops, smartphones, tablets and games consoles. Coverage will also be made available on Sky's new internet TV service, NOW TV, which launches later this year.'
For Sky, also read BT.
They're going head to head for your custom, using football as the driver.
As for cost, BT will decide on that later. But expect to pay more for the BT channel alone to add to your current package from another company, or less if you switch to BT for other services.
BT's sports channel will also carry other live sport, to be confirmed dependent on what rights it can snap up. I'd expect other football, probably from Europe and possible the Americas, and maybe other sports too.
.
What about overseas rights?
The auction process for that has already started, with Scandinavian rights already sold for 2013-16.
But with territory by territory deals being done (around 81 of them last time for 2010-13) it will take months to conclude the process.
The Premier League made £1.437bn from overseas rights last time.
That will grow, with leaps expected in the Middle East, parts of Asia and north America particularly.
I wouldn't expect the overseas rights to double, as they did last time. But then again, who knows?
I would expect total Premier League media revenues to rise from around £3.5bn in 2010-13 to way above £5bn and perhaps as much as £6bn for 2013-16.
.
What happens to all the money?
That's another story, for another day.
But suffice to say, as the Premier League's income from TV has soared these past 20 years, so has the average wage of the Premier League player, as the graphic below shows (scroll down).
.
Any reader with a specific question on any of this, please post it on Twitter at @sportingintel and I'll do my best to go through them all and post a response in the coming days. Alternatively you can send an email to nick@sportingintelligence.com
 .
World's BEST PAID sports teams   /  More articles mentioning salaries in sport
Follow SPORTINGINTELLIGENCE on Twitter
Sportingintelligence home page
.