By Nick Harris
SJA Internet Sports Writer of the Year
3 October 2011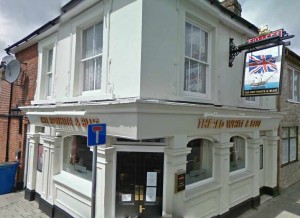 Karen Murphy is the landlady of a pub in the Southsea district of Portsmouth and she's going to become quite famous in the next few days.
Her pub is called the Red, White & Blue, which is pictured left and located on a map linked here, although ignore the phone number that comes up when you get the map. It's the wrong number and the bloke who owns it is fed up of people calling and asking to speak to Karen.
Fortunately I managed to get hold of Karen's real number and I called her last week to speak about the subject du jour in sports broadcasting circles: her legal battle with the Premier League over what decoder she can and can't use to screen live matches in her boozer.
For those who've missed the story, it boils down to whether it is legal, under European law, to buy and use a foreign decoder – imported and cheaper than you can get in your own EU country – to watch Premier League football, rather than pay what is asked by the rights holder in your own country.
Karen Murphy was taken to court for using a Greek decoder costing her £800 a year, rather than paying £600 per month for a Sky pub subscription. In February, a provisional European Court of Justice (ECJ) ruling essentially said European consumers should be free to get their decoders from wherever they like within the European market.
For those of a legal bent, you can read the extremely long and detailed February opinion here. (Click the link then click on the top left C-403/08).
For those wanting a contemporary summary of what it said and meant, there's this from the Guardian, or this from the Mail while a more recent legal opinion and precis from media specialist Daniel Geey is linked here.
With a 'final' ruling (subject to appeal) due on Tuesday, 4 October, Karen Murphy will reserve her right to comment until the picture is clearer. But she did tell me about some of the folk who've been known to drink in her pub.
Joe Jackson is among them. Wikipedia tells me he's a five-time Grammy Award nominee, 'probably best known for the 1979 hit song "Is She Really Going Out With Him?".' Joe's own website tells me he's against smoking bans.
Other famous drinkers in Karen's pub, she tells me, include the former X-Factor brother-sister combo, Same Difference. Wikipedia tells me they are 'a British Bubblegum pop duo, made up of siblings Sean and Sarah Smith. They came to prominence in 2007 when they finished third in the fourth series of the UK television talent show.'
Their own website tells me they're now involved in a pop music academy in Portsmouth.
They're not the only famous drinkers in the R,W&B, though. There's former Pompey goalkeeper Alan Knight, Karen tells me, as well as a folk singer-songwriter, Shep Wooley, who Karen assures me 'is very big locally.'
Please bear with me. This might be about to get interesting.
I cannot be certain that Joe, Sean, Sarah, Shep and Alan all go to the Red, White & Blue to watch live Premier League matches, in Greek.
But I can be fairly certain that the world won't end if the ruling goes in Karen Murphy's favour; and that the Premier League won't suffer a catastrophic loss of income; and rich footballers and their enormous pay packets aren't about to become a thing of the past. And your TV subscription fee is not about to come tumbling down.
Depending on where you live, it might even go up within a few years.
And the Premier League might even end up making more money, not less, from changes that might be forced if the ECJ ruling goes with Murphy and against them.
With the caveat that the verdict will be multi-faceted, open to interpretation and appeal, and subject to all manner of possibilities to counteract its potential damage, here's a basic Q&A guide to why the Sky isn't about to fall in on the Premier League.
.
Q: Why would the Premier League worry if the ECJ verdict sides with Murphy?
A: First of all, it's likely the verdict will go in Murphy's favour, because 80 per cent of provisional recommendations are adopted. The Premier League's concern is the hypothetical possibility that consumers will dump expensive Sky and get cheaper decoders from nations like Greece. While this is unlikely to happen in the real world, because most British consumers want commentary in a language they can understand, it raises the prospect of Sky being legally undercut by foreign providers, hence Sky (and rivals) might bid less money for UK rights next time around, because they're potentially facing competition from cheaper imported decoders.
.
Q: How much do Sky currently pay for their UK rights? And how much do they make from selling them?
A: Sky and ESPN between them paid £1.782bn over three years, or £594m per year, for the live Premier League rights in Britain alone from 2010-13 inclusive.
Sky and ESPN then sell their TV products directly to consumers, and also recoup a big chunk of the rights fees from pubs, clubs, hotels and others who screen to the public. The precise details are closely guarded commercial secrets.  But a spokeswoman for the Association of Licensed Multiple Retailers tells me there are 55,000 pubs and clubs in the UK, and that around 20,000 of them subscribe to Sky.
There are, apparently, 26 different pricing bands, but the ALMR says the average pub subscription cost is £15,000 per year, and on that basis Sky makes around £300m a year from the pub/club trade alone. This will be bigger when hotels and gyms and other public screeners are added. And if the pub-club-hotel-gym trade doesn't cover all the cost of the rights, then it covers a huge chunk.
And then on top of that, customers subscribe to the sports channels. According to Sky's own website, they had 10,187,000 TV subscribers in the UK in June 2011. And it is believed in the region of seven million subscribe to the channels carrying Premier League football. It is impossible to know how many of these customers buy mainly for the football, but if we try to get a ballpark value of 'football customer worth', we might multiply 7m customers X £25 a month (for the part of the subscription related to sport) X 12 months = £2.1bn.
In short, having the UK rights is a decent potential earner for a broadcaster. They virtually pay for themselves and then earn you billions in subscriptions, albeit billions you then spend on other content, providing the service, etc.
.
Q: How much of this pub and private business might Sky / ESPN lose in future if foreign decoders are freely allowed?
A: Impossible to know. For a start, it might transpire that Murphy wins domestic users the right to use foreign decoders but that commercial operators like herself are still forbidden under UK business laws from using foreign decoders. For further reading on this possibility, look at legal advice linked here provided by the ALMR to members earlier this year (PDF link).
But let's suppose the ruling allowed everyone to use any EU decoder in any other EU nation, including at home or in pubs. If consumers didn't mind watching in Greek (for example), then potentially there is an issue for the Premier League, because potentially the value of the domestic rights do fall.
.
Q: So how does the Premier League protect the rights value in the UK, and why is that important?
A: Firstly, it's important because the UK is the key market within Europe. In fact around 80 per cent of all the Premier League's live TV money from the whole of Europe's 50+ nations comes from the UK alone. Or to be more specific, £594m per year as detailed above comes from Sky/ESPN combined, and around £125m per year comes from the rest of Europe combined.
In these articles here and here last year, we explained how the foreign TV rights for the whole world outside Britain earn the Premier League £1.437bn for the current 2010-13 deals (or £479m per year). But only around £125m per year, or c.£375m of the £1.437bn over three years, comes from Europe.
Scandinavia is the biggest single earner (£111m over three years), followed by France and Poland combined (£60m deal with Canal+ for three years), followed by deals worth in the low tens of millions over three years with Sky for Mitel-Europe and separately for Italy, and a £28m three-year deal for the Czech Republic, Hungary, Romania and Slovakia combined. Smaller or poorer nations like Greece pay smaller sums, and hence can charge consumers less.
The upshot: the UK is very important and the rest of Europe less so.
The best way to protect the UK market would be to stop selling anywhere else in Europe. That 100 per cent protects the UK market from Euro rivals – and loses the Premier League £125m a year or thereabouts, so won't happen.
Another option would be declining to sell in any European market from which cheap decoders are likely to emerge, such as Greece. This means Greeks won't get live PL football in Greek but the PL won't get undermined by Greek decoders.
Another alternative being suggested as the most likely outcome of a 'bad' decision for the League is selling its rights on a pan-European basis.
.
Q: How would a pan-European model look?
A: The Premier League would sell to a pan-European broadcaster or more than one. By definition only a few true media giants could bid: Sky, or the Disney-owned ESPN, or Mediaset, or Canal+. And the winning giant(s), after a bidding war, would own the rights to all of Europe, including the key, most lucrative home market of the UK.
It is possible that in a bidding war for the pan-European rights, the total income per year would rise above the £594m currently paid for UK rights + £125m in rest of Europe. Why? Because Premier League football is such a desirable asset, having a major grasp on it could cement or gain any giant's position within the market.
.
Q: But isn't a single giant operator anti-competitive and against EU law?
A: Errm, yes. But the pan-European sale of rights would be constructed in a way that would mean more than one operator gets games. For example there may be eight packages of games, with 20 games in each package, and no one broadcaster is allowed all eight. But the likeliest outcome would still be that one of those operators would get a big chunk and a second operator would get a small chunk. And if there was fierce competition for any chunk, so much better for the Premier League.
.
Q: The pan-European model would mean that UK viewers could get them same choice of games as overseas viewers do now then? That in future UK viewers could have access to all 380 PL games per season live, instead of 138 as now?
A: That won't happen. Not now at least, although it remains a potential earner for the future and contrary to belief by some, there's nothing to prevent the League doing it. But the Premier League insists privately it supports the 3pm Saturday 'blackout' currently in place in the UK, whereby no live British football is screened at 3pm on Saturdays. In sticking to this ideal, it won't market any pan-European package of games that contains 3pm kick-offs.
As a result, consumers in Europe will actually get fewer games in the future (while the rest of the world is unaffected by this case).
But UK consumers are likely to get more. Why? Because the Premier League will need to find a balance between keeping as many of its European viewers as possible, and getting UK bidders to pay more because they'll be getting more games.
It's a personal view that a future pan-Euro model might include something like 160 games per season on offer in eight packages of 20, none of them at 3pm on Saturdays.
.
Q: Can't the Premier League just start its own TV channel and sell direct to consumers and make a load more profit at the same time?
A: It could, but frankly it's a lot of hassle and the League would rather leave broadcasting to broadcasters and bank the cheques without having to establish a customer relationship with every fan from scratch. It's an option with a lot of upside, but risky. It's possible the League would dip its toe in the water at some point by selling, for example, seven packages to pan-Euro broadcasters, and selling one direct, to see how easy it is.
.
Q: Is this case only of relevance to the Premier League?
A: Absolutely not! It is of massive relevance to any organisation that sells services or rights (including sport, film, music) on a territorial basis within the European market. Arguably most if not all other sports governing bodies could be hit as hard if not harder by a 'pro-Murphy' ruling.
Uefa could endure nightmares as they try to argue how it's compatible for Fan X in country Z to get Champions League coverage for nothing while Fan B in country T has to pay through the nose. How is that compatible with fair access to the same goods across the common market?
The same question applies to the 'crown jewels' of sports in different countries. If they're free in one place, how can a consumer be stopped from buying the equipment necessary to access them free from another market within Europe?
The subject is a legal minefield.
And no doubt one to be discussed in the coming days in a pub in Southsea, which is where we came in ….
.
Sportingintelligence home page