*
JORGE VASCONCELOS follows the Premier League from Santos in Brazil, where he lives a couple of miles from the Estadio Urbano Caldeira – the footballing home of Pele between 1956 and 1974. Like every Brazilian, he'd claim to know what constitutes a beautiful game. And in his debut article for Sportingintelligence, he explains how Arsene Wenger fostered the beautiful game at Arsenal from 1996 to 2005, only to lose his way since England's influx of 'Big Money' started to take effect in the mid-Noughties.
.

By Jorge Vasconcelos
27 September 2011
Arsenal won 3-0 at the weekend against a Bolton team who had lost nine of their previous 10 Premier League matches, but few fans or observers can do anything but conclude Arsene Wenger has fundamentally lost his way. I can see that from here in Santos – with my eyes closed.
By 'lost his way' I mean he's changed from the scholarly alchemist whose attention to detail was pivotal in transforming the elite game in England between his arrival in 1996 and the remarkable 'Invincibles' season of 2003-04 to becoming someone who hasn't lifted silverware for six years and counting.
He lost his way, I contend, because he has failed to find a suitable response to the influx of 'industrial' money, or 'big money' (BM, let's call it) that began with Roman Abramovich's takeover at Chelsea in 2003 and is continuing most obviously with Sheikh Mansour's 'project' at Manchester City. Those are the most clear but not only examples of BM in the era.
Before BM, Wenger's unique vision and attention to detail gave him the upper hand. His use of sports science and his wish for strong athletic players committed to free-flowing, attacking football – and his patience to nurture all of this – put Arsenal on top (or in regular contention with Manchester United to be top).
Arsenal won Doubles in 1998 and 2002 and among other silverware won the title unbeaten in 2003-04. But the BM flooded in and within a season or so it was obvious that yes, actually, you can buy success.
You can spend a lot of money on a lot of individuals and though all of them won't be sure-fire hits, enough probably will be.
It's not a new observation to say that Wenger has been reluctant to spend large sums on single players but look at the table below to see quite how starkly absent he has been in the BM era from the marketplace for top players.
In the Premier League's history to date, 26 players have joined English clubs for fees of £20m or more, and 24 of those have moved in the BM era, with the exceptions being Rio Ferdinand and Juan Veron, both pre-2003.
And of those 26 players, how many have Arsenal signed? None of course.
Their record transfer ever is Andrei Arshavin for around £15m.
The 26 players, from Torres to Tevez to Aguero to Rooney and beyond have been split among just four clubs – and those four of course are Arsenal's main Premier League rivals: Manchester City (10 such players), Chelsea (seven), Liverpool (five) and Manchester United (four).
See table for full details; article continues below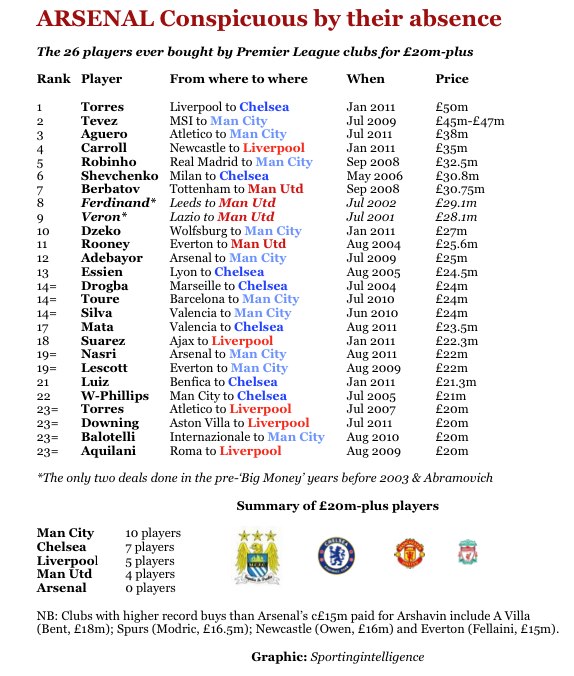 So we said adieu to the 'gentlemen's game' that Wenger loved in 2003; that's when his academic approach and the new competitive reality began to take different paths.
Arsene still looked to the pitch but he didn't see or perhaps didn't want to acknowledge that the other big clubs were now chasing a different financial game off it. This has become a fierce game in the BM era where a torrent of cash smashed the old ways and brought new rules.
Pre-BM, Wenger was fighting a battle with more or less the same weapons as his rivals, and winning with his purist zeal.
But the years 2003-05 were the dying seasons of his Quixotic approach.
The Invincibles season of 2003-04 wasn't so much definitive proof that Arsene really did know, but the end of the era. We only realised later.
Wenger's philosophy, albeit sweetly, was in swan song.
It took the 2003-04 season for Abramovich's financial steroids to properly flush through the system. But by 2004-05 they were well and truly working. Chelsea's first title arrived on 30 April 2005, just 22 days before Arsenal's last trophy to date – the FA Cup that year.
In between those two moments, the Glazer family confirmed they had 75 per cent ownership of Manchester United and off we set in earnest into the era of foreign billionaire-owned elite clubs, often if not always bankrolled by BM.
The BM allowed the clubs to buy better players – ready-made and in greater numbers over a quicker period – than Wenger had previously fostered.
So what must Wenger do?
Come up with a clear, defined plan to develop a team that doesn't smack of half-way measures. Spending money on new faces is something everyone has been encouraging but frankly his buys in the summer were inconsistent.
Instead of mooted quality such as Juan Mata and Santi Cazorla, he ended up, for whatever reason, with players I'd define as sub-celebrity, or merely aspirant to top status, players like Gervinho and Andre Santos.
An exception was the hiring of Mikel Arteta who might on good day be able to provide 70 per cent of what Cesc Fabregas did on an ordinary day.
I believe a half-way philosophy, one where it seems Wenger was spending because he was expected to, but not actually on established top class, led to results like 2-8 against Manchester United and 3-4 against Blackburn.
Yes of course there were injury issues. And of course it hasn't all been failure and woe since 2005, with a constant place at the top table in Europe, a near-miss in a Champions League final and some wonderful play along the way.
But something is amiss and Wenger needs to fix it.
At the moment he keeps copying his errors and accelerating into a downward spiral. By 'copying his errors' I mean he seems to remain closed inside his own private view of idealism.
And when you're closed in any place, even one of idealism, you want for fresh air, fresh ideas. But he keeps feeding on his own ideas. It is almost like breathing in a bag. Without 'fresh air', ideas from outside, from others, Arsenal are suffocating.
I also believe Wenger needs to review his scouting policy for both emerging and established talent. It needs revamping and / or implementing by a trusted confidant – the kind of person that Arsenal have lacked for more than four years since David Dein left the scene.
Do Arsenal's scouts these days have the in-depth knowledge they need? And just as importantly, is there is system in place that then allows the club to do the deals to hire players those scouts identify?
I only ask this because – writing as a Brazilian in Brazil – I look at the situation and think it cannot be the case.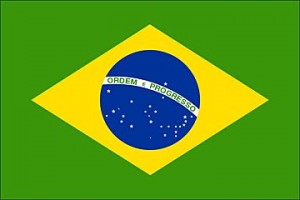 I know that Arsenal have a Brazilian scout for the region. So my question is: how come they never made a bid for Neymar or Paul Henrique Ganso or Leandro Damião or Oscar or Casemiro or Lucas or Henrique?
Football fans know most if not all of these players by now, and Arsenal's scouts certainly should have known about these players – all teenaged or in the early 20s – for several years.
And this is just players from Brazil.
Wenger needs to repair Arsenal's scouting and recruiting network.
And overcome his fear of bidding decent money for high-class players he wants.
Then he can send out men like his captain Robin Van Persie with peers of equal talent and not rely so much on someone like Gervinho who is amateurish in not passing the ball and in never looking up at his options when he has it.
And maybe the time has come for Wenger to re-evaluate his own role as manager. Is it time for him to split the role of manager and head coach?
As a manager he could continue to take care of all the strategic aspects of the season, helping to define (but not execute) all aspects of it. The execution game-by-game on the pitch would be somebody else's responsibility, a head coach, subordinate to Arsène in the line of command.
There are suggestions already that some at Arsenal see Wenger's days in his current role as numbered, and that Pep Guardiola is wanted as the head coach with Wenger as a strategist above.
Who knows whether that will materialise?
But Wenger must reinvent himself, be open minded to new ideas and different transfer strategies, be more decisive, less romantic and more objective about the game, accepting as a fact that BM changed football arrived eight years ago and that fighting it with idealism alone has failed.
.
Sportingintelligence's home page today
More stories mentioning Brazil or Brazilians / Arsenal  / Man Utd / Man City / Chelsea / Liverpool (or search for anything else in box at top right)