*
JOHN ROBERTS wrote for the Daily Express, The Guardian, the Daily Mail and The Independent, where he was the tennis correspondent for 20 years. He collaborated with Bill Shankly on the Liverpool manager's autobiography, ghosted Kevin Keegan's first book, and has written books on George Best, Manchester United's Busby Babes (The Team That Wouldn't Die) and Everton (The Official Centenary History).
As Matthew Engel once wrote in the British Journalism Review: "I suspect posh-paper sports writing changed forever the day John Roberts left the Daily Express to join The Guardian in the late 1970s, was handed a piece of routine agency copy and picked up a telephone to start asking questions."
.
.
By John Roberts
18 November 2010
.
Terror causes the evacuation of a Wild West community after word spreads that Big Fergie is heading for town. Only the intrepid saloon keeper stays put, cleaning and re-cleaning unused glasses in the hope that his customers will return.
Suddenly the batwing doors crash open, hanging off the hinges, and a huge, angry man storms to the bar demanding a drink. The saloon keeper shakily pours whisky into a glass. The visitor smashes the glass against a mirror, snarling, "Ah said, ah want a drink!"
The saloon keeper slides the bottle along the bar. The visitor drinks the contents in one gulp and smashes the bottle against the mirror. "Would you like another?" the saloon keeper stammers.
"Gotta go," the visitor growls, "Ain't ya heard? – Big Fergie's headin' for town!"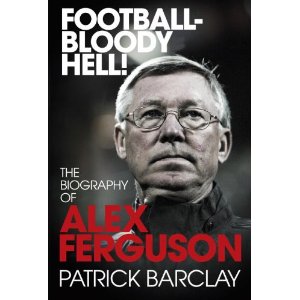 The old joke came to mind while reading Patrick Barclay's penetrating new biography of Sir Alex Ferguson, Football: Bloody Hell! although the author does counter-balance examples of the Manchester United manager's rage for perfection with a catalogue of kindnesses and acts of selflessness, and never underestimates Ferguson's astonishing achievements in Scotland, England and Europe at large.
Ferguson apparently was not overly fond of Brian Clough, regarding the inspirational Derby County and Nottingham Forest manager as rude, which is rich given that the Old Trafford boot-slinger has a habit of leaving people quaking in his wake.
While most football managers point the finger at match officials from time to time, Ferguson seems to take the practice to extremes, publicly chastising referees for errant time-keeping, for decisions costly to his team and, in one case, for lacking the physical fitness to keep up with play. Whoever originated the philosophy that referees were always in the right, especially when they were wrong, count Ferguson out.
His spats with the media are legion – not that supporters are concerned about that – and you may have noticed that he sometimes concludes post-match television interviews by saying, "Well done " to the interviewer, as if to confirm that he has not been upset by the questions.
Bill Shankly, another great manager famous for a Vesuvian temperament, vented his fury at one time or another on most of the reporters who covered Liverpool's matches during his reign, but generally made up with them.
It could be argued that football in the high finance, multi-media age has developed almost beyond recognition since Shankly's day, when he described himself in characteristically contradictory terms as a "patient impatient man".
He defined the type thus: "We get frustrated, and people may think, 'Oh they are going mad. They are arguing the toss. They have lost their heads!' But that is very much wrong. We haven't lost our heads. We know what we are doing, within the frustration we feel."
Grace under pressure is not easy, and Ferguson, for all his psychological ploys, has one of the shortest fuses devised. Interestingly, he is due to take United to Glasgow next week for a Champions League match against Rangers, and his unhappy time as a player at Ibrox, where personal sniping behind the scenes ruined his relationship with the club of his boyhood dreams, may have strengthened his indomitable spirit.
An old boss of mine used to say that the writer of an autobiography would tell you that he dressed and came down for breakfast, while the writer of a biography would observe that the subject's flies were undone. Barclay has succeeded in presenting a rounded picture of man whose bywords are control and power.
.
Football: Bloody Hell, by Patrick Barclay, is published by Yellow Jersey Press (£18.99 hardback).
.
Details of how to order John Robert's recent book about working with George Best, as detailed in this column, directly from the publisher can be found here. The book can also be ordered by telephone on 0845 143 0001, and is available in all good book shops.
.