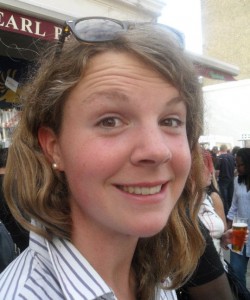 ALEXANDRA WILLIS is the Deputy Editor of ACE Tennis Magazine, and alongside mag work and an affair with social media, has the dubious honour of following British players to Grand Slam qualifying from time to time as part of her professional duties. If you happen to bump into her court-side, she'll probably tell you that she went to Oxford (and not just shopping).
.
.
.
.
By Alexandra Willis
18 October 2010
"Why do you never smile?" the cheerful Chinese presenter asked Andy Murray, moments after the Scot had beaten Roger Federer for the eighth time to lift his second title of the year at the Shanghai Rolex Masters. It is a question posed and pondered upon by every tennis fan, commentator, broadcaster, and journalist to cross paths with the seemingly surly Scot. Why he always looks thoroughly unexcited on a tennis court, why he blasts and berates himself, and why the only thing to animate his face is re-living the latest Pro Evo marathon with his fellow jugadores. Try as we may, it has seemed impossible to unravel the curious case of Andy Murray.
This weekend, a little more light was shed on the answer to that riddle. To have someone he doesn't know throwing out the same old question, an irrelevant question, after he's pulled off one of his best wins of the year would frustrate even the most saintly. But Murray's response in Shanghai said it all. "I'm just quite shy," he said. Cue instant elevation to hearthrob status among the clamouring Chinese fans with Scottish flags adorning their cheeks.
And that is Andy Murray. Behind the wealth, the wins, the global spotlight,  he is a quiet and thoughful bloke. He shies away from the superstar lifestyle and, while he enjoys some of the things that serious money can bring, he is not one to flash the cash for the sake of it. He bought a red Ferrari last year, but he's decided it's a bit much, so it's gone back to the dealer.
He may own a sizeable chunk of Surrey real estate, but ask him why he traded in his Wandsworth penthouse for the £5 million mansion and it reveals far more about him than merely an assumption that he's playing copycat to the David Beckhams of this world. "'It's the one thing that I always wanted to have since I started earning money because we spend so much time in hotels. It's the one place where everything's private, and I want to be able to enjoy that. I'm a pretty private person and I like to be able to do fun stuff in my house; I don't have to go out that much when I'm at home, which is good," he told ACE Tennis Magazine earlier this year.
"I just think that when you come home from a long trip – like now, when I get home, it'll be like an eight-week trip, a nine-week trip – it's nice just to go back to somewhere where it's very quiet and you don't get bothered at all. It's pretty relaxing." Murray may have famous neighbours, Jamie Redknapp and Scott Parker among them, but the footballer's lifestyle is not for him, much as he loves the beautiful game.
"I think footballers have a good life, and it's one of my favourite sports to watch, but I'm glad I chose tennis,' he believes. 'It's a pretty good life as well. I think it's just a little bit different because in an individual sport, you have a lot of responsibility on your own shoulders. In tennis, I decide who I want to work with and what I want to do, whereas in football, you're more dictated to by what your manager wants you to do. So you have to become a little bit more independent in tennis. If I'd played football, I'm sure I would have stayed at home, whereas having moved away when I was 15 [to Spain], you just become more independent and have to grow up a little bit quicker, maybe."
Watching the confident self-assured display against Federer in Shanghai, which for once was without any bashing of hand into racket, or yelps of dismay, it's easy to see how quickly Murray has grown up. The tantrums and less than glowing demeanour may re-appear from time to time, but upstairs, the Scot remains fully aware of what he has to do to beat the best in the business.
"I think you have to be confident, you have to have self-belief,' Murray told ACE. "That's something that, when it comes to the crunch stages of big matches, when you're under a lot of pressure, you need to trust in yourself a lot. And I think that's something that I have. I think that's the main quality. You obviously have to work hard and have a good work ethic. I think they're probably the two most important things that most of the guys who are at the top of all sports will have, maybe slightly better than some of the other athletes. But it's such a fine line. And I think it's important to be humble. I think that's one of the most important things." And humble he is. While the papers proclaimed the win one of his easiest over the 16-time Grand Slam champ, Murray insisted that playing Federer brings out the best in him, as it should.
All this talk of home life and humility is not to say the the 23-year-old is a fusty dusty stick-in-the-mud, no matter how monotone he may sound in his interviews.  It is well documented that he likes to have a laugh with his team, tweeting all manner of bizarre pictures to share the infamous Team Murray forfeits with the wider world. As he waited for the rain to stop in his Rogers Cup final against Federer, he did not fret or worry, but organised a game to see who in his team could get the most number of tennis balls into a rubbish bin at the end of the locker room by bouncing the balls off the walls and the ceiling.
"When it comes to the work, everyone's very professional,' he says. 'But when we're away from the court and the training, we try to have as much fun as possible because tennis is a pretty stressful sport, so we try to keep it as light-hearted as possible. I'm just very sarcastic. Yeah. Just very sarcastic, that's how I'd describe my sense of humour." If you read his tweets I think you'd agree.
So do we know exactly what makes Andy Murray tick? Of course not, and it's quite clear that he doesn't exactly want us to. But what we do know is that he likes his peace and quiet, he also likes mucking about, but most importantly as far as we're concerned, he likes winning. The rest doesn't really matter.
Sportingintelligence home page for all our latest exclusives
.
Want to comment on this story?
The subscription and comments policies of sportingintelligence have recently changed. Any user can comment on any story, however, by emailing using this link and including the story topic in the subject box. Your comments will then be manually posted by an administrator.