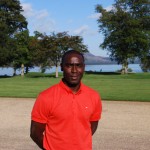 **
By Andy Cole
17 June 2010
Every team has now played at least one match at the World Cup and only one nation has really impressed me: Germany. It's not just the goals they scored against Australia – and we're all drawn to goals – but the way they went about their business in an opening week dominated by negativity.
Most of the big countries – the pre-tournament favourites including Brazil, Argentina and Italy – as well as the smaller countries of whom we expected a lot, like Portugal and Ivory Coast, appear to have adopted a "safety first" mentality. Not losing the opening game was paramount, way ahead of winning it. Spain did play attacking football but couldn't find a way through and were the shock losers against the Swiss. But by and large the first week has not seen much great football. At least that is how it's seemed where I've been watching, in various locations around South Africa.
Germany bucked that trend. We take it as a given that Germany will produce the goods at major tournaments and reach the latter stages. But what Joachim Low's side did against Australia was produce a youthful exuberance that stood out a mile.
Low's squad is among the youngest at the tournament and their pace was eye-catching, their passing crisp and sharp. I was impressed with Mesut Ozil especially, and the combinations with Bastian Schweinsteiger, and the finishing of Lukas Podolski, Miroslav Klose, Thomas Muller and Cacau. It was just like watching Brazil – literally in Cacau's case!
One can argue that Tim Cahill's dismissal changed the game, and it certainly effected it, but Germany had obviously made their minds up to play attacking football from the start, with the aim of an early goal to free them to keep playing like that.
That's what happened, and good on them.
.
Green fingers to go? Who knows with Il Capo …
I'm guessing that Robert Green will pay for his terrible mistake in the game against the USA with his place in the England team for tomorrow's match against Algeria. That is probably the way things should be. You cannot be sentimental about hard choices and I don't envy Fabio Capello having to make the call but Green made a howler and why would you leave a player who made a high-profile howler in an important game in your side?
I actually thought that Capello would go with David James from the start because James has got the experience at this level and experience counts for a lot at the World Cup. So I'd probably expect Capello to drop Green and bring James in. Then again, Capello could go with any one of three and frankly nobody but him knows which way he's leaning at the moment.
England players are no different from players everywhere, and as a former England player, I can tell you that we thrive on stability, especially stability of selection. It helps to underpin confidence and it allows you as a player to relax in the knowledge of a familiar set-up.
Of course circumstances will dictate there will be changes to the England team that faced the Americans. I expect Jamie Carragher to come in for Ledley King and I'd guess Gareth Barry will come in at the expense of James Milner. And that goalkeeper change is probably on the cards – whether it's James or Joe Hart who benefit. But if Capello makes changes above and beyond those, I'd say he'd be starting to demonstrate some uncertainty about his direction, and that would transmit to the players sooner rather than later.
.
Hot air, not thin air, is the order of the day on the Jabulani
Balls. I've heard a lot balls about balls in the past week and honestly I think a lot of it is just air, pure and simple, and I don't mean thin air but hot air. For many decades, certainly as long as I can remember, Adidas has produced a new football for each World Cup, and sure as clockwork, before and at each World Cup we've had a stream of "controversy" about the new ball.
Get over it. The Jabulani is the same for everyone, Fifa is not suddenly going to drop it and use another one, and I'm still at a loss to be pointed to any single incident in this World Cup where a player has said, specifically, "the new ball did this at this time, and it's not normal."
Certainly Rob Green's mistake didn't appear to be ball related. Yes, it flies quicker and higher but that could be altitude as much as anything.
And as far as it's possible to ascertain, access to be ball has been the same for everyone for many months for practice purposes. Adidas made it available early in the year and if England didn't use it because the English FA has a contract to use Umbro balls, then that's an issue for the English FA.
Someone said to me the other day the Germans have had it for ages, that's why they did so well. Nonsense. The Germans did well because they're good footballers, well coached, playing with ambition.
.
Africa isn't Western Europe? Get over it, folks!
Vuvuzelas. I don't mind them in the slightest. They're part of what you get in the package when you stage a World Cup in South Africa. If the people moaning about the buzzing din of the horns went back in time in England to the Thirties or Fourties they'd probably be banging on about the annoyance of the rattle. It would be: "Why do these people have to swing those things?"
The salient point with the vuvuzelas is the attempted imposition of external fan behaviour and cultures onto Africa.
Yes, I can see the argument that it's a racket although I don't personally subscribe to that view. But if can't embrace a bit of local culture, then don't tune in to a South African tournament. It's their World Cup. It's their culture. It's what they do, self-evidently. Notions that all footie crowds in South Africa should be linking arms and giving it the harmonious Ladysmith Black Mambazo through 90 minutes are so much Western mumbo jumbo.
I'm here in South Africa and for all the perceived drawbacks, the South African nation is putting on a good show.
So stick that in your trumpet.
.
Wayne's work up front: keep Heskey by his side
On the subject of pre-conceived ideas, England were never and aren't favourites for this World Cup for good reason: there are half a dozen teams and probably with football claims as good or better. The notion England should have steam-rollered the USA was plain silly and it wouldn't have surprised me if the USA had won. Green's gaffe meant America didn't get the credit they deserved.
All to often balance goes out the window first in England coverage. If they'd won 4-0, they'd be media favourites at home and that would be as ridiculous as being media flops.
Looking ahead, England need their best players to step it up, including Wayne Rooney, although I don't begrudge him a quiet game against the USA. He can't be expected to win the trophy alone.
On that theme, I personally don't think he should play up front alone: I'd certainly stick with Heskey as his partner for now. The lone frontman role is a thankless graveyard shift even for Rooney, and though Wayne genuinely doesn't care how he's deployed as long as he's playing, the key to goals is chances, and Heskey creates chances.
.
The fee for Andy Cole's column is donated to Alder Hey hospital and sickle cell anaemia research. He works on charitable projects with the sport and media team at law firm Thomas Eggar. Andy Cole's columns, or abbreviated versions, also appear in The Independent
.