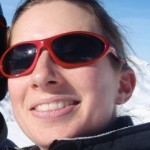 *
SARAH HAMES is a lawyer by education but swapped the bar for the piste, then PR. She knows her sport from the inside, the offside and blind side, with a portfolio stretching from the hallowed corridors of the All England Club to the expanses of the Southern Ocean…
.
.
.
.
.
By Sarah Hames
16 June 2010
I'll be honest. I'm not the world's biggest football fan. Wrong shape ball for me. I don't care that much about England (so sue me) and care even less about all the others.  However, I can't hide from the fact that I live in a country that's obsessed with the World Cup, and with a boyfriend who's obsessed too. So I was pleased when I struck upon the perfect solution to engage my interest, and make me rich too!
I was slaving away at a crucial press release when a guest on Gabby Logan's show explained how he'd won more than £100k on the last World Cup by correctly predicting the scores of a few matches. It couldn't be easier, could it?
This clever little golden ticket, my friends, is called an Accumulator. A seemingly genius invention whereby one makes a few suggestions for the outcomes of a handful of random matches, parts with just a British pound or two, and is rewarded with a large, tax-free bounty. It's such a simple idea, I really don't know why they're not more popular, and why there aren't more millionaires wandering around telling everyone how easy it was.
Now I knew that I had to actually place the bet, which would mean going to a bookies – and not on the day of the Gold Cup or Grand National. (Apparently they stay open all year round!). But time passed, suddenly it was the first day of the World Cup, and still I was accumulator-less. Drastic action had to be taken.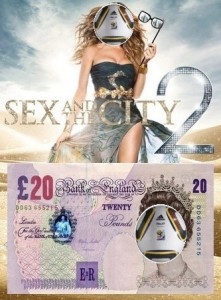 Unfortunately, World Cup opening day coincided with a 'girls day out' whereby one mate and I had promised to take a third, heavily pregnant, friend, to see 'Sex and the City 2'. (No, boys, we're not pretending it's a cinematic masterpiece. We go for the frocks and the shoes and the men and because, well, it's like catching up with old friends).
Unfortunately lunch lingered, and suddenly it was only 10 minutes to kick-off in the opening game and I was panicking. Could I still buy my golden ticket to the good times once the competition was underway? Frankly, I didn't know.
Cue three fairly unlikely gals, one of whom was so pregnant that she could only really manage a waddle, dashing around an unknown town looking for a suitable Turf Accountant. Unsurprisingly this wasn't my friends' dream addition to our day. I think a pedicure or something was more what they had in mind. Anyhow, we headed to where the environment looked a bit, er, rougher (can I actually say that these days?) and behold, there were three bookmaker shops, all together!
The first looked just too dirty. The second was okay, a name I'd heard of, and though we did get some odd looks as we bundled through the doors we soon found a big stand with lots of pre-printed forms to fill in. This would be so easy!  Except, there were about 40 different forms, you could bet on just about anything and I couldn't see anything suitable. The chap at the desk was less than helpful, but concluded he must have run out of what we needed. But would I like to bet on the first goal scorer? Hardly.
We ran/waddled to the final shop, more forms, but we found one that looked good. We had less than two minutes and suddenly the girls got the bug. This was so easy! And so cheap! And the form said 'Millionaire'. Brilliant. All three of us blindly scribbled, win, lose or draw for 20 games.
I had planned to do some research. But I'd forgotten.  All I knew was that obvious choices would equal lower winnings. Not for me Brazil to win. Oh no. I went obtuse, way out there. My predictions were genius (unhinged?). Nobody would have the same as me, I thought, and therefore I was guaranteed to win and win big.
At  14:59:44 (I promise it says that on my ticket) I was handed a beautiful print out. A measly £2 was my stake, yet if my first eight matches were right I got just under £28,000! The girls had gone for much more obvious predictions, they might only win a couple of grand at the same stage. Oh well, I thought, they'll learn…
If my first 15 predictions were right I was looking at a cool £786,435.63. Oh what I'd do with that 63 pence!
Driving home, clutching our tickets excitedly, we three already felt like winners, though there was slight consternation when someone pointed out that under their first prediction, Mexico to beat South Africa, there was also a score: 17 -10!
"But I didn't put a score!" she lamented, and even we knew she wouldn't have predicted that many goals.  But we're not as stupid as we look (honestly) and after an hour or so realised that these were what are known in the trade as 'odds'.
The harsh reality hit earlier than I'd have liked: we couldn't all be millionaires. Amazingly two of us had successfully predicted a draw in the first game (so easy!), but our fellow gambler fell at the first. Suddenly getting another 19 matches right seemed like a pretty big stretch. Having got the first match ticked off, we had different predictions for the second, so only one of us would make it through. Damn.
Might this be the end of a beautiful friendship? Ruin any chances of the baby being named after me? In fact, no. For while I had predicted a Uruguay win and she had predicted a France win, neither of us had gone for the draw. So at just two matches down our World Cup dreams lay in tatters.
Never mind, I've got the bug now, so I'm planning my next assault, probably on the quarter-finals or something. How hard can they be?
Oh, and all the excitement probably brought about the arrival of little Eva Louise at 8 o'clock this morning.
Back of the net!
.
More stories mentioning the World Cup
EXCLUSIVE: The details of USA's $20m World Cup bonus
World Cup final 'will vie for record of second most-watched event in human history'