Part of Sportingintelligence's guide to the 2016 FIFA presidential election: HOME PAGE here
.
PROFILE: Prince Ali bin Hussein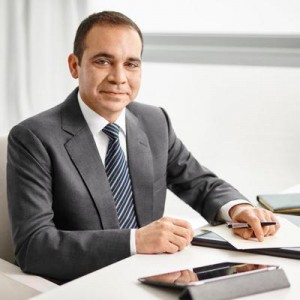 Age: 40. Born: 23 December 1975, in Ammam, Jordan.
Twitter: @AliBinAlHussein          Website: http://www.worldsgame.com       
Manifesto (PDF download): Prince Ali 2016 Manifesto; Prince Ali 2015 manifesto
Football background: Head of the Jordanian FA (1999-date); FIFA Exco (2011-15); Founder Asian Football Development Project. Arsenal fan.
Non-football background: Sandhurst graduate. Founder and director of Jordan's National Centre for Security and Crisis Management. 
Any corruption? None reported.
Allies: Egyptian FA. Enemies: Sheikh Salman, Sheikh Ahmed.
Links to other candidates: Was previously backed by UEFA to stand against Sepp Blatter but has since fallen out with its suspended president, Michel Platini, and one would presume Gianni Infantino. In January 2010 Sepp Blatter was pressured by Mohamed Bin Hammam into sacking Jerome Champagne from his previous job at FIFA after Champagne used his position to protect Ali at the Jordanian FA from a Bin Hammam-backed rival.
Latest news: 18 Nov Prince Ali told reporters in London that he was confident he could win the election given that there is a stipulation in place that supposedly outlaws bloc voting. Previous news: the Malta FA nominated Prince Ali bin al-Hussein for the upcoming presidential election for reasons of 'loyalty and integrity', according to Malta FA head, Norman Darmanin Demajo. And Prince Ali wants more teams in the World Cup. For latest news on all candidates click here for TIMELINE on resources page.
.
PORTRAIT
By James Corbett
It was a fortnight past Prince Ali Bin Hussein's 35th birthday that he rose against all expectation to FIFA's executive committee. In doing so he embarked upon a journey that would, four years later, take him within 35 votes of the FIFA presidency itself.
It was January 2011 and the scene, as it so often is these days in sport politics, was Doha. Ali, a virtual unknown on Planet FIFA, was up against Chung Mong-joon in a FIFA vice presidential election. Chung, a scion of the Hyundai manufacturing dynasty, was then one of FIFA's big beasts and backed by the AFC president Mohamad Bin Hammam. Both men retained ambitions for taking on Sepp Blatter for the FIFA presidency that May, and Bin Hammam was fresh from securing the 2022 World Cup for Qatar. They were seemingly at the height of their powers. Ali, by contrast, seemed like Daniel in the pit of lions.
Indeed, as we journalists made our way into the congress, the young prince was palpably nervous, seeming frozen by the occasion, while Chung bestrode the congress, languidly posing for photographs with his wife, as if victory were a fait accompli.
An hour later Chung could be found pacing angrily on the baking tarmac outside the Doha Sheraton, having stomped out after losing by 25 votes to 20.
Inside the convention centre the Kuwaiti Sheikh Ahmed al-Sabah, head of the OCA and global sport politics kingmaker, announced that a victory for Ali was a victory for Blatter.
'What I think – actually not what I think, what I can announce – the 25 votes that went to Prince Ali will go for president Blatter when he stands for re-election,' he shouted, as if a WWE wrestling manager taunting his progeny's victim. Around him jubilant Arab delegates celebrated, while several hundred expat Jordanians briefly barricaded the hotel as they too celebrated outside.
The message to the world was clear: Ali was Sheikh Ahmed's man, the FIFA President's man; in the words of Andrew Jennings 'Blatter's little prince.'
How short lived that presumption was to be.
Ali joined a FIFA top table that included Jack Warner, Julio Grondona, Nicolas Leoz, Chuck Blazer; a mixture of criminals and fraudsters; most old men; arrogant, entitled, corrupt to the marrow.
Young, accessible, transparent and with a quiet and thoughtful manner, the young Jordanian could not have marked a greater contrast. Far from being Blatter's man he was soon aligned with the likes of Michel Platini and the new ExCo intake of Sunil Gulati and Moya Dodd. These were hardly major reforming forces, but they marked a stark contrast to colleagues for whom thievery was a method of governance. And while others used development as a way of handing out political favours, Ali's Asian Football Development Project – an NGO using football in the developing world – forged allegiances with multinational sponsors like Chevrolet and Pepsi to make discernible contributions to alleviating poverty and distress in some of the poorest parts of Asia.
Neither confrontational nor bombastic, Ali himself was never going to be the sort of personality to shake FIFA to its foundations. But when the opportunity arose he was generally quick to do the right thing. Within hours of Mohamad Bin Hammam's fall after a bribery scandal in May 2011, he was one of the key figures within the AFC to initiate a full auditof its affairs, the raw data of which forms the basis for the Sunday Times 'FIFA Files' .
Ali was the one who raised questions about the AFC's controversial sports rights deal with World Sports Group when others looked the other way. He fought tooth and nail for the right for women footballers to wear a headscarf and thus promote women's football through the Arab world. And he was the one ExCo member to remain accessible to the media as FIFA suffered one nadir after another. The contrast between Ali's actions within the AFC and those of its current president (and FIFA rival) Sheikh Salman are startling.
Prince Ali's background is self evidently one of privilege which saw him ascend to the head of the Jordanian Federation at the age of 23. Yet if one assesses his role there he has brought good with limited resources. Women's football has been promoted. The men's national team has overachieved in Asian competition. In 2013 Jordan came within a play-off of becoming the first Levantine nation to qualify for the World Cup. 
Earlier this year he formed part of the UEFA-led triumvirate that sought to unseat Blatter in the FIFA presidential election. After Michael Van Praag and Luis Figo dropped their stalking horse candidatures, Ali fought it out with the Swiss. To no real surprise Blatter prevailed, by 133 votes to 73. But Ali's challenge was sufficiently strong warrant a second round of voting, before he withdrew having dealt his bloody nose. Five days later Blatter had resigned his newly won presidency. Quite what – if any – psychological burden that mini-revolt dealt Blatter and influenced his resignation we'll probably never know.
Since May he has fallen out with Platini and, having lost his ExCo seat to Salman, is adrift in football's corridors of power. Perhaps he is now too isolated to make a meaningful contribution in February.
On the one hand Ali is not burdened by the baggage that comes from being part of the FIFA ExCo at the height of its post-millennial excess. On the other, one wonders what lessons in transparency and good governance the younger brother of an absolute monarch whose kingdom lies in the bottom quartile of the WJP Open Government index can give to world football. 
The mystery about Ali is just why he takes football politics so seriously. He needs neither the wealth nor the prestige nor, one would presume, the headaches and heartaches politicking brings. He is a Sandhurst graduate, a general in the Royal Jordanian Army and leads the country's National Centre for Security and Crisis Management. With Isis on one of Jordan's borders, a riven Syria on another and Israel on a third – not to mention significant refugee populations within the country – one would think his energies could be better utilised at home. 
But maybe that misses the point about football's most prominent royal. Perhaps the secret is that he no longer wants to be a prince any more; that he wants to step out of the shadows and finally be king.
.
More on the FIFA presidential race