By Brian Sears
16 August 2013
Chelsea have the best opening-day record in the Premier League era, winning their first league match of the season 13 times in the past 21 years and drawing another five for a total of 44 points from 21 games, or 2.1 points a game.
Manchester United have the next best record (13 wins, four draws) for 43 points, or 2.05 points per game, followed by Arsenal with 12 wins and six draws for 42 points or two points per game.
Those are the only three clubs in the current Premier League with as many as two points each on average over the past 21 years from their opening games.
Fans of all three clubs will expect that trio to make winning starts to 2013-14 as Arsenal host Aston Villa, Manchester United visit Swansea (both Saturday), and Chelsea host Hull on Sunday.
At the other end of the scale, Southampton have a woeful record on the opening day in the past 21 years, winning just two games from 21 in that period. Of their 14 Premier League seasons in that time, they picked up a total of nine points in those 14 games, at 0.64 points per game.
The first-day records for the past 21 years of every club in the 2013-14 Premier League are in the table below, with their overall records, and separately their records during Premier League season. The seven 'ever present' clubs are separated at the top.
Article continues below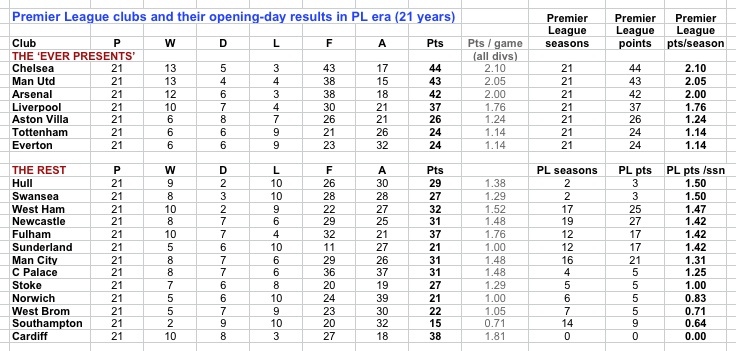 Aside from the ever-presents, Newcastle have missed out on only two PL seasons, West Ham on four and Manchester City on five, with one of those City seasons being in the equivalent of League One.
Cardiff, Fulham, Hull and Swansea have started off seasons of the Premier League era as low as the equivalent of League Two. Swansea were there as recently as the 2004-05 season and Hull just a season before that.
In overall records, Chelsea, United and Arsenal are followed by Cardiff, who have lost just three of their last 21 opening games in their trawl up through the divisions; they lost 1-4 at Stockport in 1994, 0-1 at Ipswich in 2005 and 0-1 at home to Stoke in 2007. Since then the Cardiff starts to their seasons have produced four wins and a draw, and they start this season at West Ham.
In stark contrast Southampton have only won two of their opening games in the last 21 seasons although as many as nine have been draws. The two wins that Saints must savour were 1-0 away at Coventry in 1999 and 3-1 at home to Leeds the season before last.  This season Southampton's opening fixture is at West Brom who have struggled in opening games themselves until seeing off Liverpool 12 months ago, 3-0.
. . . . and talking of Liverpool
Liverpool open the new season with the first game of 2013-14, against Stoke at Anfield.
In 116 league games over the years between the pair,  Stoke have won 29 of them but only three of those wins have come at Anfield.
All three Anfield victories came for Stoke back in the Fifties: 4-2 in 1954-55, 2-0 in 1956-57 and 4-3 in 1958-59.  But in the 25 Anfield visits before that hat-trick of victories and the 28 visits since? Not a single Stoke win.
The Premier League results are showing precisely the same pattern except that three goalless results in the five recent visits might indicate Stoke have been narrowing the gap.
Premier League meetings between Liverpool and Stoke
20 Sep 2008 Liverpool 0 Stoke 0
10 Jan 2009 Stoke 0 Liverpool 0
19 Aug 2009 Liverpool 4  Stoke 0
16 Jan 2010 Stoke 1   Liverpool  1
13 Nov 2010 Stoke  2    Liverpool  0
2 Feb 2011 Liverpool  2  Stoke  0
10 Sep 2011 Stoke  1  Liverpool  0
14 Jan 2012 Liverpool  0  Stoke  0
7 Oct 2012 Liverpool  0 Stoke  0
26 Dec 2012 Stoke  3    Liverpool  1
That's three wins to Stoke, two wins to Liverpool and five draws, but not a Stoke victory at Anfield.
Stoke are one of six clubs who will be visiting Anfield this season seeking a first Premier League there:
West Ham have made 17 winless PL visits and last won at Anfield in 1963-64.
Sunderland have made 12 winless PL and last won at Anfield in 1983-84.
Stoke have made five winless PL visits and last won at Anfield in 1958-59.
Crystal Palace have made four winless PL visits and last won at Anfield in 1991-92.
Hull and Swansea have both made two winless PL visits with no league win at all at Anfield.
And another thing … promoted clubs face uphill task
In the last five seasons, only three of the 15 promoted sides have won their first fixture at the top table and all three had gained their admission courtesy of the play-offs.
Last season it was West Ham winning 1-0 at home to Villa, three seasons ago Blackpool won 4-0 at Wigan on their way to eventual relegation and five seasons ago Hull won 2-1 at home to Fulham.
All told since the advent of the Premier League, 62 sides have been promoted to it and only 13 have won their first game at the highest level, 16 games have been drawn and 33 lost.
The 13 wins for promoted clubs on opening day
2012 West Ham  1 Aston Villa  0
2010 Wigan  0 Blackpool  4
2008 Hull  2 Fulham  1
2007 Sunderland  1  Tottenham  0
2006 Reading  3 Middlesbro  2
2005 West Ham  3  Blackburn  1
2003 Portsmouth  2  Aston Villa  1
2001 Leicester  0 Bolton  5
2000 Charlton  4  Man City  0
1999 Middlesbrough  0  Bradford  1
1997 Southampton  0  Bolton  1; Everton  1  C Palace  2
1994 Ipswich  0  Nottm Forest  1
For their first outing of the season all three promoted clubs face London opposition: Palace at home to Tottenham with Hull and Cardiff facing away days at Chelsea and West Ham respectively.
Palace fans should note that Tottenham were the only Premier League team last season to win all six of their encounters with that season's promoted sides/ Even Manchester United who, historically with Chelsea, have the best Premier League record when it comes to taking on promoted sides failed narrowly last season to keep a 100 per cent record drawing 2-2 at West Ham in April.
Survival unlikely for all three newcomers 
In only two of the 21 completed seasons of the Premier League have all three promoted clubs survived – in 2001-02 Fulham, Blackburn and Bolton all managed it and two seasons ago Norwich, Swansea and QPR maintained their status.
In 12 of the seasons one of the promoted clubs has been dispatched straight back to the Football League; in six seasons two of the three have suffered that fate and once in 1997-98 all three: Bolton, Barnsley and Crystal Palace were all consigned to being "one season wonders".
More on Chelsea / Man Utd / Arsenal (or search for anything else in box at top right)