By Nick Harris
SJA Internet Sports Writer of the Year
12 August 2012
In 1999, I met a 16-year-old kid called Mo who said it would mean a great deal to run for Britain.
He was one of 110 promising British youngsters at an 'Olympic futures' training camp in Florida. I was reporting on it for The Independent.
Farah looked like he could run a bit. We flagged him up in the paper as one to watch. Here's what it said.
.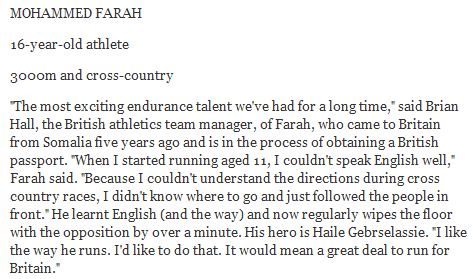 'It would mean a great deal to run for Britain.'
How did that work out?!
These past two weeks, it's meant a great deal for Britain that Mo Farah has run for it.
Here is the best of contemporary Britain: a 29-year-old black, Muslim immigrant being screamed to victory by an 80,000 strong crowd as he makes the very best of all his extraordinary talent. Twice.
There have been moments of visceral thrill in Games, lots and lots of them.
Bradley Wiggins winning the individual time trial. Not just winning it but smashing it, then being crowned at Hampton Palace. What a geezer.
Chris Hoy storming to his sixth Olympic gold medal last Tuesday in the keirin after Laura Trott went whoosh in the omnium.
Usain Bolt winning three golds. I had the privilege of being in the stadium for the 100m but the 200m, watched in a north London bar with friends, was, for me, even better. I've never seen a pub full of people stop what they're doing to watch Michael Phelps – for all his astonishing feats – swim a race. They did for Bolt.
That was a smiles night. There's been plenty to cry about too. The opening ceremony was a wonder from start to finish, but it was in the section with the NHS staff that I inexplicably found myself welling up.
I say inexplicably but actually it was right in the middle of that section that the penny dropped.
The NHS was formed in 1948, the year London hosted the Austerity Olympics. This is the same NHS in which my late dad spent his entire working life as an NHS GP. The same NHS that saved my life when I was four and had major open heart surgery. The NHS that, for all its many ills, has helped and saved so, so many. The thoughts coalesced in a moment. Suddenly there was something in my eye.
I wouldn't expect many foreign viewers to get that, but there you go. That bit of the Games was for Britain. And London. One good mate who texted me during the ceremony to say he was at home in East London blubbing his eyes out. I thought: Who's not?
And if people weren't blubbing they were beaming. I was sitting next to a journalistic colleague at the opening ceremony, the esteemed Pat Collins of the Mail on Sunday, and every so often he'd just tap me on the arm, point at yet another wonder before us and just shake his head with a smile.
And that was before the sport began.
Sports moves us because the people doing it move us.
To see Gemma Gibbons drop to her knees after winning her judo semi-final, look skywards and whisper 'I love you, Mum' brought another lump to the throat. Her mum died eight years ago, when she was 17.
To see Zac Purchase and Mark Hunter, so utterly spent and completely devastated at winning 'only' silver in the lightweight double sculls made the lip wobble. When John Inverdale, routinely so businesslike, started quivering ….
And then there was Tom Daley, winning his bronze from the high board. He's had a long and often difficult journey to get it.
I first spoke to Daley when he was about 10. His dad Rob was driving him to the pool and passed his mobile to Tom.
A squeaky-voiced and obviously shy child told me he'd like to go the Olympics one day.
. .
Follow SPORTINGINTELLIGENCE on Twitter